30th November: New Industrial Tooling Catalogue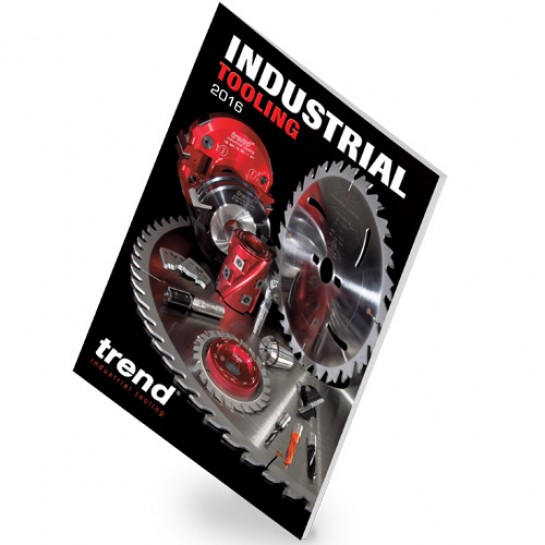 Trend is excited to introduce a new 2016 catalogue for their Industrial Tooling range.

The catalogue contains Tren's comprehensive range of quality tools including saw blades, drilling tools, spindle tools and CNC tooling.
7th November: Oscillating blade for multi-tools
Trend is excited to introduce a new range of Professional oscillating blade for multi-tools.

Key features include:
Universal design arbor for fitment to the majority of popular oscillating multi-tools on the market including Fein Multi-master, Bosch, Makita, Dremel Mulitimax, Worx Sonicrafter, Hitachi & Metabo.

Long life Bi-Metal plunge blade.

Titanium Nitride (TiN) coating to improve wear resistance and to achieve long-lasting performance.

When launching this new range, Trend wanted to ensure that the range met the needs of the professional. The oscillating blades have a black oxide coating on the blades providing a mild corrosion resistance that helps to keep the blade cool, giving better performance and longer life.

The professional oscillating blades are available from all Trend Routing Centres.
30th November: Centrotec Compatible Trend Snappy accessories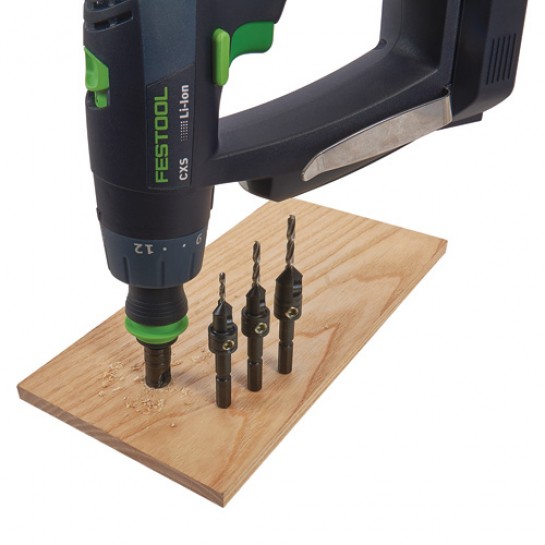 Trend is excited to introduce new range of Festool Centrotec compatible shank fitting accessories.

The range includes:

Centrotec compatible drill bit guides.
Self-centring drill for the accurate drilling of pilot holes for fittings such as hinges to ensure exact alignment. Supplied with a High Speed Steel (HSS) drill bit. Drill bit diameter of 2.75mm and 3.5mm to suit No. 8 (4.0mm) and No.10 (5.0mm) screws. The tool can also be easily dismantled for cleaning.

Centrotec compatible shank quick chuck.
Allows Trend Snappy attachments or any direct drive 1/4 inch hex bits to be used with the drill. The chuck has a spring-loaded outer sleeve to make it easier to remove attachments.

Centrotec compatible Steel countersinks with HSS drill.
Heat-treated tool steel countersink with a High Speed Steel (HSS) drill, which can be adjusted to suit different length screws. The countersink can produce a counter-bored hole for wood plugs of diameters 9.5mm or 12.7mm depending on tool size.
Four sizes of drill countersink are offered with drill bit diameters of 2.38mm to 3.5mm.
for No.6 (3.5mm) to No.12 (5.5mm) screws. The drill bit produces pilot holes only.
12th October: Trend support Skill Build 2016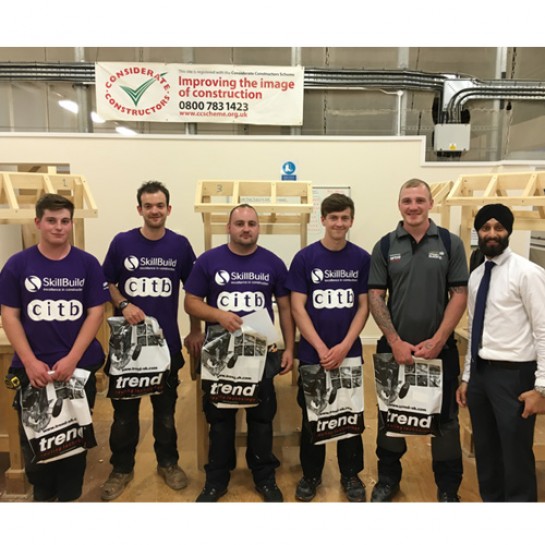 Trend has proudly supported Skill Build Judge and BBC Young Carpenter of the year, Tibby Singh during the 2016 regional heats across the UK.

The heats saw hundreds of students from across the UK take part in regional heats where they were set tasks to challenge and test their woodworking skills.

Participants received goody bags and giveaways from Trend, including Trend T Shirts.

Trend are really proud to support Skill Build. John Tigg who is a Trend employee gives up time each year to help judge and support the heats and the finals and this year is no different. I hope all attendees gained valuable experience from taking part and wish them the very best in their future careers.

Tibby Singh, Skill Build judge adds "I'm really grateful for Trend's support for myself and Skill Build, it's important to support the upcoming apprentices as they are the future of the industry."

To find out more about Skill Build and how to apply to take part please visit: https://www.citb.co.uk/careers-in-construction/experience-it/skillbuild/
1st September: The woodworkers Institution is back!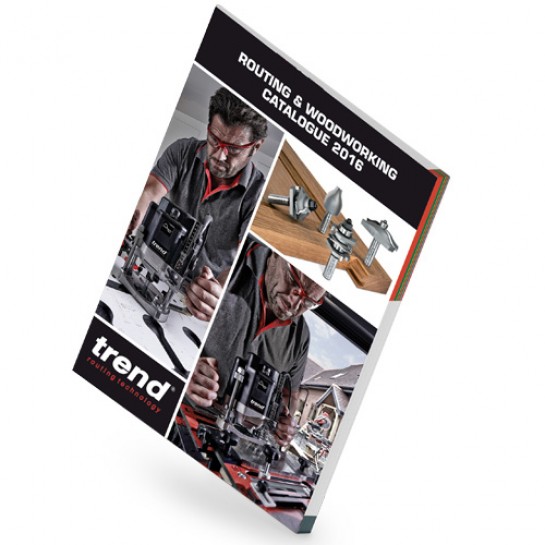 Trend Machinery and Cutting Tools Ltd are proud to announce the launch of their new 2016 Routing and Woodworking catalogue.

Trend was founded in 1955 by Jim Phillips and is still family owned. Trend supplies the UK´s leading brand of router cutters, jigs and woodworking accessories. Trend also has a successful export business, supplying customers across the USA, Europe and many countries around the globe.

Our new 2016 catalogue will be jam packed with new products as well as our well loved heritage ranges of Router Cutter ranges, Power Tools, Jigs, Accessories, Sawblades, Snappy Drill bit System, Sharpening and clamping products.

Trend now have over 230 Trend Routing Centres in the UK that can easily be located on the Trend website www.trend-uk.com.
30th August: Trend Help the Heroes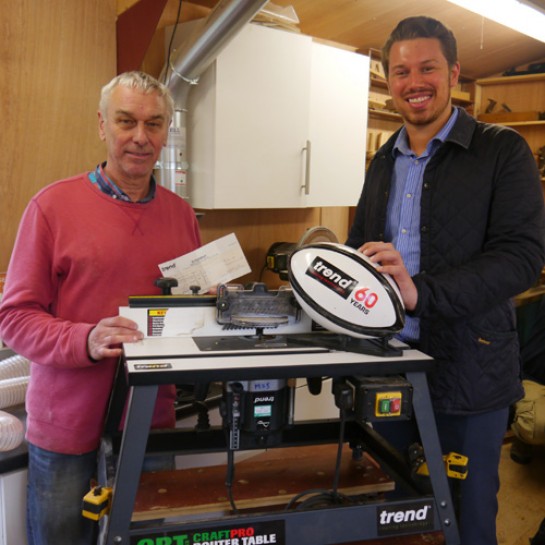 Trend Routing Technology has recently donated over £700 to a wood workshop, funded and kitted out by donations from woodworkers all over the world at the Help for Heroes northern Recovery Centre.
Wounded, injured and sick servicemen, women and veterans being supported at Phoenix House in Catterick have benefited hugely from participating in weekly woodcraft sessions.

The new workshop, kitted out with a wide range of machinery, tools and wood where they can practice the craft be it as therapy, to learn a new skill, gain qualifications or even, for some, as the first steps into a new career as part of Help for Heroes Career Recovery pathway.

Driven by Warrant Officer and Phoenix House volunteer, Chris Morgan, who heads a group called the Woodwork Volunteers, the campaign has resulted in donations of money, equipment, tools and wood pouring in from the woodworking fraternity around the world, enabling the workshop to be ready for use within 18 months of the start of fundraising.

Trend Routing Technology's Head of Marketing visited Phoenix House to hand over a cheque from Trend which was raised from collections from the D&M Tool Show and the Harrogate Woodworking Show. ´After meeting Chris Morgan last year in Harrogate we were keen to support the charity and Trend gave away rugby balls in return for small donations. I am delighted that so many of my colleagues and Trends customers donated to such a worthy cause'.

Chris Morgan from Help for Heroes added: ´Learning new skills is a key part of this support. The woodshed and all the tools in it enable us to expand the range of skills for visitors to Phoenix House Recovery Centre. Some arrive in a poor state but leave feeling better, which benefits not only them but their families at home too'.

For further information and to make a donation please visit:
https://www.helpforheroes.org.uk/donate/
10th May: Trend supporting SkillBuild 2016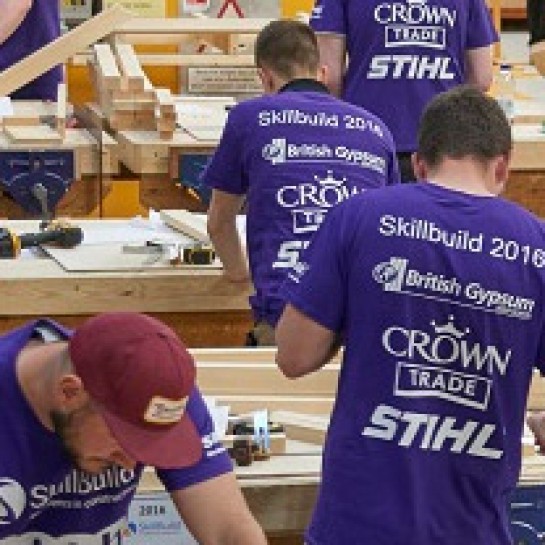 Trend is delighted to be supporting Skill Build 2016.

The largest multi-trade competition in the country returns this year; it covers ten trade occupations and is run by CITB.

We hear of the skills shortage in the UK and how we need to improve education and skills in the trade. The quality of the contestants is always of the highest and we are delighted at Trend to support the regional heats and raise awareness of this important competition. Trend will be giving away goody bags at the heats and supporting Skill Build judge Tibby Singh.

To find out more about the competition and regional heats, please visit: SkillBuild 2016.
7th April: Weatherseal and Milling Cutters from Trend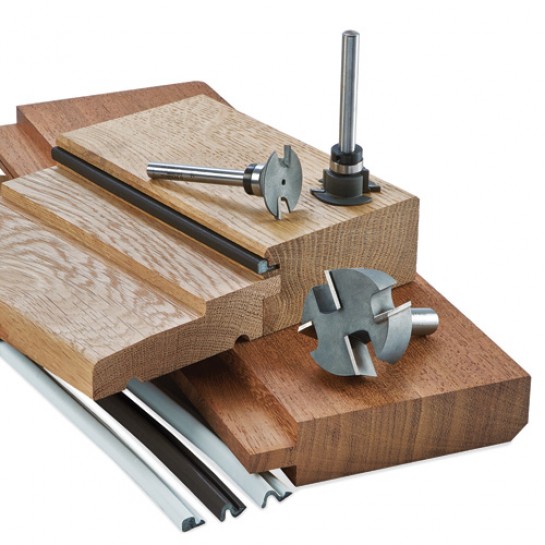 Trend is excited to introduce two new weatherseal recess cutters and a new large diameter tenon milling router cutter to their market leading Professional Range of router cutters.

The 8mm Shank Guided Weatherseal Cutters:
Two fluted cutters with bearings mounted on the shank with 8mm shank diameter to allow use in smaller medium duty routers. The bearing guides the tool to ensure a consistent depth of cut and creates a stepped groove to suit weatherseal.
The two-fluted Tungsten Carbide Tipped (TCT) tool will give a clean finish in timber and longer life. Cutters are available to suit the Aquamac 63 and Aquatex A10 window seals and Aquamac 21 and Aquatex P6 door seals.

The 50.8mm diameter Tenon Cutter
The large 50.8mm diameter cutter with a cut length of 20 mm is four-fluted and ideal for routing tenons with a clean finish on the shoulder. The tool is Tungsten Carbide Tipped (TCT) for use on timber and abrasive man-made boards and has four cutting edges - two down-shear blades for the shoulder and two up-shear, for the face of the tenon. The cutter deal for tenoning or where a large area needs to be recessed or surfaced and is especially good for an improved finish on interlocking grain.

The new cutters are available from Trend Routing Centres.
7th April: The missing piece of the JIGSAW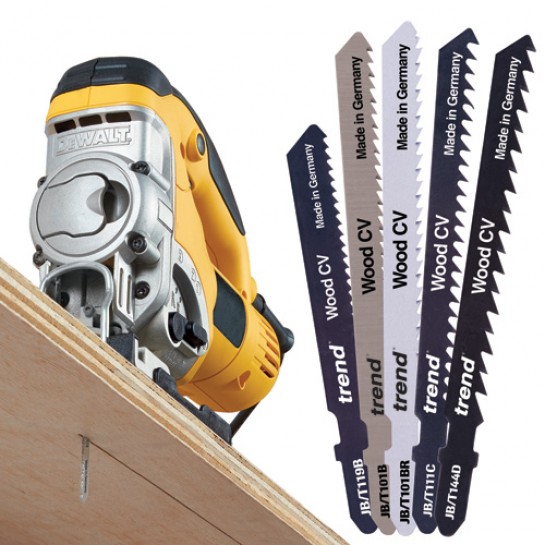 Trend is excited to introduce a new range of Professional Jigsaw Blades for general woodworking applications.
These high quality blades are used to cut straight and curved cut in natural and man-made timber and plastic. Five blades are available including cross ground, tapered or milled and set, depending on material and application and have the universal T-shank bayonet fitting. The blades are made from high-alloyed Chrome-Vanadium Steel, which is perfect for use on softer materials. The range includes blades than can cut material from 4mm to 60mm thicknesses, with tooth pitch from 2.0mm to 4.5mm for fine finish or faster coarse cuts. The blades are sold in packs of five.

The blades are available from all Trend Routing Centres.
3rd April: Safety Spectacles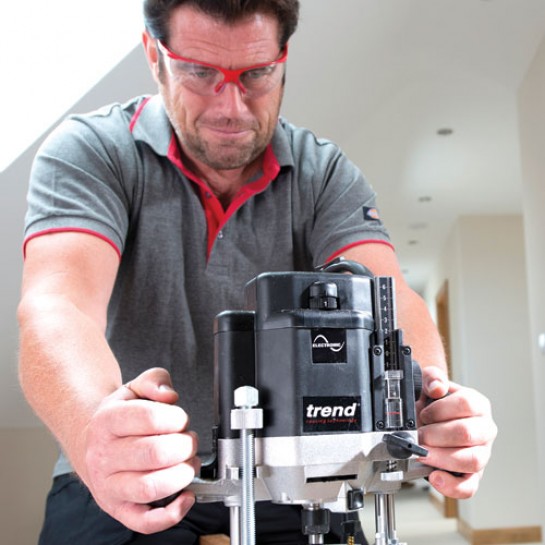 Trend is excited to introduce a new range of safety spectacles.

The safety specs come in a clear or grey lens.

Key features include a Stylish wrap around design frame with curve lens for a snug, secure fit and a durable scratch resistant polycarbonate lens providing impact and UV protection

The great thing about Trend's new safety spectacles are not only are the stylish but they provide protection against high speed particles and are certified to EN 166:2001 standard. It's vital to protect your eyes whilst working.

Product codes: SAFE/SPEC/A + SAFE/SPEC/B
3rd April: New Router Table Back Fence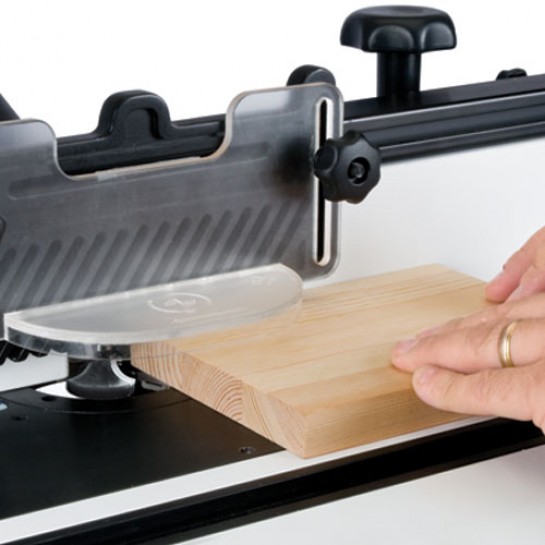 Trend is excited to introduce a new Router Table Back Fence.

The Back fence is complete for incorporation into user made router tables.

Features include:
Sliding cheeks to reduce cutter aperture size.
With edge planing facility of 1.4mm and 2.4mm.
Comes with a top featherboard pressure and a clear safety guard.
Supplied with dust spout aperture and table fixing bolts.