Subjects in this section, click for more information.
Support
Subjects in this section
---
Support
Subjects in this section
---
Technical Support
Online Technical Support
Our Online Technical Support service will allow you to chat directly with our support team for all your technical and support queries. Please Click here to commence your conversation or use the embedded window on this page. If a member of our support team is not available, please continue with your question and submit via email.
Technical Support Department
Alternatively, call our technical support team if you need technical support or advice in using or purchasing our products. Our technical support team are the most experienced in the industry.
Their combined expertise is second to none and is trusted by users ranging from home craftsmen to major multi-national companies. They are always at hand to provide help on the correct selection of applications of our tooling and other products. Their backgrounds include wood machining, joinery, building, engineering, pattern/model making and CNC programming. This enables them to provide both practical and well-informed advice on routing problems. See our Contact Us page for more details.
---
Have you tried our knowledge base?
Please visit our new online knowledge database. We plan to make this the most comprehensive online site for guidance and assistance in the routing industry, whether you are a novice in routing or a more experienced user. Click below to find out more.
Do you need instruction manuals?
Please visit our online library. All data is readily available to download from this section and includes information such as instructions, manuals, press releases, product reviews, articles, catalogue pages, health & safety documents, and many more useful documents.
Where is my local stockist?
Our website has a comprehensive facility to locate your nearest stockist in the UK, USA or Ireland. Our products are sold through a network of Premium Tool Centres and Trend Stockists across the globe. We recommend you phone first to check if an item is in stock before travelling.
For more specific queries contact our Technical Support team by email or telephone 01923 249911.
---
Warranty
All Trend products are guaranteed for 12 months (unless guarantee card or product packaging advises otherwise) from the original purchase date against any manufacturing defects leading to premature failure. We guarantee to replace all defective parts free of charge or at its discretion to replace the product free of charge.
The guarantee will be valid, providing the following applies:
Within 28 days of the purchase the Guarantee Registration Card is completed and either returned to Trend or registered on line.
Proof of the date of purchase is kept and provided if required.
The product has been correctly used in accordance with the instructions.
Service and/or repair of power tools and machinery is carried out by an authorised Trend Service Agent.
No unauthorised repair or modification has been made to the product.
The product has not been misused, abused or improperly maintained.
The product has not been subject to normal wear and tear.
The product was not stolen or is a counterfeit copy.
This guarantee is personal to the original purchaser and is not transferable. The guarantee is in addition to and does not affect contractual rights as a professional user or your statutory rights as a private non-professional user. Customers must ensure that the product is suitable for the purpose intended before use. Always make a test cut on scrap material. Trend cannot be held liable for any defects or damage caused by abuse or misuse of any products or unauthorised service of any product. We also cannot be held liable for material rendered unusable or any form of consequential loss.
Warranty
All Trend Tools are carefully checked and tested to meet the stringent controls of Trend Quality Assurance. In addition to any statutory rights resulting from the purchase, all Trend products are covered by the details mentioned on the warranty page.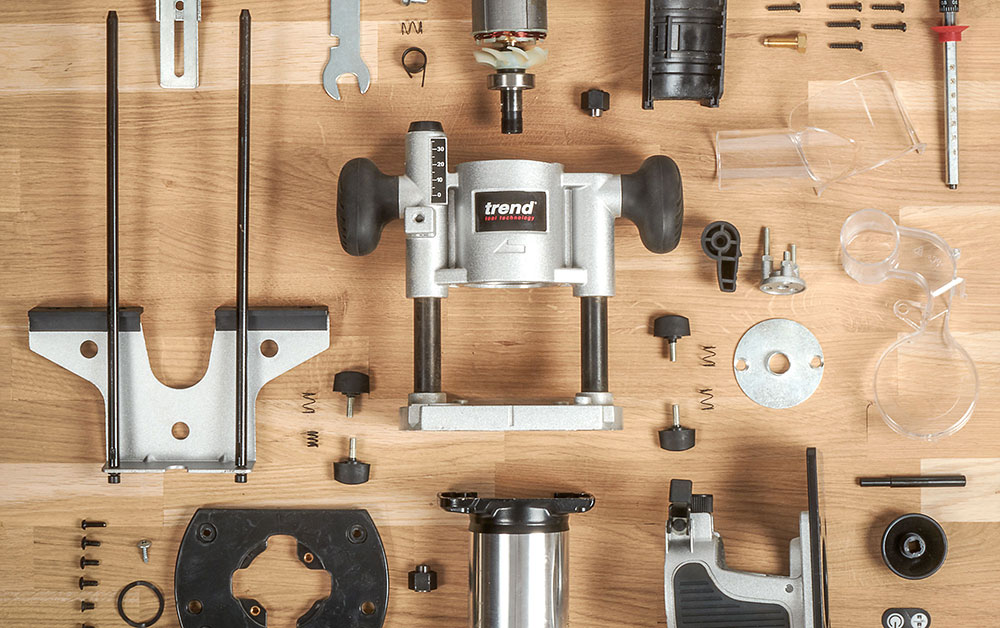 ---
Trend Extended Warranty
Trend Professional Power Tools meet the highest quality standards. We offer you the opportunity to extend your warranty to three years from date of purchase free of charge. All you have to do is register your tool online within four weeks of purchase.
This offer is available for the following Trend Professional Power Tools only; Product Refs. T5EB, T5ELB, T5EK, T5ELK, T5EK/MK2, T7EK, T10EK, T10ELK, T11EK, T11ELK, T20K, T20LK, T35A and T35AL
The offer applies to the tools listed above that are bought and used in the United Kingdom and Republic of Ireland only.
Please note offer excludes T4 router, T31A dust extractor. battery operated power tools, router tables, machinery including CNC machines and power tools supplied accessories, battery packs and chargers. B and C grade stock products are also excluded.
To register your product, you will need to register as a user on our website. On the account management page you can then register your power tool for the warranty extension and print out your warranty certificate. You will need to register each purchased tool separately. If you need to make a claim under the three-year warranty, you will need the Product Guarantee Certificate together with the original proof of date of purchase.
Trend Extended Warranty - Manufacturer's Guarantee
(Applicable from 18th February 2013).
All Trend Professional Power Tools are carefully checked and tested to meet the stringent controls of Trend Quality Assurance.
Trend therefore offers a guarantee for Trend Professional Power Tools. Your warranty claim based on your sales contract with the retailer, including your statutory rights, shall not be affected by this guarantee.
We offer a guarantee for these tools in accordance with the following conditions:
Our guarantee in accordance with the following provisions (numbers 2 to 8) provides for the correction of deficiencies to the power tool, at no charge, if it can be verified to the satisfaction of Trend that the deficiencies were caused by a material or manufacturing fault within the guarantee period.

The guarantee period begins from the time the tool is purchased from new. The starting date is the date on the original sales receipt

For all Trend Professional Power Tools bought on or after 18th February 2013 (with the exception of the T4 router, all battery operated power tools, router tables, machinery including CNC machines, B and C grade stock products), the guarantee period shall be extended to 36 months if you register these tools within 4 weeks from the date of purchase.

Registration can only be made via the Trend website at www.trend-uk.com. To validate any claim the registration Product Guarantee Certificate, which should be stored and/or printed out immediately, and the original proof of date of purchase, is necessary.

Registration shall only be possible if you agree to the storage of the data entered.

The guarantee does not cover:

Parts of the tool that are subject to natural wear and tear caused by use in accordance with the tools instructions.
Defects in the tool caused by non-compliance with the instructions, improper use, abuse, abnormal environmental or inappropriate operating conditions, overload or insufficient servicing or maintenance of the tool.
Defects caused by using non-original Trend spare parts, accessories or components.
Slight deviations from the specified quality that do not affect the functionality or value of the tool.
Tools that have had unauthorised repair or modification made.

Defects recognized by Trend as being covered by the guarantee shall be corrected either by means of repair of the faulty tool free of charge or by replacement with a tool in perfect working order (this may possibly be a later model). Retained tools for which a replacement has been provided shall become our property.
5. The guarantee claim must be submitted within the guarantee period. This requires the submission or sending of the complete tool in question along with the original sales receipt, which must indicate the purchase date and the product description, directly to Trend or to one of our Trend Authorised Service Agents (TSA's). If a claim is made within the 36-month guarantee period based on the above-mentioned registration, the downloaded and printed registration form must also be submitted. Partially or completely disassembled tools cannot be submitted or forwarded in the case of a guarantee claim. Trend offer a collection service for warranty claims (telephone Trend Customer Services on 01923 249911, or email customerservices@trendm.co.uk); if you decide to send the tool to a Trend Authorised Service Agent, the costs and risk of transport will be borne by you. Transport charges for invalid claims may be charged at the discretion of Trend; invalid warranty claims may be repairable, in which case you may be offered an estimate of the cost involved for the repair.
6. Services provided under guarantee do not lengthen or renew the guarantee period for the tool.
7. Claims other than the right to correction of faults in the tool named in these guarantee conditions are not covered by our guarantee.
8. The guarantee is personal to the original purchaser and is not transferable.
The above guarantees (in reference to the 3 year extended warranty) apply to tools that are bought and used in the United Kingdom and Republic of Ireland only.