1st December: The new and improved Fast Track Sharpening System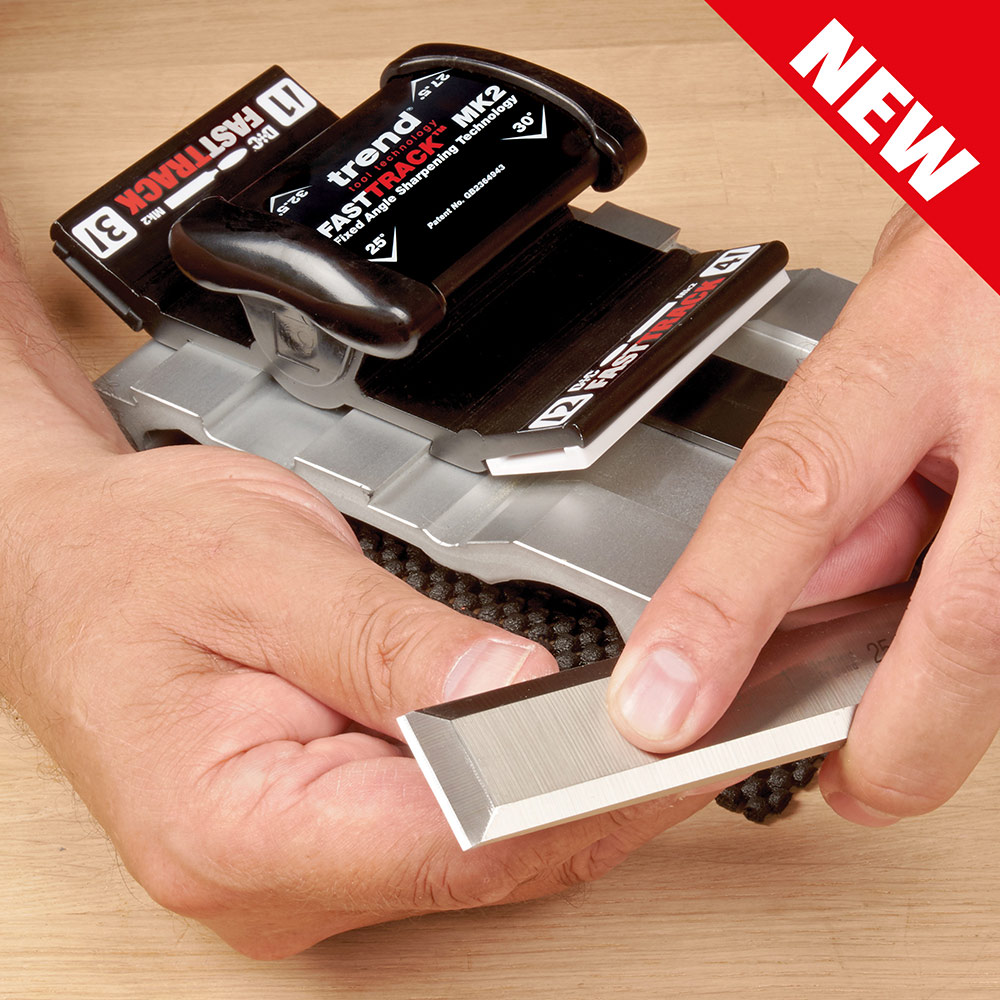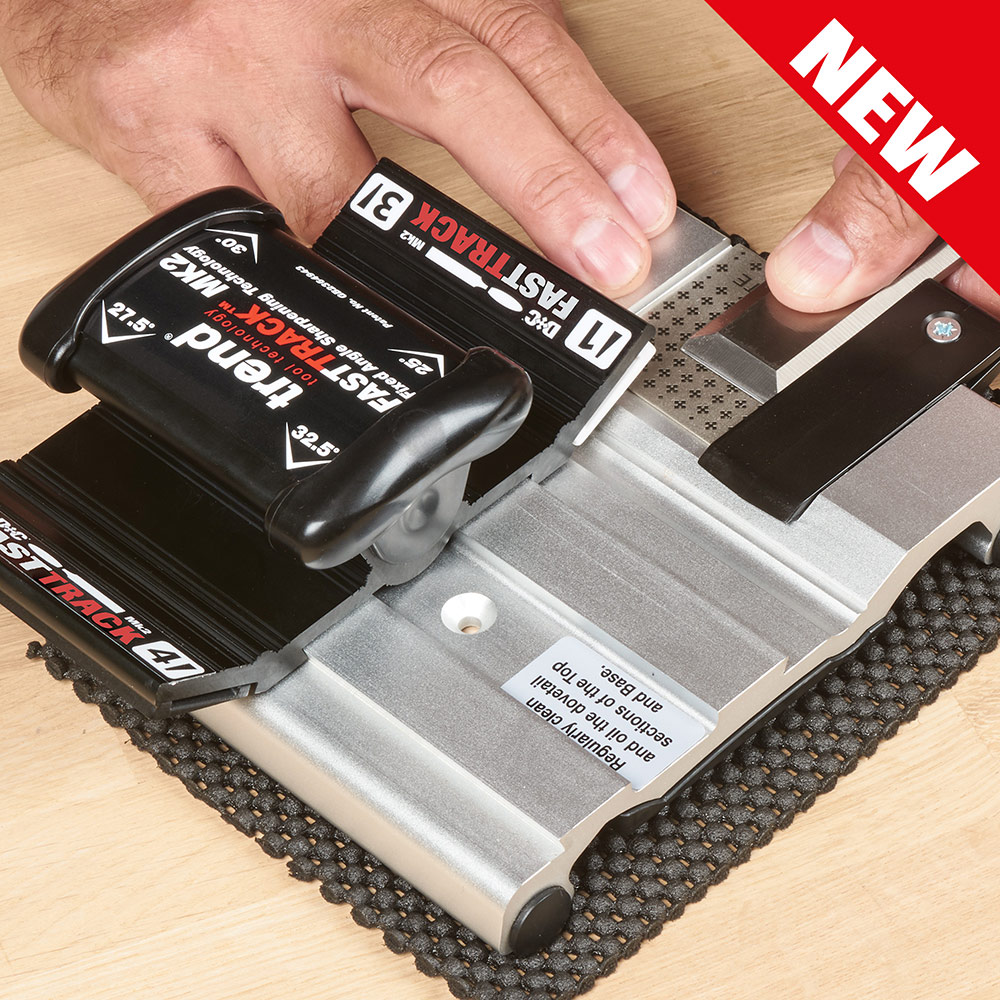 Increased edge honing and reshaping options for plane irons and chisels are standard with the new Fast Track Sharpening System MK2 from Trend.
Expanding on the highly successful original Fast Track model, the MK2 version uses the same rotating dovetailed sliding carriage design to swap between angles. It also offers consistent square edge honing and reshaping of plane irons and chisels from 3mm to 63mm wide.
Highly durable Mono Crystalline Diamond tapered sharpening stones are held securely in place with magnets for easy swapping and repositioning. Rotating the stones and carriage gives you four different angles of 25°, 27.5°, 30° and 32.5° for honing and preparation work.
In addition to this, the Fast Track MK2 comes supplied with 220 and 450 grit stones, both with a unique diamond cross relief pattern for faster cutting and removal of swarf.
For easier honing of chisels and narrow blades, the new centring clip positions narrower blades and chisels in the optimum central location on the base for maximum stone contact and easier control. Honing options can also be maximised by working through the four taper angles in sequence allowing an edge to be honed multiple times. This is done firstly at the 25° setting before moving to each subsequent setting as required to increase the honing angle and keep chisels and plane irons sharp and ready over a longer period of time before the need to regrind.
The Fast Track MK2 is ideal for novices and seasoned professionals alike. It is quick and easy to use. With plastic end caps on the sliding carriage, it increases comfort when used for extended periods. It comes supplied with a non-slip mat to keep the Fast Track from slipping on any surface for safe and secure operation making the new Fast Track MK2 the speedy and simple solution.
2nd October: The Trend Air Mask Pro Full Face Mask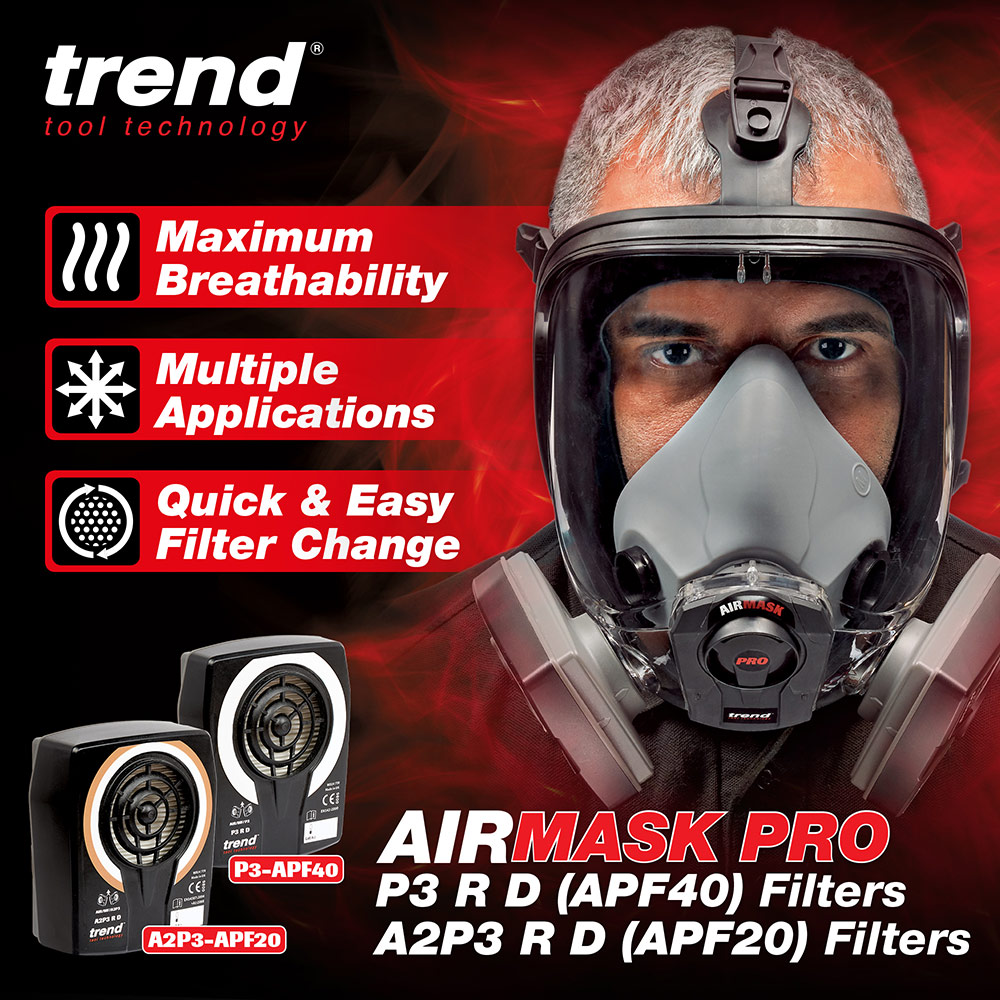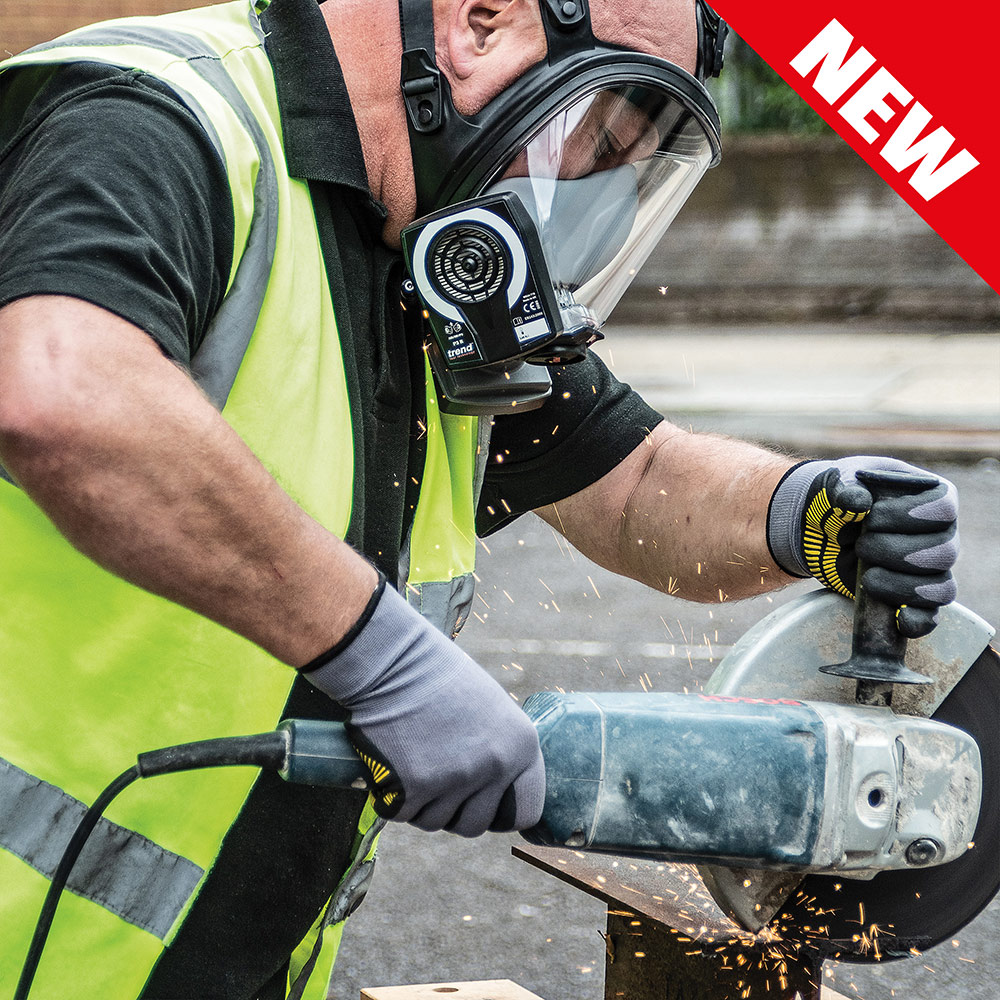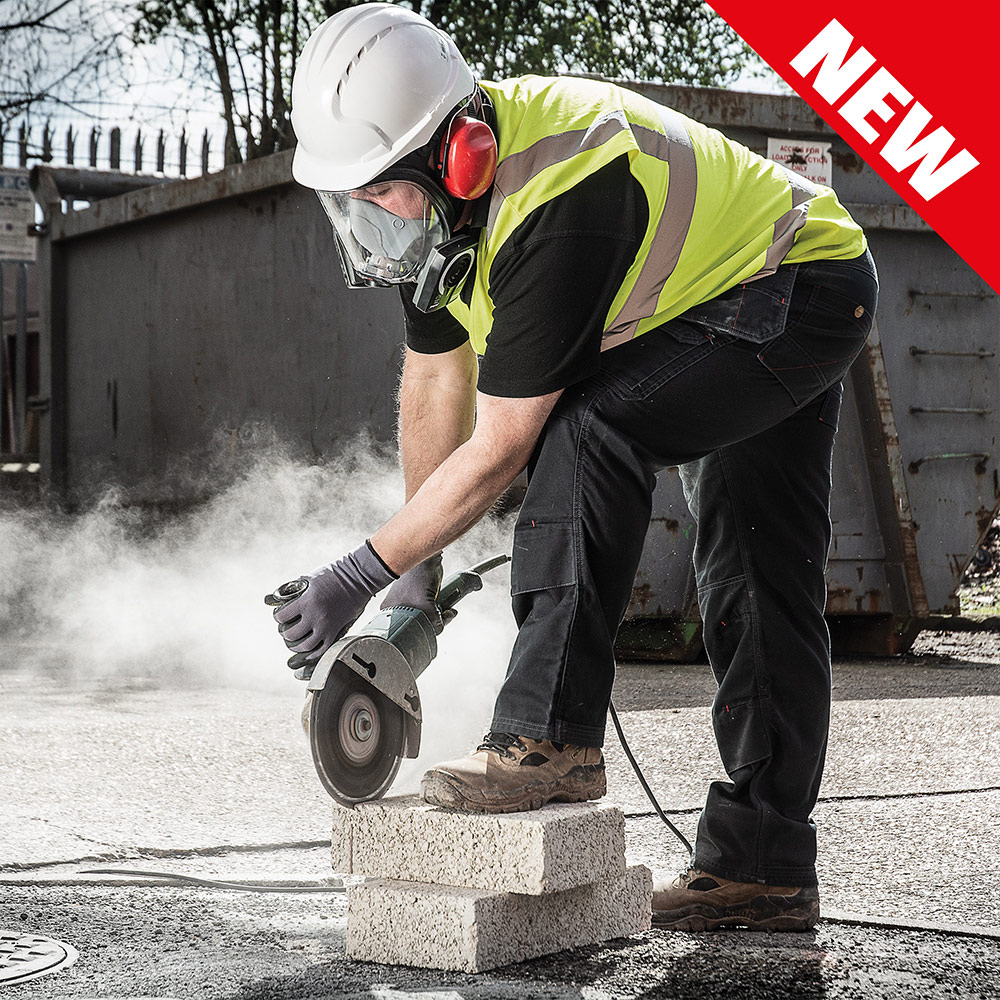 Offering exceptional protection from high velocity debris impact and respiratory protection from microscopic airborne particles, the new Trend AirMask Pro is the perfect dual-purpose Full-Face mask for eye and respiratory protection. By selecting specific filters to suit the work in hand, the user has the correct protection at all times, filtering out particulates as fine as 0.3 microns to 99.99% efficiency.
Two filter options are available separately from Trend, both using a foolproof twist lock bayonet connection for simple and fast change over when required, with the filters designed to fit to the side of the mask in a swept back profile to minimize any vision impairment when working.
The P3 R Filter has class leading APF40 rating (Assigned Protection Factor) which protects against harmful airborne dust from woodworking applications, concrete and metal grinding, silica and masonry dust, agricultural dust, fiberglass, aerosol sprays and more.
The A2P3 R Combined Filter option offers protection against the same harmful particulates as the P3 R filter, while also covering more diverse materials including some paint spraying, mist and fumes applications to an APF20 rating. The AirMask Pro also has ultra low breathing resistance for increased comfort levels whether over longer periods of use or in strenuous tasks, ensuring premium respiratory protection at all times, across multiple trades and tasks.
The AirMask Pros capabilities are further enhanced by the visor which offers superior panoramic vision and high impact eye protection with a rating of EN: 166 B. With a visor capable of withstanding a 6mm steel ball fired at over 200 metres per second, its ideal for all stone cutting, grinding and woodworking tasks where high speed flying debris is commonplace.
Sharing the same specification used by the Fire and Rescue Services, the 5 point head harnes also achieves the best possible fit for the all-important leak free face seal. The harness has soft rubber straps with quick release tabs for fast fitting and removal, with soft non-allergenic elastomeric twin face seals, both around the nose and chin and the outer edge of the mask for maximum protection against inward air leakage.
Available in Small, Medium and Large options to ensure the best possible fit, the lightweight low-profile design of the AirMask Pro optimizes and enhances respiratory and eye protection factors for the end user, offering ultra-efficient filtration with easy breathing and superior crystal-clear vision.
2nd October: The Trend Air Stealth Lite Pro Dust Mask P3R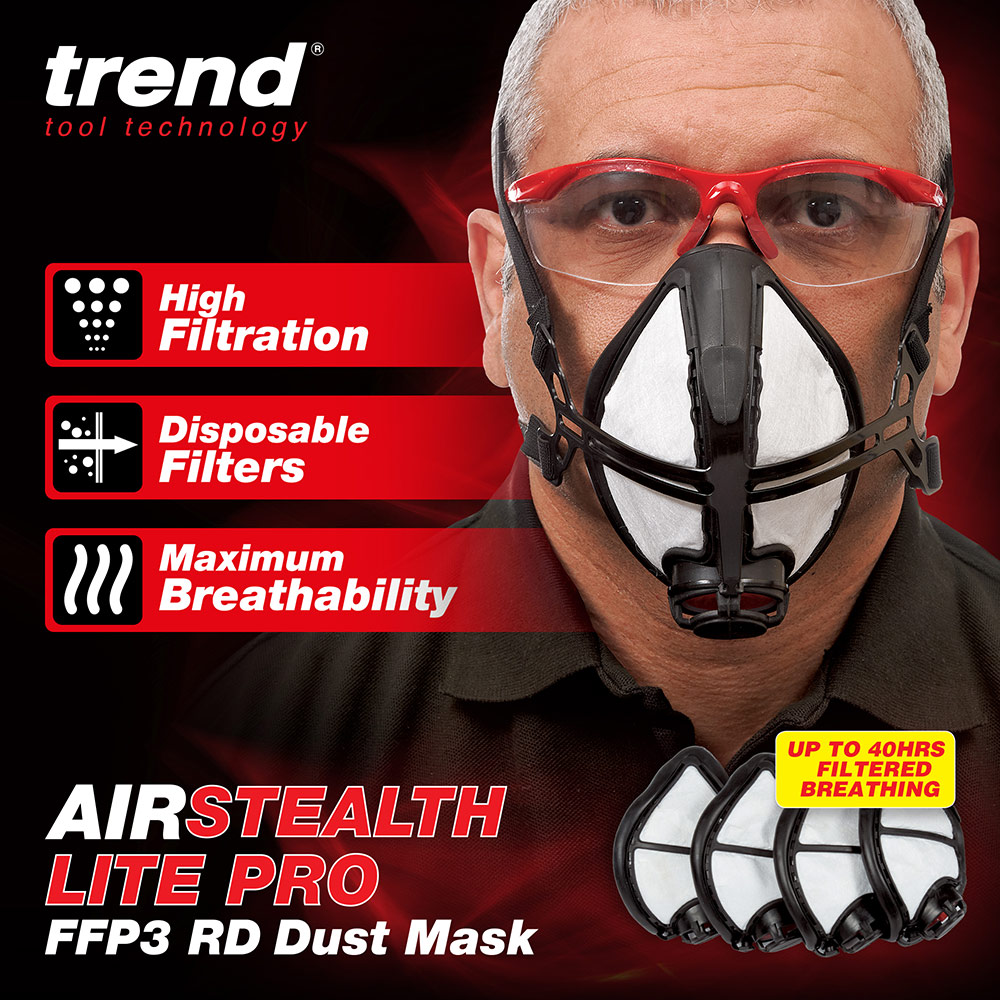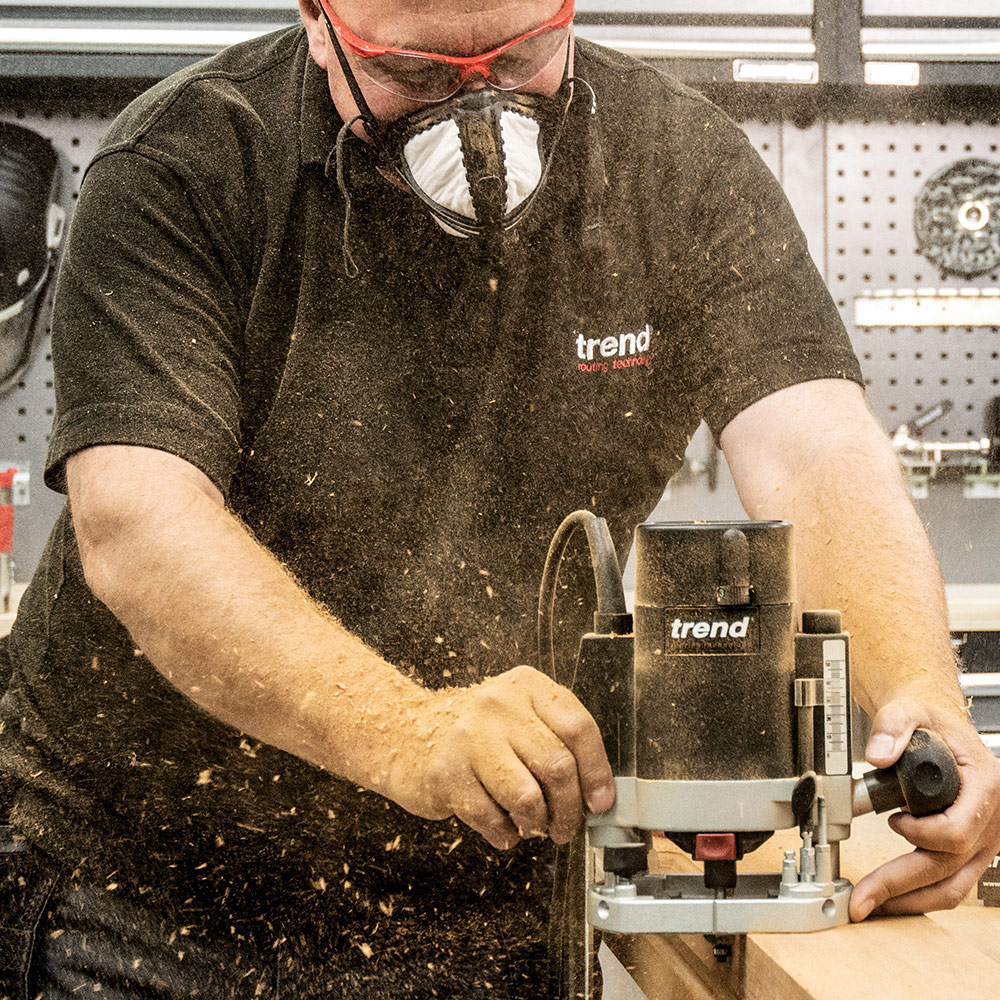 Air Stealth Lite Pro Dust Mask P3R
The new Trend Air Stealth Lite Pro disposable dust mask is one of the most efficient P3 rated disposable on the market with a protection efficiency of 99%+ thanks to its HEPAC filter and ultra-efficient face seal.
The design has a full over mould non-allergenic soft rubber face seal, and with no metal nose clip it ensures comfort while also delivering the ultimate seal; comparable to a reusable mask rather than a disposable type.
The sleek design and large filter area achieves maximum vision and minimal breathing resistance for a comfortable end user experience when working, and with the bottom facing exhalation valve, it works exceptionally well when wearing prescription or safety glasses, minimising any fogging issues.
Designed for 8 hours of use to allow the equivalent of a full day of work without the need to replace it, the mask is constructed with a reusable strap and frame with the filter and face seal disposed of once it has become contaminated.
The pack of five filters and strap are ideal to cover a full working week if required and also perfect for occasional jobs where reusable PPE is not always needed, but where the same high efficiency protection is essential.
Suitable for a huge range of applications including common woodworking tasks such as routing, sawing and sanding, preparation work for decorating, dust from agricultural work or metal and masonry occupations covering grinding metal, stone and brick, the Trend Stealth Lite Pro disposable masks are the efficient and easy way to keep yourself protected from not only the dust you can see, but the more harmful stuff that you can not.
25th September: 26 New CraftPro Cutters from Trend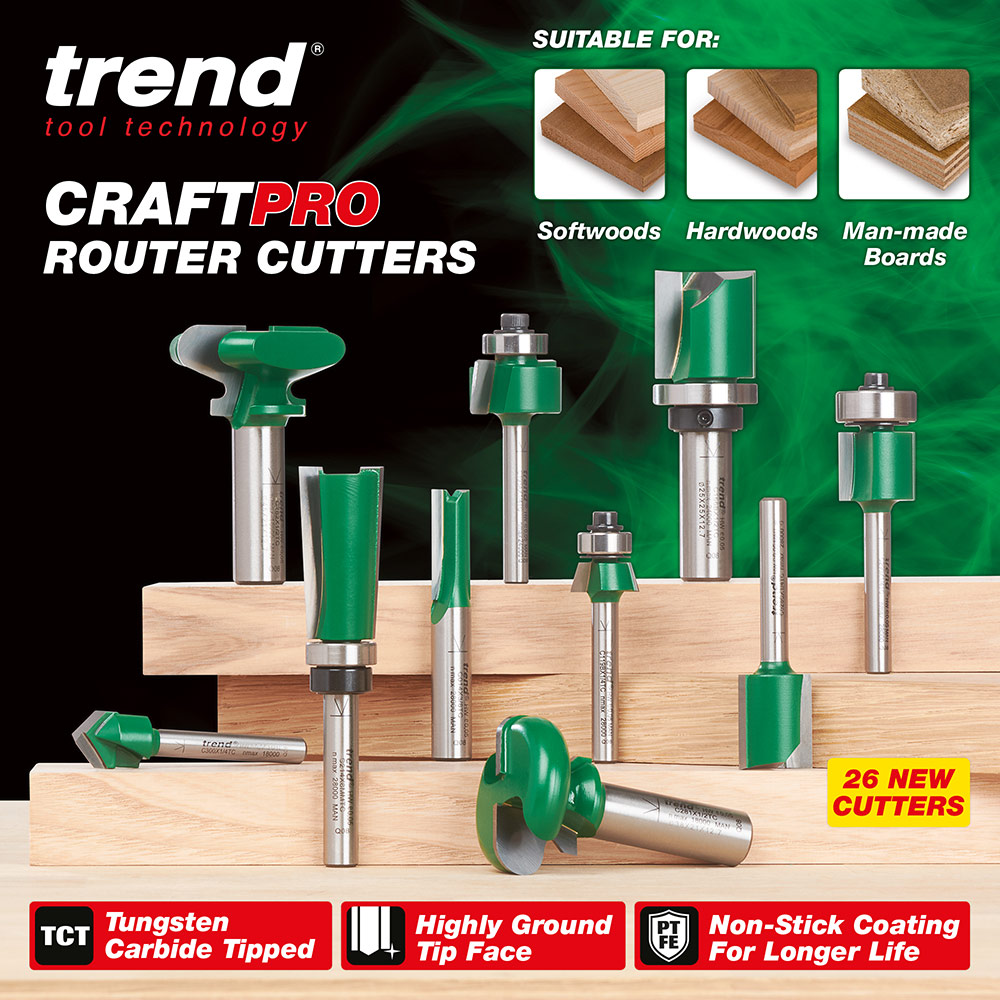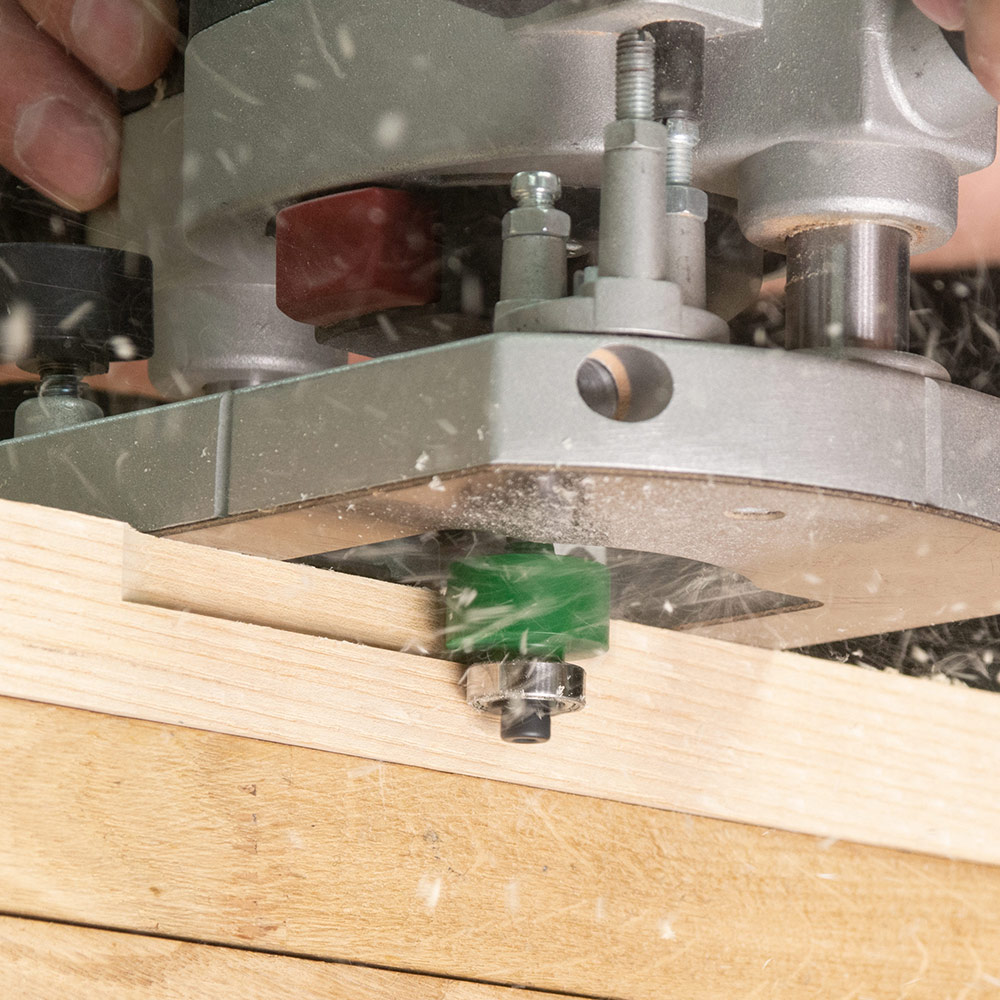 Trend are pleased to announce an additional 26 cutters to complement and enhance their market leading range of trade router bits.
Comprising of 1/4", 8mm, 3/8" and 1/2" shanks, it includes an additional 14 straight cutters from 3.4mm diameter to 24mm diameter in a variety of cut depths for multitude of applications including slotting, grooving morticing., rebating, trenching and bearing guided work.
For templating and profiling work a 1/4" shank bearing guided profiler and 1/2quot; shank low profile bearing guided trimmer are also introduced. A bevel edged bearing guided trimmer and a non-bearing guided dual profile trimmer complete the new edge trimmers. These also come with the bevel profile options allowing corner profiles to be cleaned back flush with a light chamfer detail for a softer edge.
A 1/2" shank bearing guided 50.8mm diameter rebater as well as a 1/4" shank bearing guided 24mm diameter rebater allow consistently sized rebates to be formed on curved or straight edges. These ensure a fast, repeatable rebating process that increases efficiency and minimises time. Both cutters have different bearing options included to alter the rebate width for increased functionality.
Two new drawer pull profiles further expand the cutter range. These are ideal for kitchens, furniture and cabinetmaking for flush fit or plant on pulls. Perfect for introducing new design elements to your work. The new CraftPro range also introduces established popular profiles and specialist cutters taken from the Trend Professional range. It enables the end user the choice of two high quality cutter options depending on their requirements and budgets.
This includes two new bearing guided undercut bevel cutters for applying clearance bevels to door edges. Available options include a 3° bevel, 38mm cut length for internal doors as well as a 2° bevel, 50mm cut length for external and fire doors. Both of these cutters complement the huge range of Trend door fitting jigs and accessories to aid productivity whilst achieving professional finishes.
A specialist 14mm diameter 70mm cut depth cutter is also being launched as part of the twin flute straight cutter range. It is specially designed for use on honeycomb lightweight boards for clean square finishes on deeper profile hollow structures. A 6.3mm straight cutter single flute makes up another specialist cutter in the range. It makes for a clean cut on ABS plastics and PVC while the other 45° "V" profile specialist cutter is perfect for removing the waste material on specialist aluminium cladding when forming right angles panels.
As part of the CraftPro range, these 26 new cutters hit the mark for assured quality and performance in the trade environment. All Trend cutters carry the °K° marked shank for safe and correct insertion into the collet. Designed to cope with the rigours and abrasiveness of multiple materials, the premium quality micro-granular carbide and PTFE coated bodies ensure every CraftPro cutter has the performance, durability and consistency demanded by the trade professional or hobbyist alike.
24th September: Fire Door Saftey Week 23rd - 29th September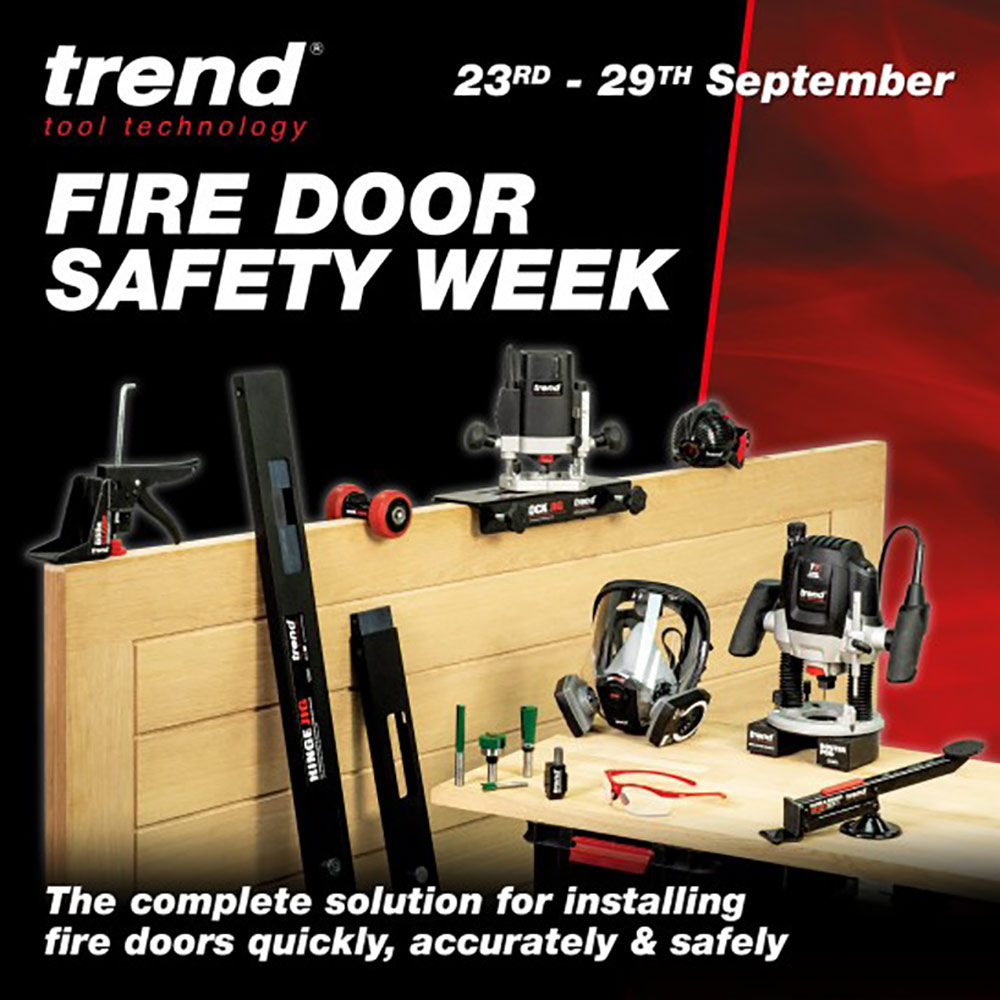 Fire doors save lives and property.
A matter of fact statement that we can often take for granted as they operate as normal until the time arises and they swing into action, sealing the door opening from smoke and flame to protect and shield occupants and property from danger. They form a discreet, integral part of all of our lives whether in the workplace, the places we visit or our own domestic buildings but must be fitted correctly to ensure they provide the correct safety legislation.
Here at Trend we have the complete solution to fit and hang fire doors correctly, accurately and safely, providing the essential 24/7 protection we all rely on. Fire doors are not light and therefore care is needed to ensure safety when the moving and fitting them. Doors will need to be manhandled numerous times when fitting and hanging and Trend have accessories to aid to both manoeuvring and lifting the door, from a Door Skate to transport the door easily, to a range of door lifts to easily raise, control and position the door during the hanging process when aligning the hinges to the frame.
To Bearing Guided Undercutting router cutters provides a 3° clearance bevel on the hanging and closing stiles to prevent binding and sticking while still leaving a tight gap on the door face; essential if the door is to close and seal correctly should the time arise. Fire doors need to have intumescent strips on their edges to expand and seal the gaps when heat is encountered. These must be fitted accurately to achieve the correct seal and can be time consuming to do using traditional methods.
Trend have a range of bearing guided Intumescent cutters that make perfectly sized grooves for the three sizes of strip in use today, making fitting Intumescent strips a fast, repeatable and accurate task on any fire door. To prepare the door with hinges and lock, the Trend door stand holds it safely in a horizontal position while the hinges and locks are fitted, and also makes it easy to lift to door to a vertical position for fitting to the frame or other work such as fitting ironmongery.
Trend have a range of hinge jigs and corresponding router bits designed to speed up the job of fitting hinges and are made for use with both domestic and fire door rated frames and linings so they can be used on frames or linings with rebates and stops up to 25mm thick. With jig options that can be used for new work or to fit new doors to old frames, they are fast to set up, easy to position, and cut both the door and frame hinge recesses from one simple, accurate and repeatable set up.
Fire doors rely on minimal gaps where fire can break through and locks must be fitted accurately with minimal gaps within the lock body mortice cavity. Trend Lock Jigs use matched router cutters that allow mortice locks and latches to be fitted with repeatable accuracy and marginal clearances to achieve the best fit possible, keeping air voids to a minimum, while also speeding up the task of lock fitting in general.
Trend offer a range of additional accessories when cutting hinges and locks, including the Corner Chisel which swiftly cleans and squares the radius corners of the hinge and lock faceplate, and also a range of drill bit guides.
The Trend Snappy Drill Bit Guide is invaluable when setting screws centrally to the hinge and faceplate countersinks to ensure the screws sit flush.
If screws sit at an angle or slightly proud they can cause binding or catching which can prevent any door from operating correctly so it is vitally important that they are set correctly.
Equally important to any task involving dust and debris from woodworking tasks is to protect your eyes and lungs from them. Trend therefore ensure your first port of call for respiratory and eye protection is well covered with a range of high quality, high protection solutions.
9th September: The T7 1/2¨ Plunge Router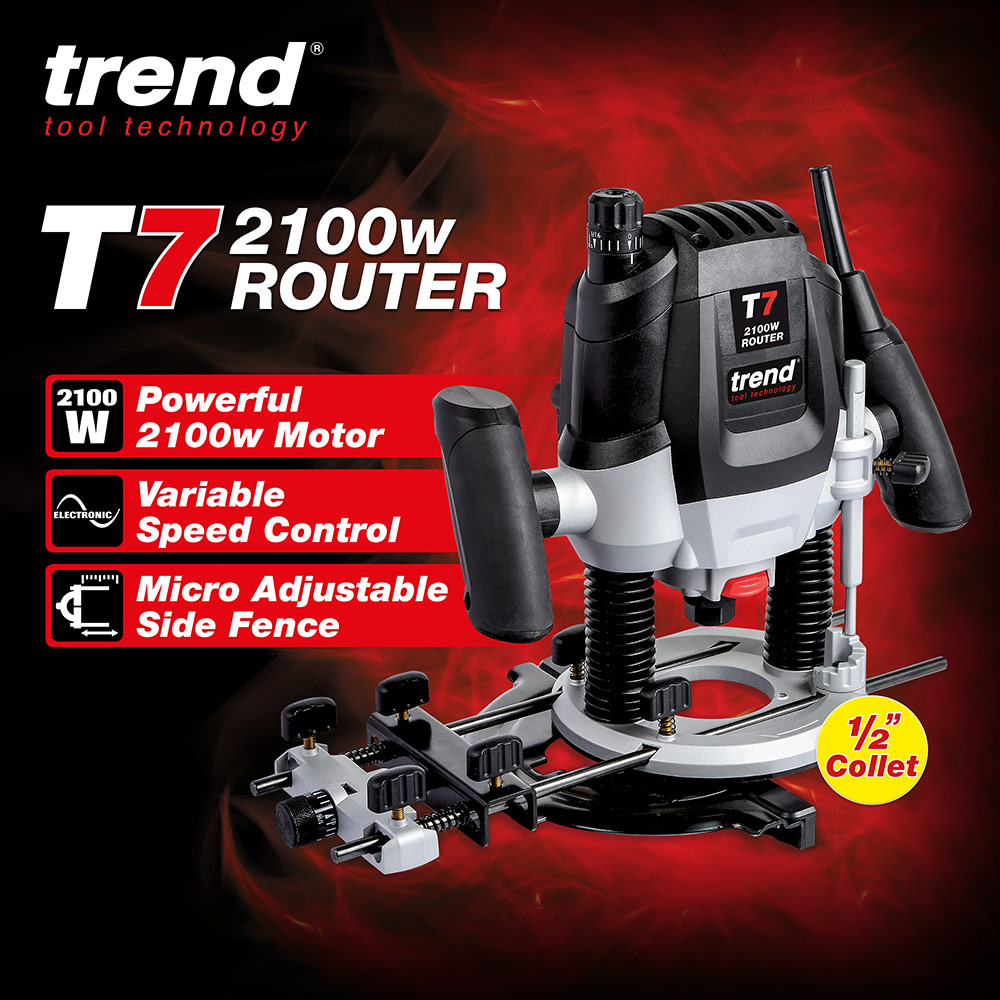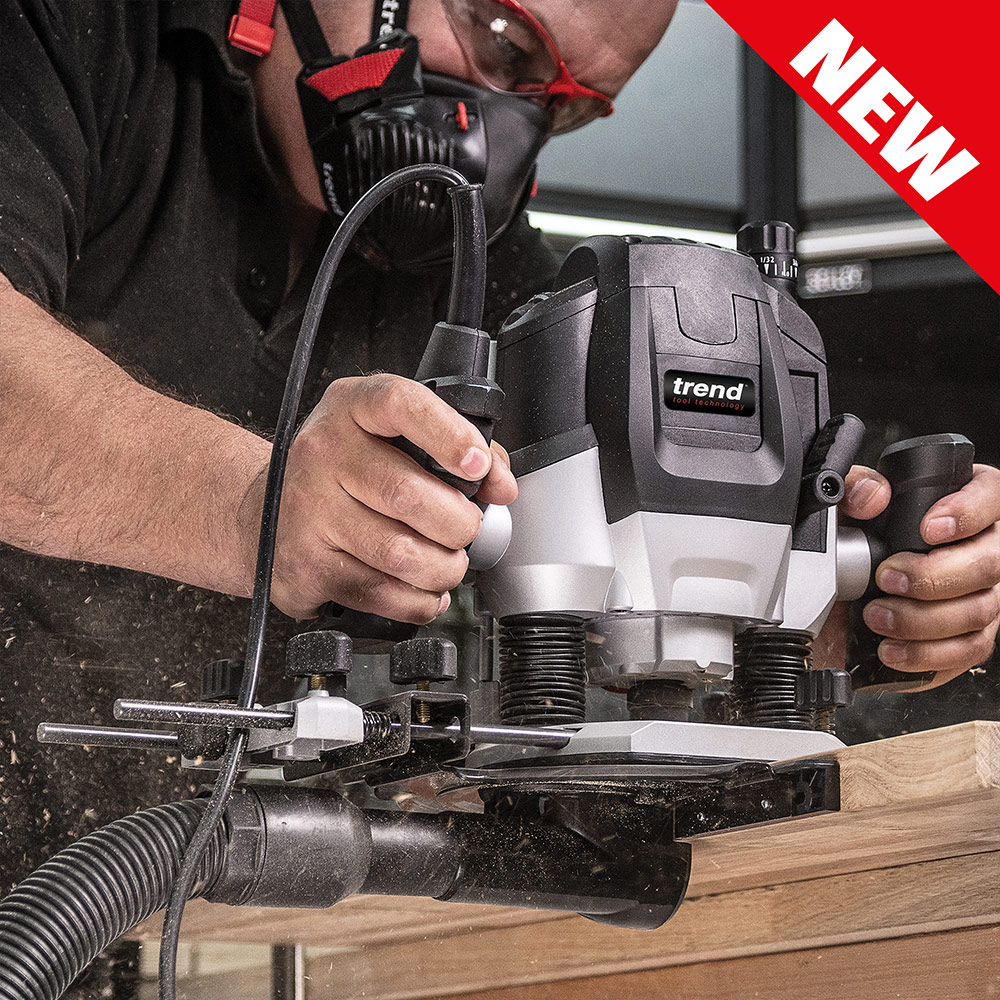 Trend are excited to announce the launch of its brand new trade rated 1/2¨ shank capacity router.
With the power and performance essential for heavier use, the new Trend T7 Router fits the bill admirably while still offering a full range of desirable, user friendly functions. Retaining all the requirements of a great router, the T7 has a powerful 2100 watt soft-start motor, ideal for heavy duty applications including worktop fitting and stair construction using jigs. It also comes supplied with a 30mm guide bush for jig and template work.
The 50mm plunge capacity is operated by an easily accessible plunge lever behind the left hand grip, with the two stage Deadman style safety power switch built into the right grip allowing easy, safe and controllable operation in all routing tasks. An easily accessible variable speed dial offers further scope and controllability when using different diameter cutters or with different materials such as plastics, dense hardwoods, laminates and sheet materials.
For additional control for accurate fitting of inlays, ironmongery, or precision grooving, slotting, rebating and moulding, the micro adjustable fine height adjustment offers smooth, easy operation across all types of application.
For general routing use a standard 8 stage turret and plunge post allow quick and easy stepped cuts when making deep plunge cuts.
The T7 comes supplied with a 1/2in multi-slit safety collet with 1/4in reducing sleeve for extra versatility when purchasing new or using existing cutters and, with a built in spindle lock, cutter changing is quick and easy. A micro adjustable fence completes the package, allowing precision cutting and control in from the edge of the workpiece, and has the additional bonus of a trammel adapter for circle and curved work.
Supplied in a carry case complete with a full dust kit for both standard routing and for fence use, the T7 is a competent, capable all-rounder with a raft of user-friendly features and functions.
19th August: The Trend Compact Storage System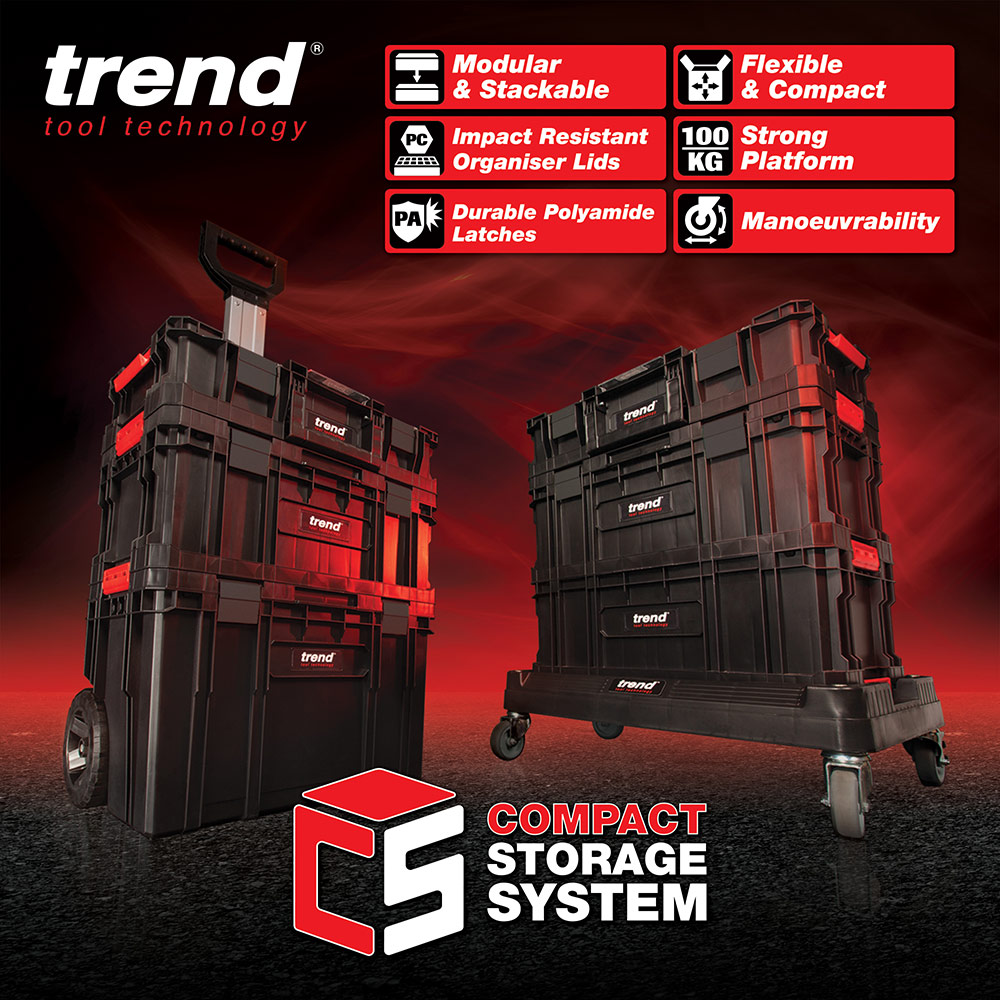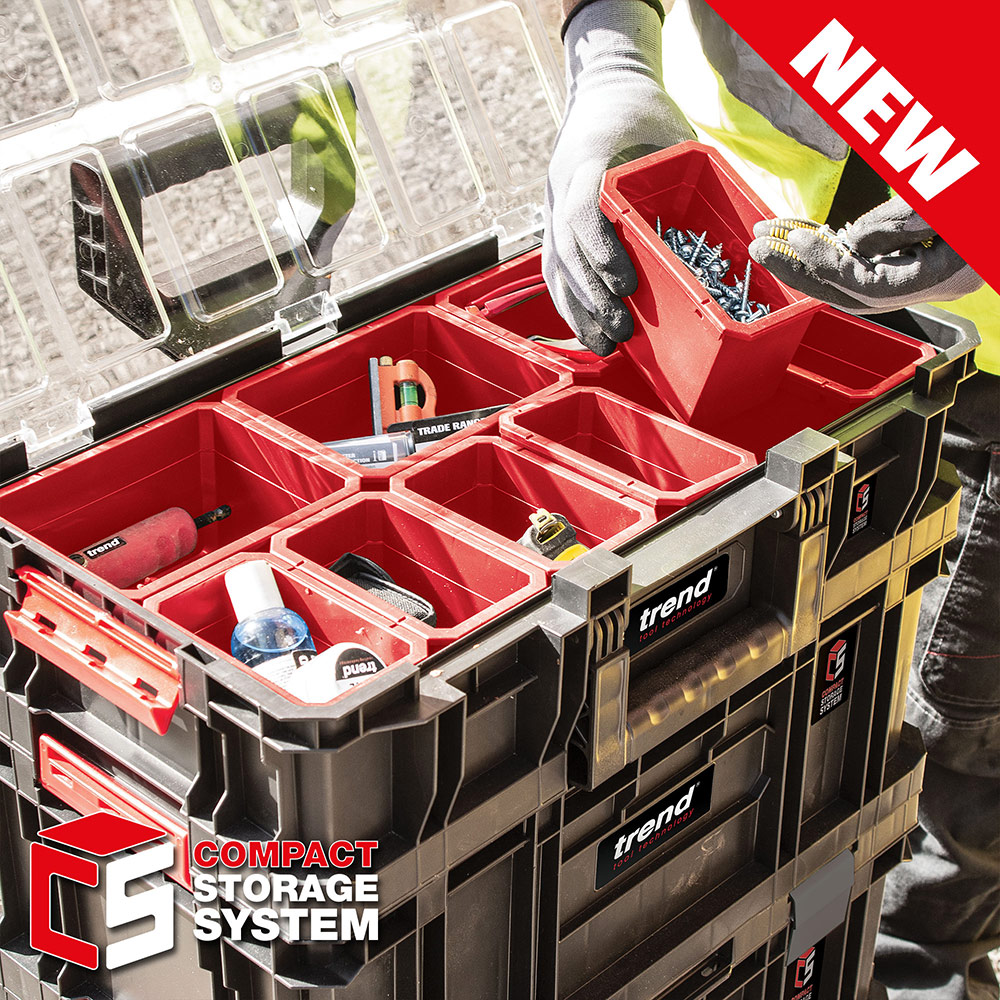 Focusing on the key features of maneuverability, flexibility and capacity, the all new Trend Compact Storage System scores across the board as the ideal solution for all your tool, accessory and equipment storage needs around the house, in the workshop or on the jobsite.
The use of external strengthening webs on all modules ensures the internal storage capacity is maximized and each module has interlocking Polyamide connectors to clip each box to the one below for safe transportation of tools and accessories along with durable Polyamide locking latches to secure the boxes with lids.
Available as three different kits for easy Out of the box options, there is a 78.3 litre capacity three piece MS/C/SET/3C Cart Set, a 104.3 litre four piece MS/C/SET/4C Cart Set and the 66.3 litre four piece MS/C/SET/4P Platform Set.
The Cart Sets have built in flush fitting wheels with a solid metal axle in the base cart module allowing free movement without any external projections, and with an overall width of 526mm, they are designed to go through standard doorways with ease. A built in telescopic aluminium handle on the base cart also allows easy transportation from job to job. For workshop use the Platform Base is equally maneuverable through doorways with an overall width of 590mm and has lockable swivel castors.
The three kits all have the 200mm tool box module with top carry handle and lid, ideal for taking specific tools to the jobsite as required, plus the 100mm organizer module with clear polycarbonate lid and nine individual lift out bins; perfect for fixings and smaller components and tools. The 4 piece Cart and 4 piece Platform kits also come with the 200mm deep open tote, ideal for bigger tools and accessories.
Additionally, there is the option to build a kit that suits your own specific needs and requirements, covering compartmental divider options for smaller items, open totes for bigger tools and accessories, plus boxes with lids and handles for extra security and use as standalone toolboxes.
With 9 different storage solutions in the range, a modular, transportable and adaptable kit can be easily built around either the Base Cart or Platform Base making the New Trend Compact Storage System the range that offers total flexibility to build a Mix and Match solution to build the perfect system to work for you and grow with you.
30th May: The Trend Multi-Function Worktop Routing Jig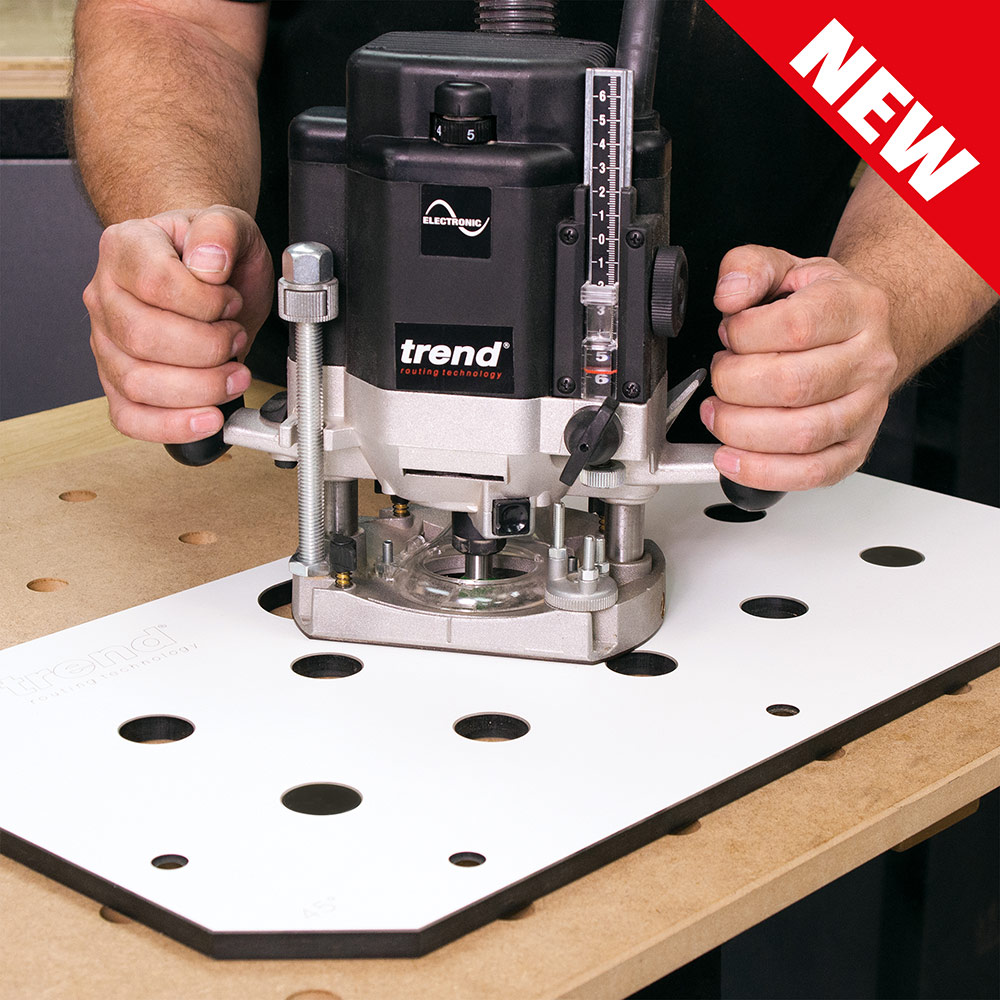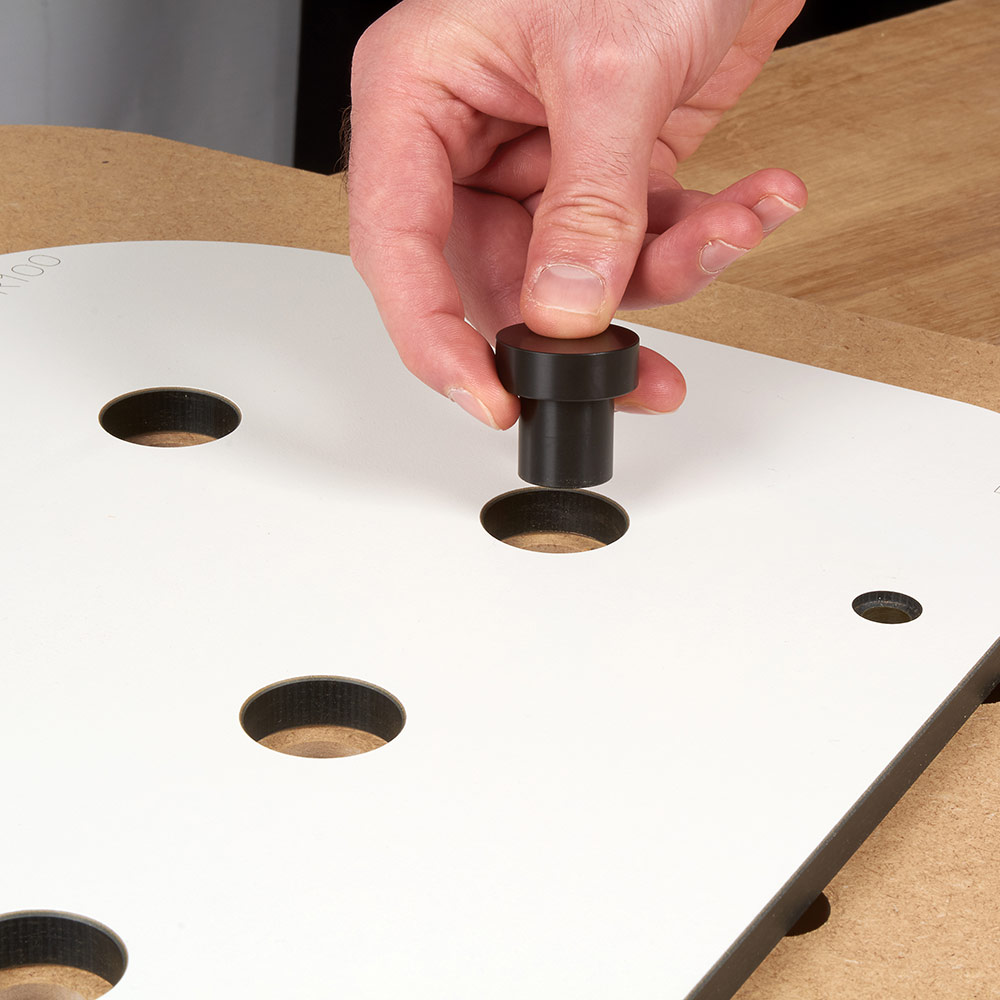 Multi-Function Tables are a versatile way of securing workpieces for further work such as routing, sanding or re-sizing with saws.
They are supplied with a multi-hole MDF insert that is designed as a sacrificial replacement part. These inserts can be costly to replace when purchased from the manufacturer, which is where the new Trend MFT/JIG hits the mark. It allows you to make your own inserts at a fraction of the cost. With its solid 12mm thick high-pressure laminate construction it ensures repeatable accuracy for years to come.

Designed to replicate the commonly used grid pattern of 96mm centres, the Trend MFT Jig has a ten-hole layout. It is for use with plunge routers fitted with a 30mm guide bush and a 20mm diameter cutter.
Fast and easy to set up, the compact 298mm x 586mm jig uses the pins to align it precisely to one corner of the board. Once clamped, the router is plunged through each hole to set the first grid layout. Subsequent holes are then made using the peg bushes to reset the jig for each additional row. This allows for the fast and accurate production of replacement insert tops.
The newly made grid top is perfect for use with track saws. With the optional bench dogs fast cuts at 90¼ and 45¼ angles help increase productivity. The 20mm holes are compatible with a wide range of commonly available clamping and positioning accessories.
Additional features include 100mm and 50mm radii, a 45¼ end-cut for easing corners on any edge. Also the recess aperture can be used for routing a shallow recess to store smaller items while you work, such as drills and other accessories. Or by routing completely through the material to create a convenient hand grip.
The Trend MFT Worktop Routing Template will find a multitude of uses within any workshop setup, either to simply replace existing tops or to design, explore and make your own bespoke items.
28th May: Trend CraftPro 3 Piece Drill Bit Guide Set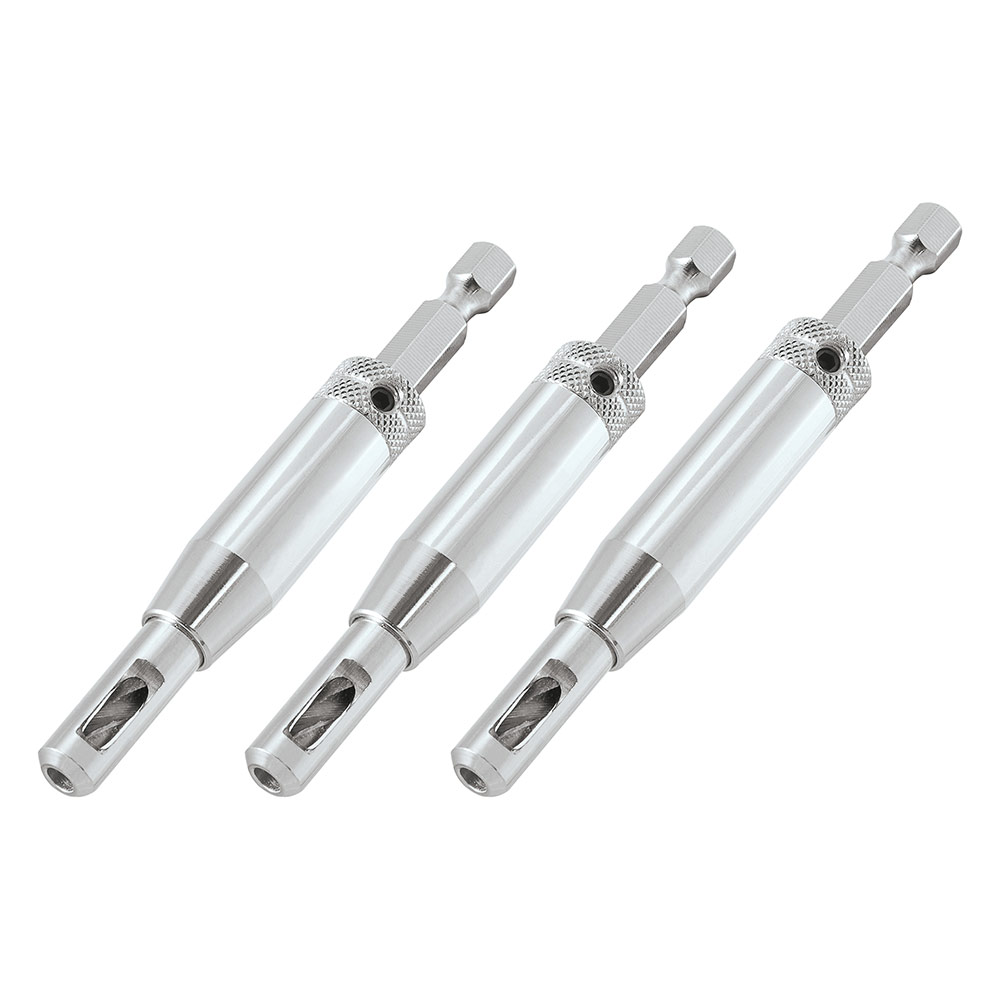 It can always be a challenge to set screws correctly into countersunk recesses on hardware such as hinges, door handles and other architectural ironmongery, and get it wrong and it not only stands out like a sore thumb, it can also cause or lead to other problems.
The Trend 3pc CraftPro Quick Change Drill Bit Guide Set is the fast, simple and affordable way to achieve professional results every time, automatically centralising and drilling the correct sized hole to suit the screw gauge and covers No6, No8 and No10 screw gauges making it ideal for common door hinge sizes and other associated hardware.
The spring-loaded drill bit sits within the chrome plated body and automatically withdraws the drill once it has been pushed into the work to leave the hole perfectly centred to ensure every screw sits perfectly flush once driven.
The High Speed Drill bit is replaceable and each drill guide can be quickly and easily stripped down for drill swapping and cleaning purposes to ensure they remain in tip-top condition and always give great service.
With a standard 1/4in hex shank design, each drill guide is fully compatible with any quick chuck such as the Trend Snappy style for fast and efficient swapping between accessories and will also fit directly to an impact driver chuck for increased diversity.
The perfect accessory set to any screwdriving kit, the 3pc CraftPro Quick Change Drill Bit Guide Set is designed with affordability and performance in mind and is ideal for hobby and general trade use.
Drill Guide Specification:
2.4mm (3/32"), 2.8mm (7/64") & 3.6mm (9/64") diameter drills
Suits No.6 (3.5mm), No.8 (4mm) and No.10 (5mm) screws
28th May: Trend CraftPro 5 Piece Countersink Set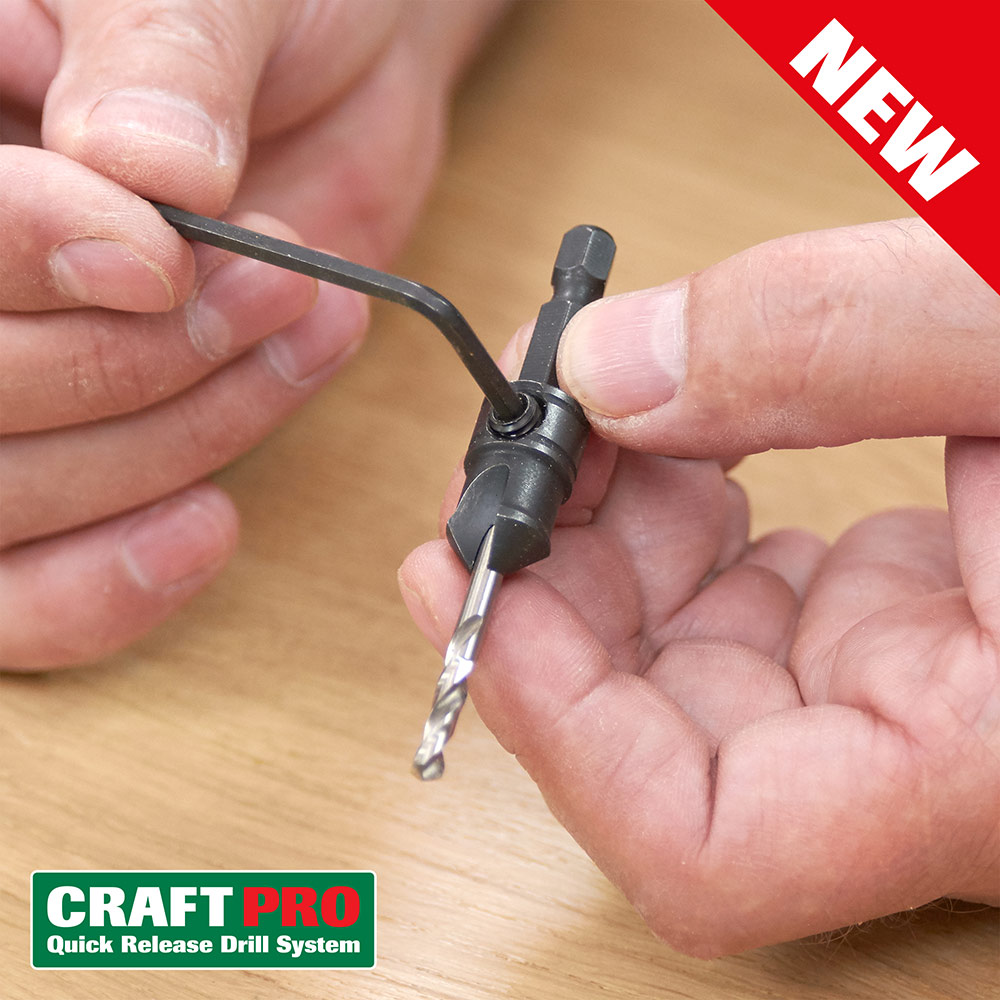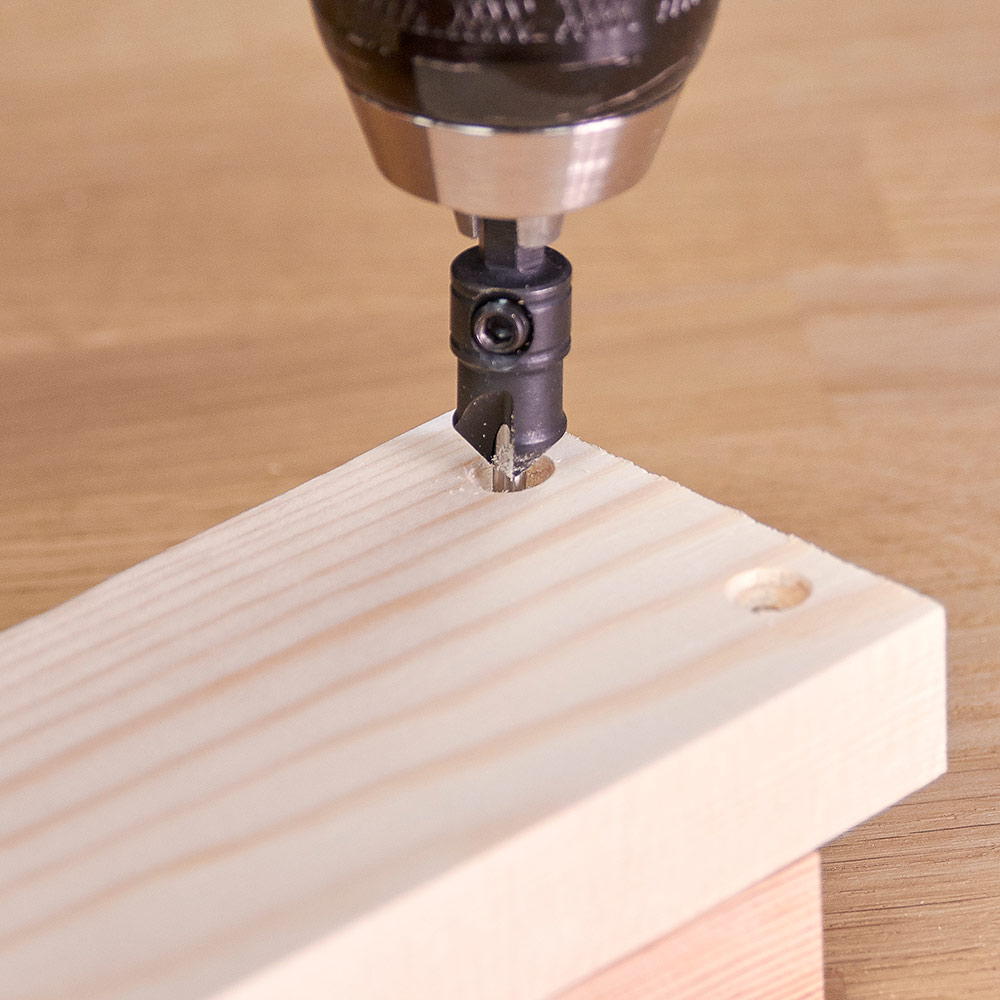 For the woodworker looking for a good quality, durable and adaptable set of drill and countersink bits without breaking the bank, the Trend 5pc CraftPro Quick Release Drill Countersink Set hits the mark.
With their 1/4in hex shank design they are fully compatible with quick release chuck such as the Trend Snappy type, as well as a direct fit to impact driver chucks, allowing fast swaps between sizes or other accessories for more efficiency as you work.
Covering screw sizes for No6 to No12 gauge, each countersink has a case-hardened tool steel body for fast, efficient cutting in hard and softwoods and wood based materials to leave clean, consistent countersinks.
The countersinks can also be used to ream deeper holes for counterbore work, allowing suitable plugs to be used to hide the fixings.
Each bit has a suitably sized High Speed Steel drill bit for a matched pilot hole to the screw gauge being used, ensuring faster, efficient driving and to minimise splitting risks to leave a professional finish to all your work.
The drill bits are adjustable for length to suit the thickness of material being worked on and each drill is replaceable if needed, ensuring the countersink within the set remains a constant companion in your toolkit.
The set comprises:
2mm (5/64"), 2.4mm (3/32"), 2.8mm (7/64"), 3.2mm (1/8") & 3.6mm (9/64") pilot drills to suit No.6, No.8, No.10 & No.12 screws in softwood
Countersink diameter 9.8mm (No.6 to No.10) and 12mm (No.12)
28th May: The CraftPro PZ2 Impact Drill Bits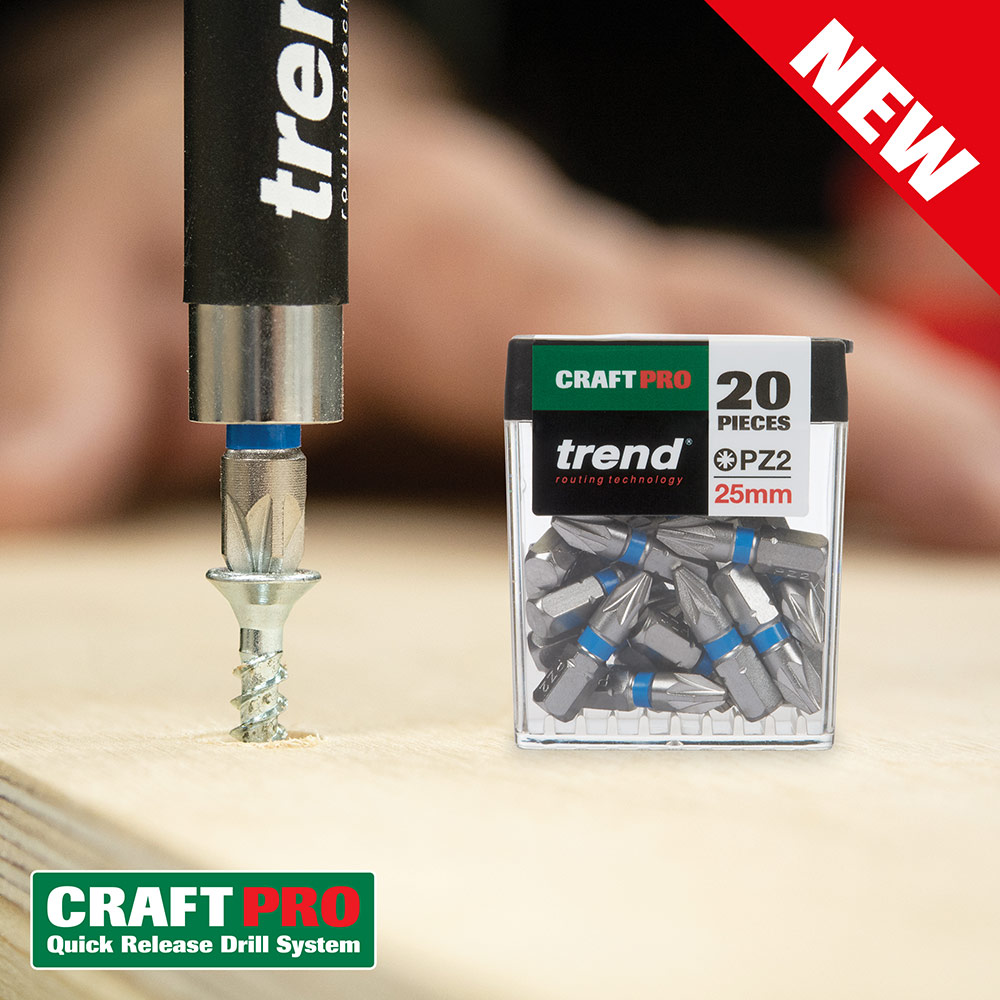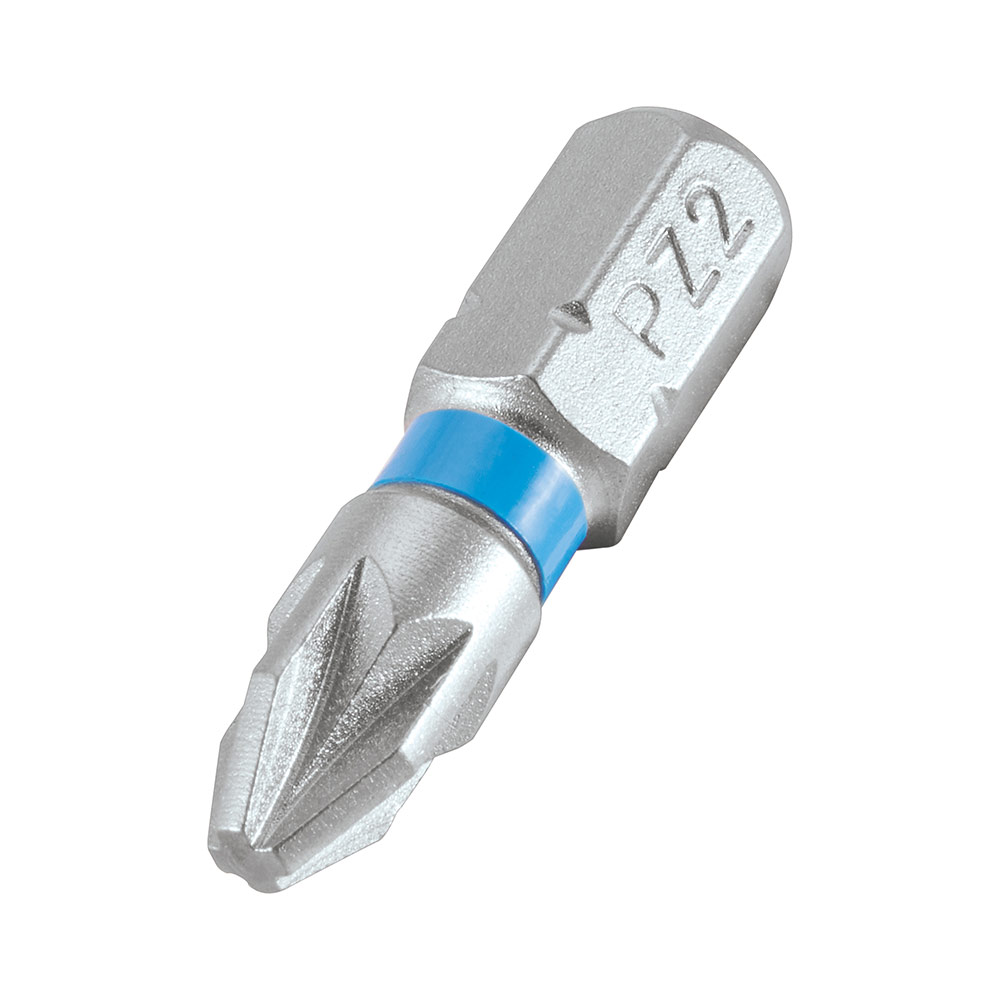 25mm long driver bits are the most common way to run screws in when fixing, securing and assembling, with the bits designed as consumable items to be replaced as they wear. Equally common is the use of Impact Drivers but standard bits are prone to failure from the high torque forces imparted.
The new Craft Pro Quick Release Torsion Zone Insert Bits are designed to overcome the combination of torsion and shock from the way impact drivers work, with a torsion zone within the bit to impart microscopic flex into the bit under load to minimise the stress levels and increase power and torque transmission through the bit for more efficient driving.
Each bit is made from a single piece of S3 Steel which is specially designed to withstand shock loading and hardened to Rockwell 58 62C for increased lifespan and performance in use and especially suited to case hardened screws.
The pack of 20 bits are chrome plated for increased rust resistance and come in the most popular No2 Pozidriv style, covering screws from no6 to No10 gauge. A blue band on each bit ensures they are easily identifiable for fast selection when swapping from other styles of bit insert.
Supplied in a Tic Tac box for easy access and storage, the new Trend CraftPro Quick Release Torsion Zone Insert Bits are the durable, budget friendly solution for all your impact screwdriving needs and ideal for hobby, trade and professional use.
23rd May: New Trend CraftPro Quick Release System - 60 Piece Set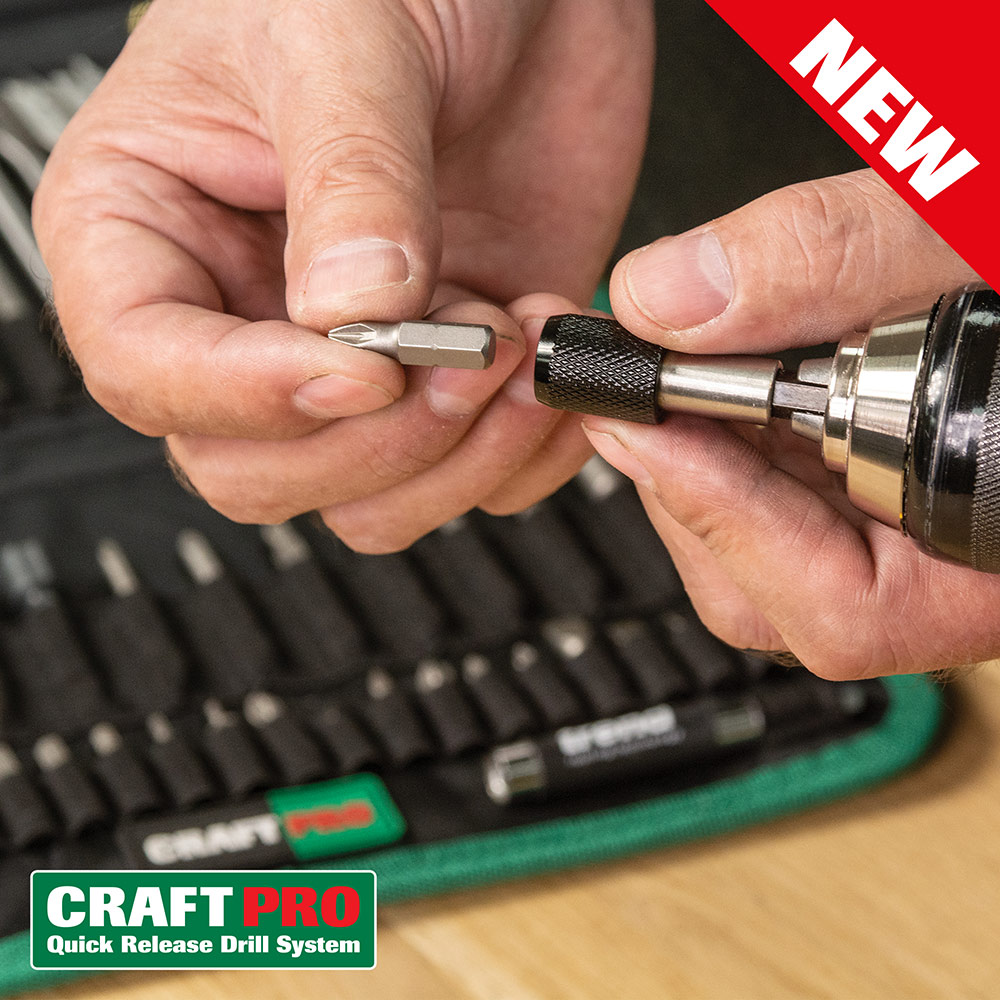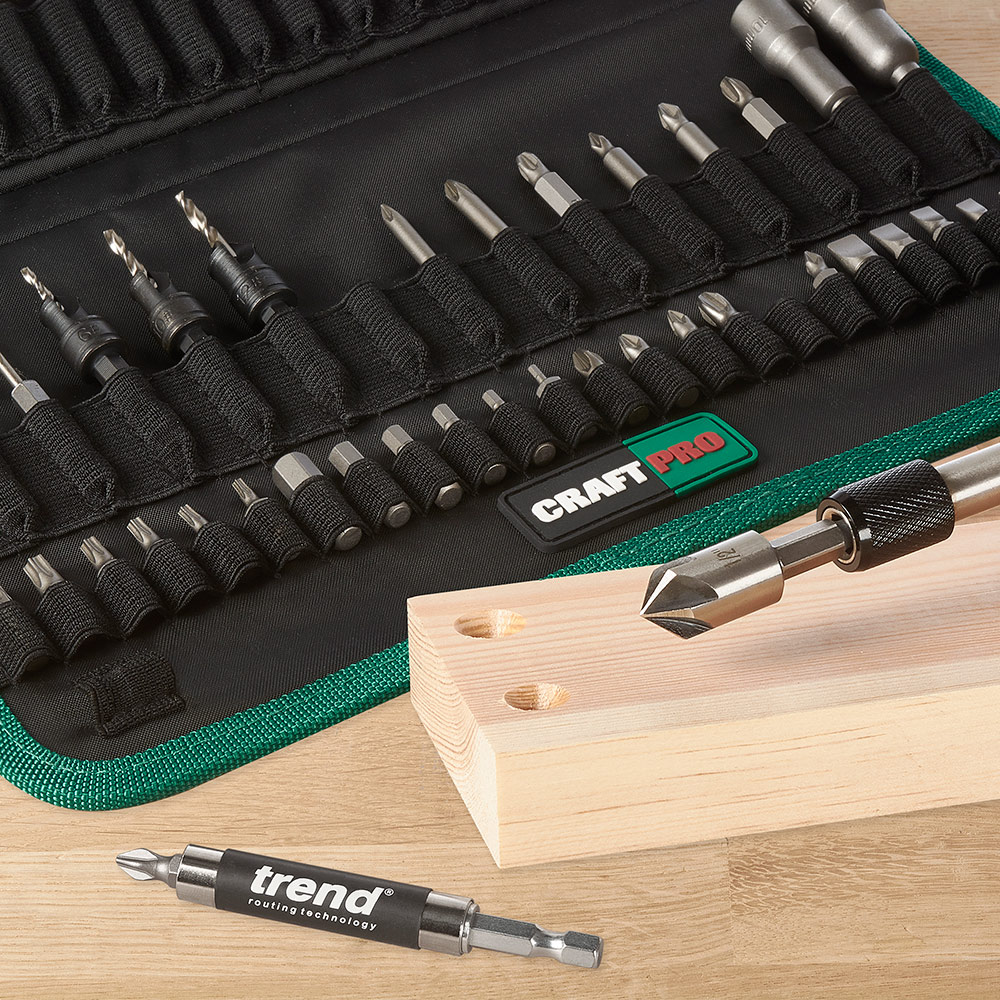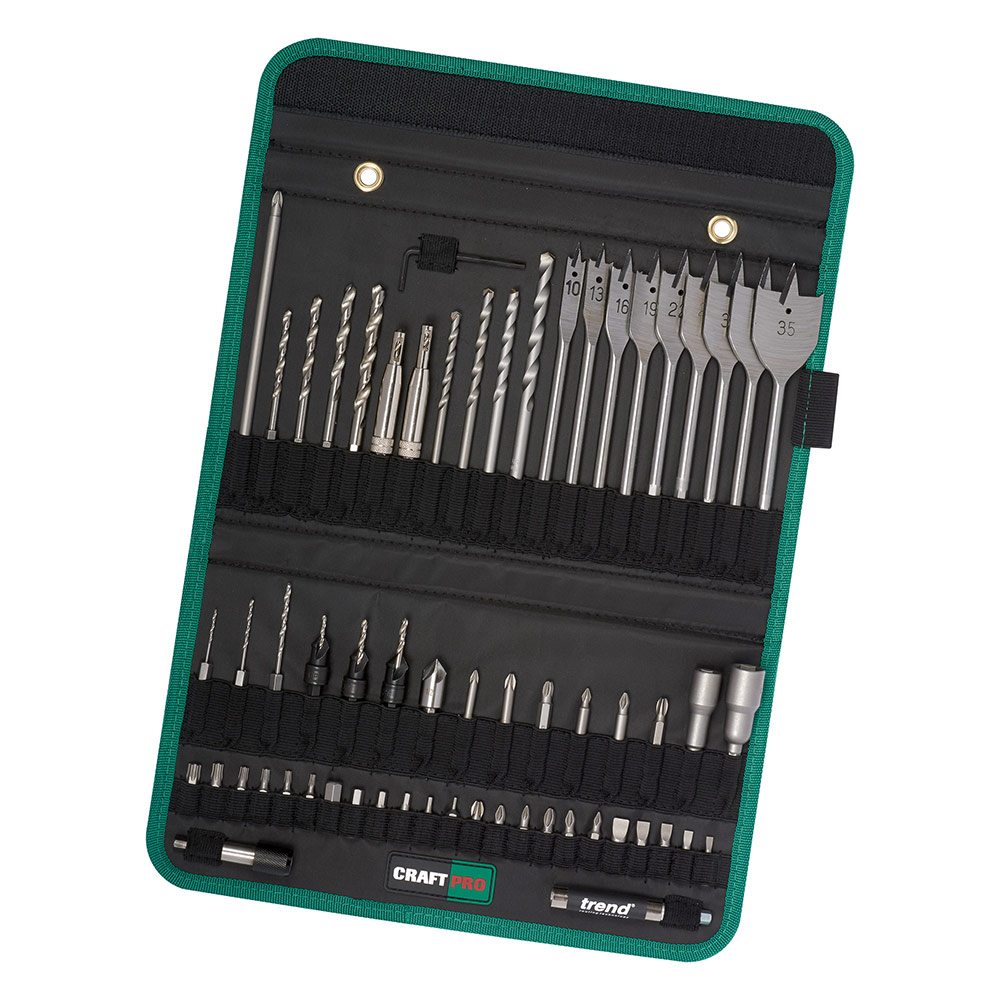 Covering a multitude of applications across different trade and hobby platforms, the new Trend Craft Pro 60-piece Quick Change Bit Set is the all-round Swiss Army accessory set at an affordable price but without compromising quality.
Each bit has a standard 1/4inch hex shank for compatibility with standard bit holders and quick release chuck systems and the set comes supplied with two different bit holder options to suit the work being done.
Utilising hardened cutting edges for countersink work, High Speed Steel for metal drilling and carbon steel for general purpose applications, the durable set is designed to perform across a range of drilling, driving and countersinking jobs with speed and efficiency.
The comprehensive set is housed in a heavy-duty fabric wallet to keep everything secure and close to hand whenever needed and includes 4 masonry drills from 5mm to 8mm, covering common wall plug sizes for all brick, block, tile and stone drilling work.
A set of 9 flat bits from 10mm to 35mm diameter covers an extensive range of applications in wood and wood-based materials and will find favour with woodworkers for general drilling duties including all mortice and cylinder lock fitting or for kitchen fitters, electricians and plumbers running cables and pipework.
The quick release knurled chuck bit holder holds standard 25mm long driver bits securely, with 23 bits supplied and Pozi, Philips, slotted, Torx and hex type screw heads all catered for, the Craft Pro set ensures the right bit should always be available. A second sliding sleeve chuck holds screws in place for easier driving with longer screws and to minimise cam out issues.
Drills from 1.5mm to 7mm are perfect for drilling in steel and pilot and clearance hole work in timber along with a rose type countersink for general countersinking. 3 additional combination drill and countersinks are supplied to cover sizes No6 to No12 screw gauges for clean, consistent screwdriving work in wood and wood-based materials.
For accurate, consistent screw positioning on countersunk ironmongery and hardware such as hinges and door handles, the inclusion of two self-centring drill bit guides will ensure perfect results on No6 and No8 screw gauges.
The Craft Pro 60-piece Bit Holder Set covers all your drilling, driving and countersinking needs and with the standard hex shank design, offers quick changeovers between functions for fast and efficient working practices and increased productivity.
23rd May: New Trend CraftPro Quick Release System - 30 Piece Set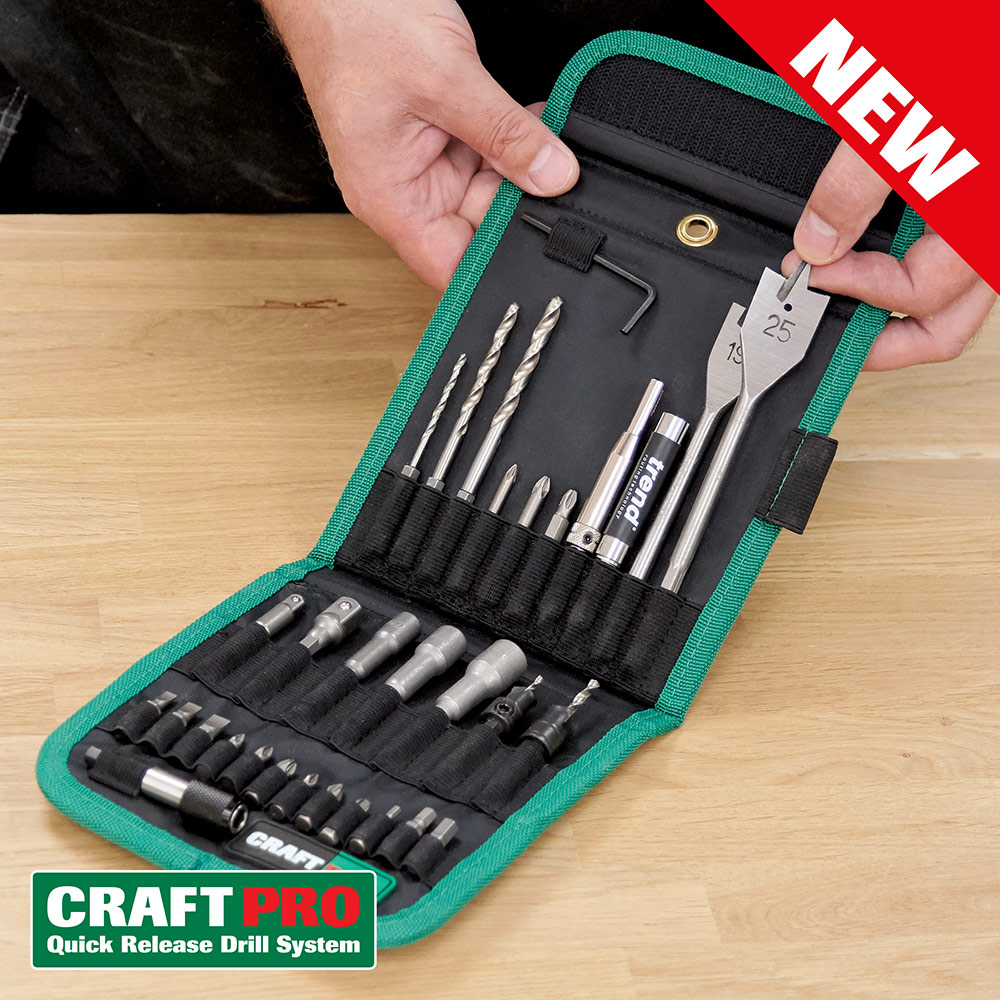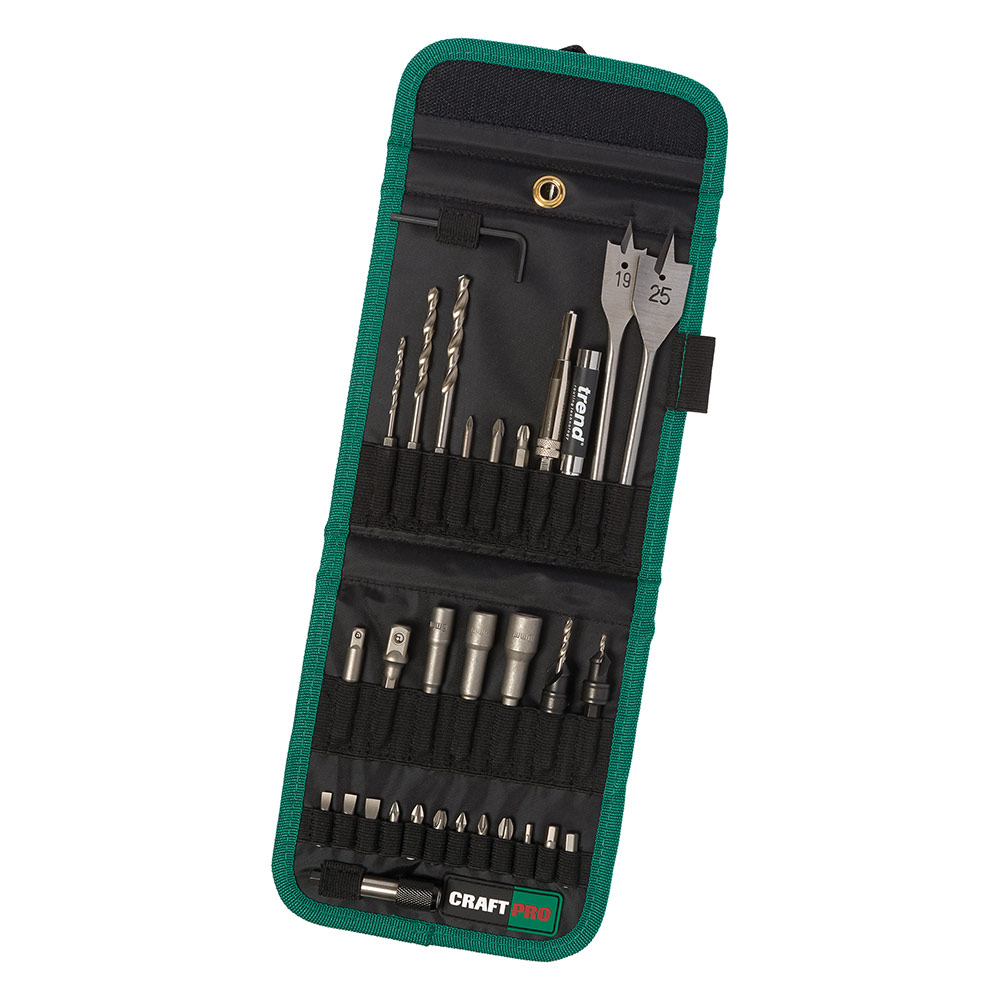 This set covers a popular range of drills, countersinks, driver bits and bit holders, the 30-piece Craft Pro Quick Release Bit Set covers a range of applications for the hobbyist and tradesman alike and with the inclusion of 25mm and 19mm flat bits, it is especially suited to lock fitting work and other associated door hanging tasks.
With affordability at the forefront, the set is not compromised for quality or performance with quality components used throughout, including case hardened countersinks for long life performance and High-Speed Steel and High Carbon Tool Steel for durability in drilling applications.
Each component within the set has a standard 1/4in hex shank for compatibility with quick release chuck systems and come supplied with a slimline 60mm long bit holder with knurled sleeve chuck for assured bit retention when used for screwdriving operations with the range of Pozi, Philips, hex and slotted bits within the set.
Also included is a sliding sleeve chuck for supporting screws as they are driven for maximum control and to minimise cam out issues.
Outside of standard drilling and driving tasks, a set of 3 magnetic nut drivers and two socket adapters introduces extended tasks for assembling and dismantling a range of metalwork or engineering based applications.
Supplied in a durable heavy-duty holder to keep everything securely stored and easily accessible, the new Craft Pro 30-piece set is an ideal solution for a multitude of tasks across multiple work platforms whether drilling, driving or general assembly and disassembly operations.
22nd May: Trend Triple Pack Sawblades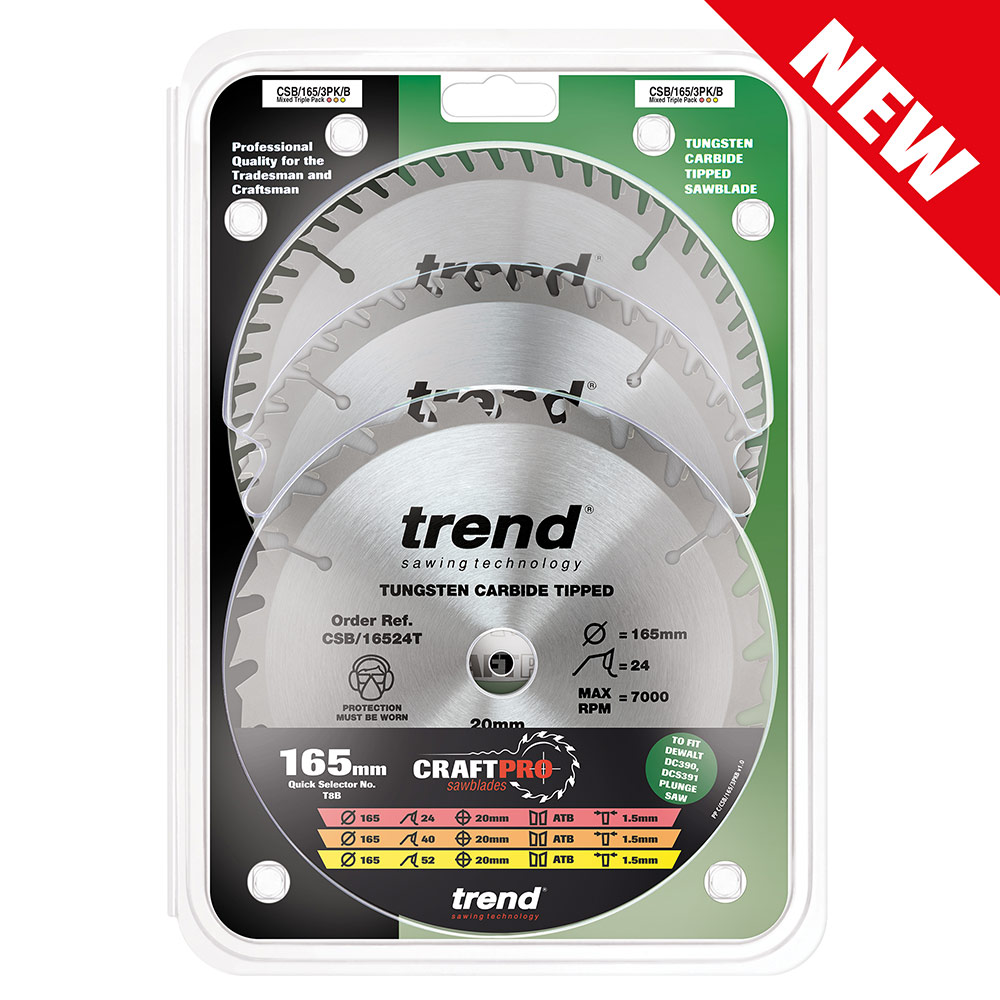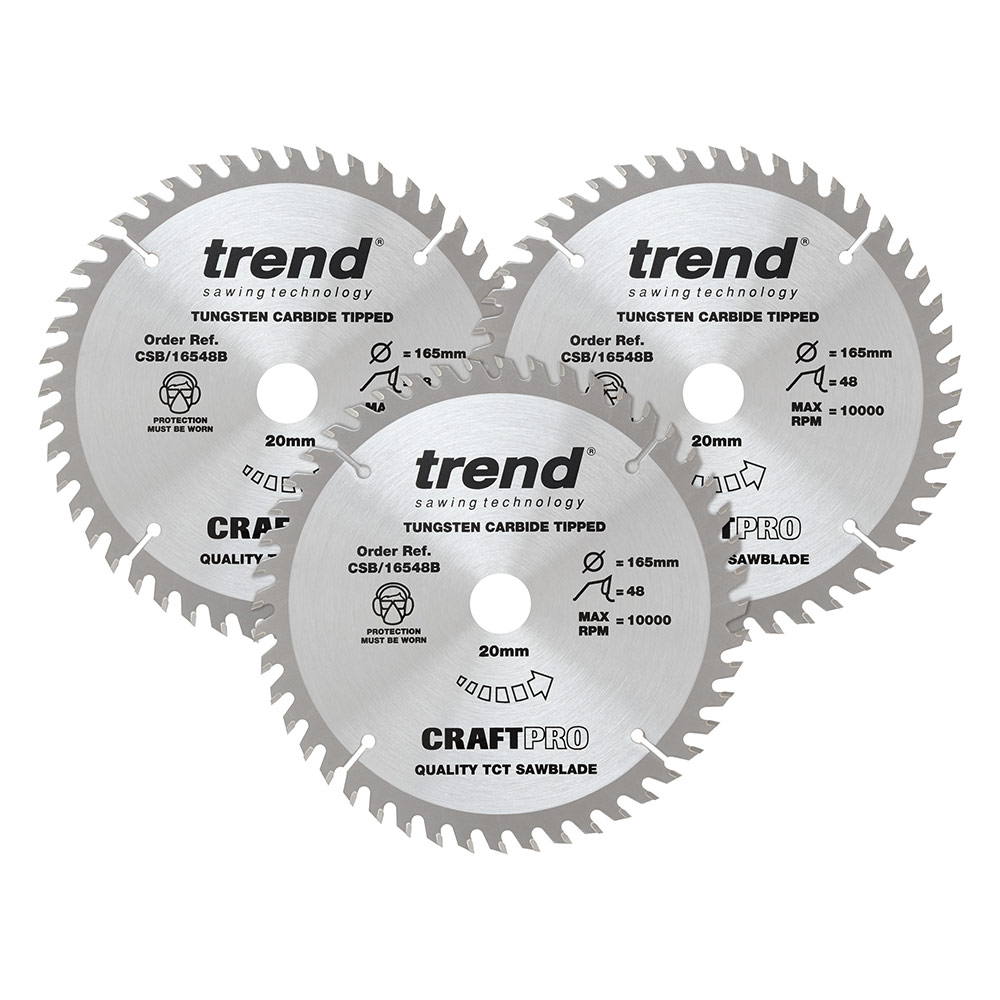 Get the most from your circular saw, mitre saw or table saw with the new Craft Pro range of 3 pack blades covering the popular 190mm diameter circular saws, 216mm mitre saws and 250mm table saws.
Each pack covers the three main cutting areas of woodworking with a ripping, crosscut and fine finish blade in each pack, and with a buy two, get one free, they are incredible value.
Quality is not compromised as Trend blades are equal or superior in quality to the original manufacturers blades. Each blade uses Micro-granular Tungsten Carbide Tips on the teeth for maximum lifespan and endurance on abrasive timbers and boards, ensuring a professional finish in wood, laminates, MDF, particle board, hard board and plywood.
The High-grade alloy steel plate bodies are precision ground to maintain flatness for consistent straight cutting under load, and a precision reamed bore for a perfectly concentric fit to any saw to saw to minimise vibration. With each pack covering all common sawing practices you can be sure you always have the right blade available to suit the job in hand which ensures optimum performance, maximum lifespan and consistent clean cuts every time.
Each range of blade size has 30mm bore size for maximum compatibility with a range of saws on the market and can be fitted to different bore sized machines using Trend Bushing Washers to offer a complete solution to all your sawing needs.
Circular saw blade pack compatible with: Makita HS7611J, 5704RK, HS7100, Bosch GKS 190, Hitachi C7U3, Dewalt DWE576K and many more.
Mitre saw blade pack compatible with: Makita LS0815, Dewalt DW701, DW707, DWS777, DWS774, Bosch GCM 800S, GCM8SJL, Milwaukee MS 216 SB, Hitachi C8FSE, HiKOKI C8FSE and many more.
Tablesaw blade pack f compatible with: Dewalt DW744, DW745, Scheppach HS100S, Einhell 2025, Charnwood W629, Draper BTS250 and many more.
3rd May: The Trend 700mm Square Kitchen Worktop Jig - KWJ700S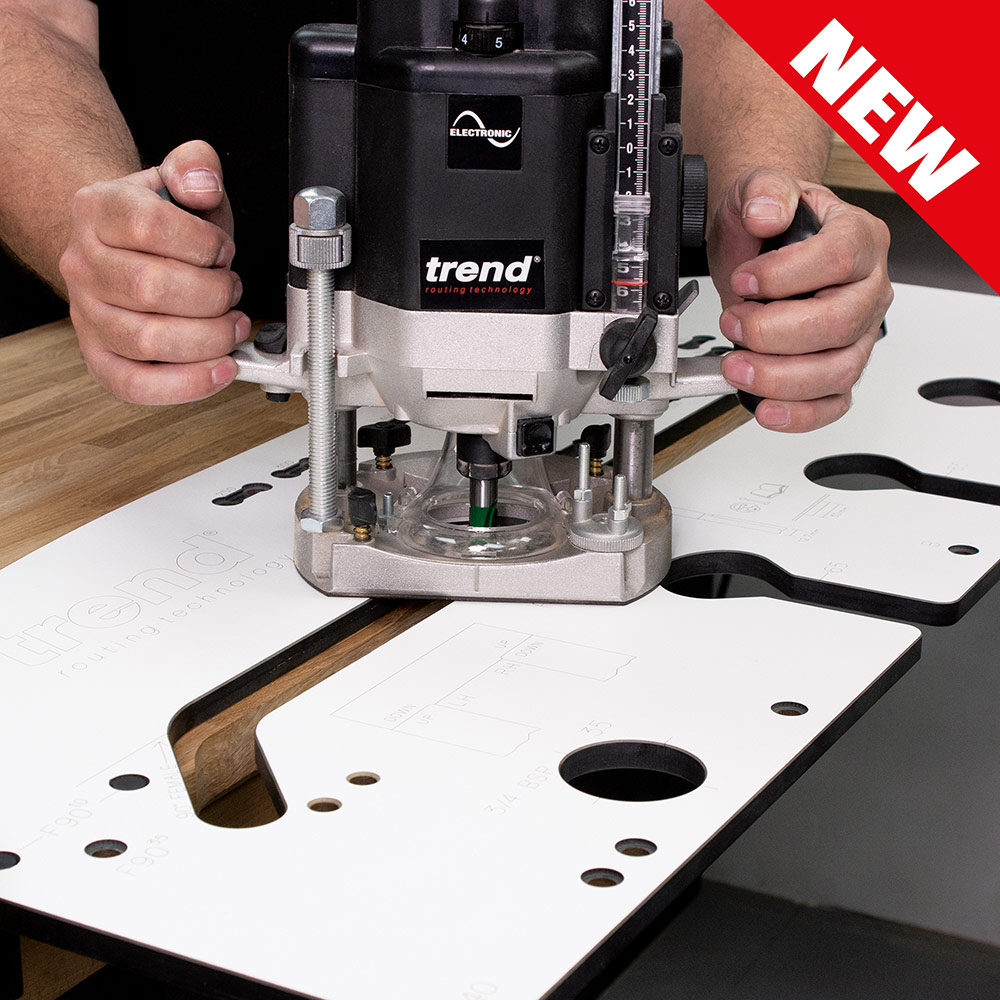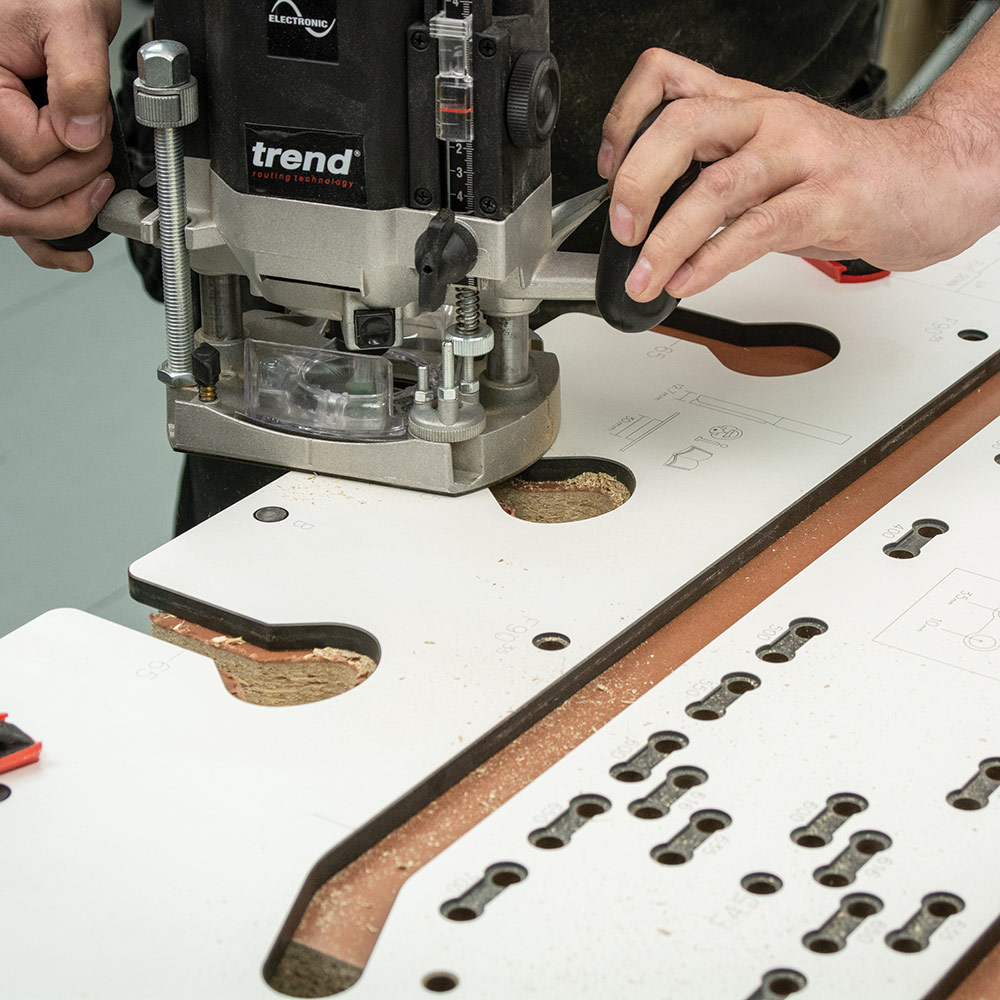 The new Trend KWJ700S Worktop Jig cuts two types of worktop joint to achieve standard postformed joints, or the current on-trend narrower joint favoured on the square edged or smaller radiused postformed tops.
The Worktop Jig Uses a set of indexing pins to site it accurately against the worktop, it is fast to set up and use, and a completed joint can be cut in 15 minutes including setup and positioning.
Additionally, all the relevant setup positions are etched into the surface of the jig for foolproof setup making the KWJ700S a very intuitive and easy jig to get to grips with whether you are a competent amateur or seasoned tradesman.
With jig setup pin positions at 250mm, 300mm. 400mm, 500mm, 550mm, 600mm, 616mm, 650mm and 700mm it covers a comprehensive range of common worktop widths for applications covering bathroom, utility, washroom and kitchen worktop installations for maximum diversity.
For either style of joint the pins are set into the relevant holes that match the worktop width, with a twin holed recess covering both widths of joint to remove either 10mm or 23mm material from the worktop edge to form the perfect joint every time.
Made from 12mm thick high pressure laminate for durable, repeatable accuracy the jig covers all the bases when it comes to worktop fitting with additional setups for 45 degree joints, 40mm, 100mm and 200mm radii corners and a 45 degree corner cut plus a 35mm Euro Hinge recess setting, making the Trend KWJ700S the speedy, pinpoint accurate, all-round solution for contemporary and traditional worktop installations.
9th April: The Trend 650mm Kitchen Worktop Jig - KWJ650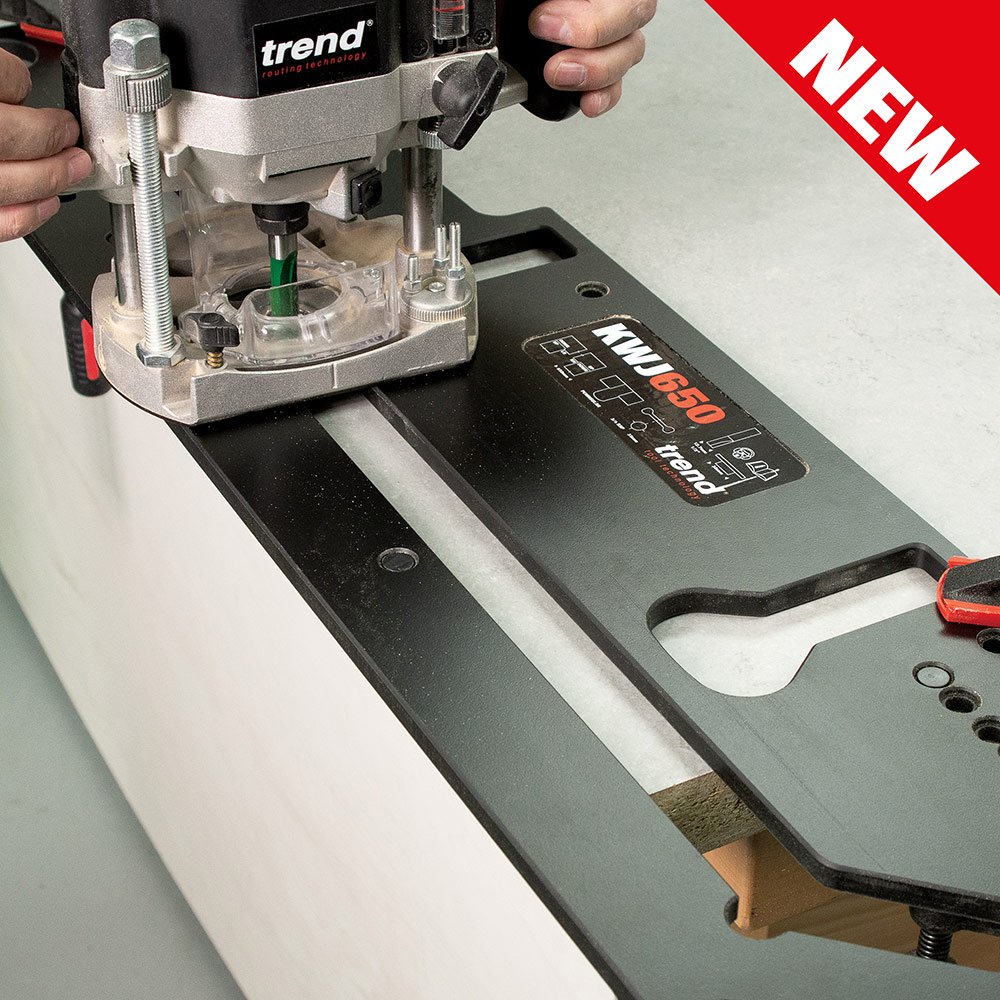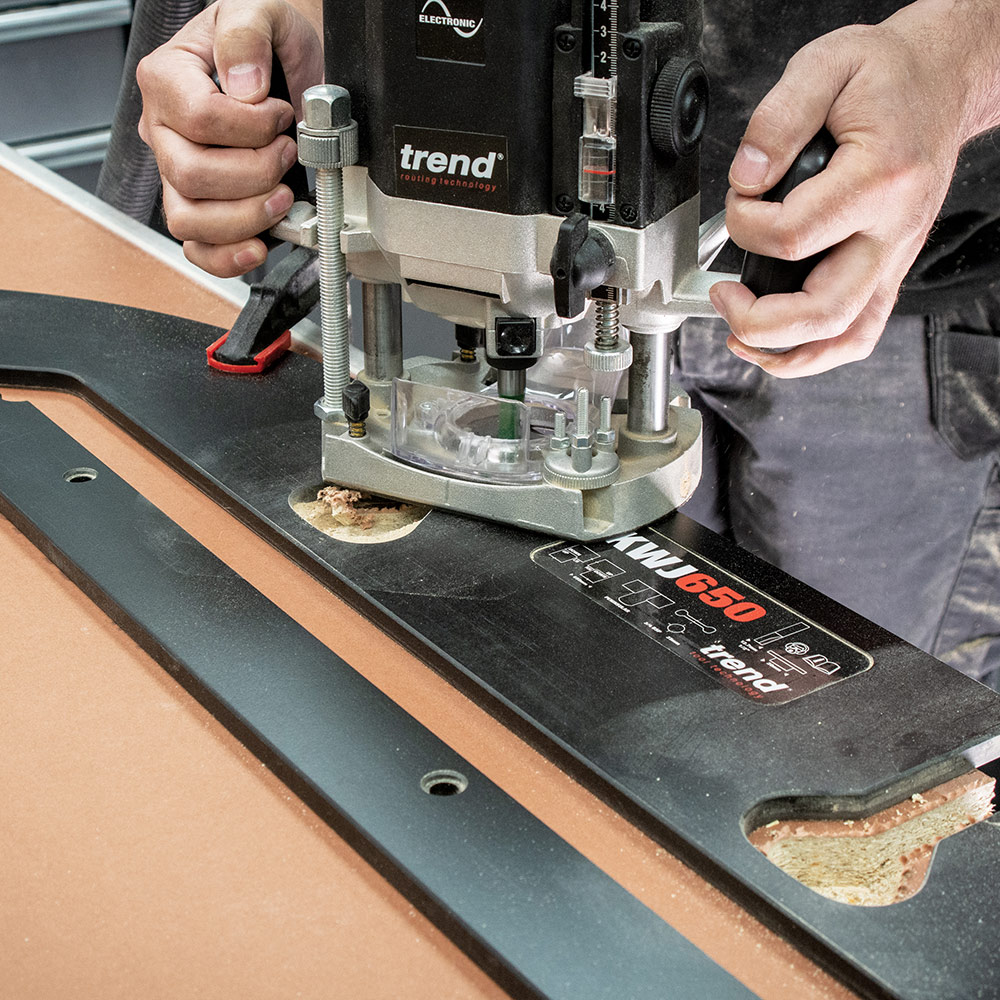 Designed to appeal to the trade worker, competent hobbyist or keen amateur looking to fit worktops on an occasional basis, the new Trend KWJ650 offers affordability without compromising on quality and accuracy.
Made from solid 12mm thick laminate, the compact, easily transportable jig offers strength and durability and uses a standard 12.7mm worktop cutter and 30mm guide bush to make the cuts.
Capable of delivering crisp, tight joints in the most common worktop sizes of 600, 616, 635 and 650mm wide, the jig is fast to set up using the supplied indexing pins and easily identified location points and will cut showcase 90-degree joints in solid timber and post formed laminated worktops.
Two bolt recess positions are included with a closed design to ensure the jig remains rigid in use to guarantee a premium finish to any joint. Additional features include a 400mm radius peninsular curve for radius work on breakfast bar ends, plus a position for routing 35mm hinge recesses.
Perfect for cutting both left and right-handed joints, the KWJ650 is ideal for fitting worktops in typical, common kitchen layouts with 90-degree intersections and offers fuss free, simple and fast set up for speedy results with a typical joint capable of being completed in 15 minutes.
9th April: The Trend Workshop Router Pod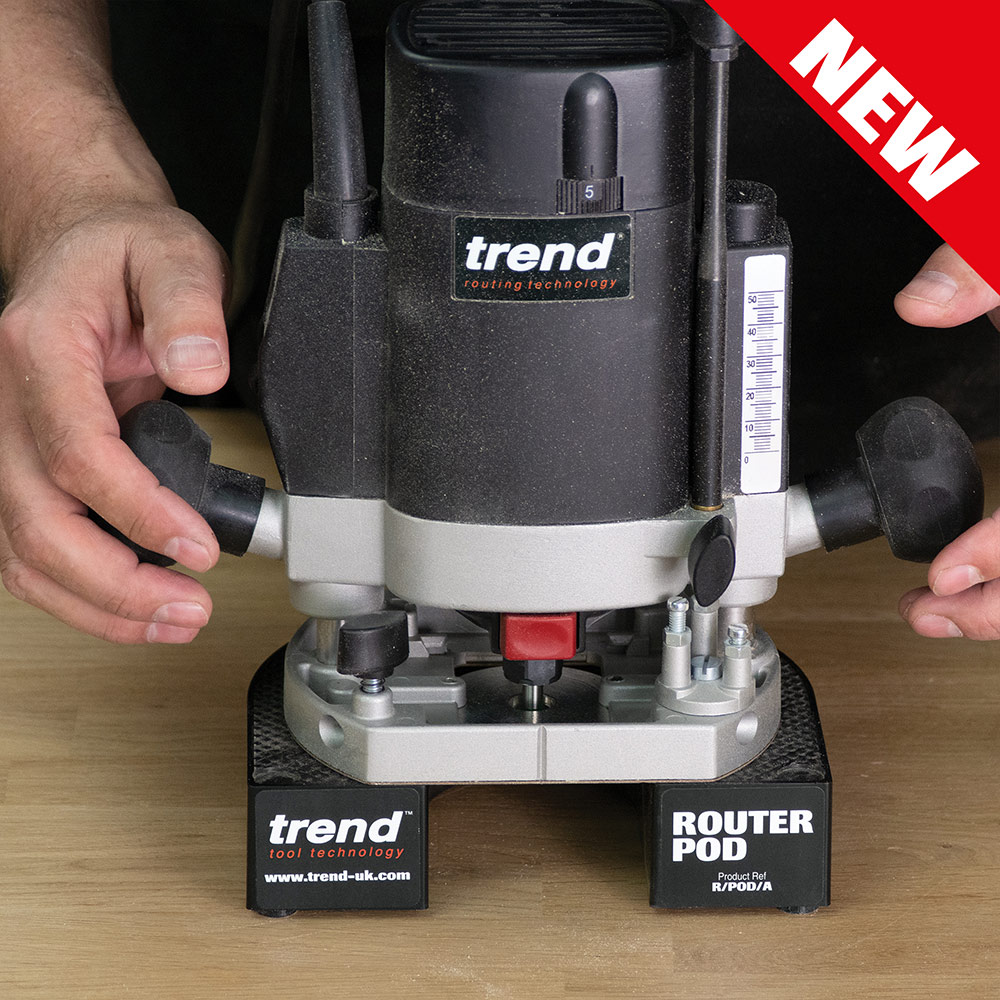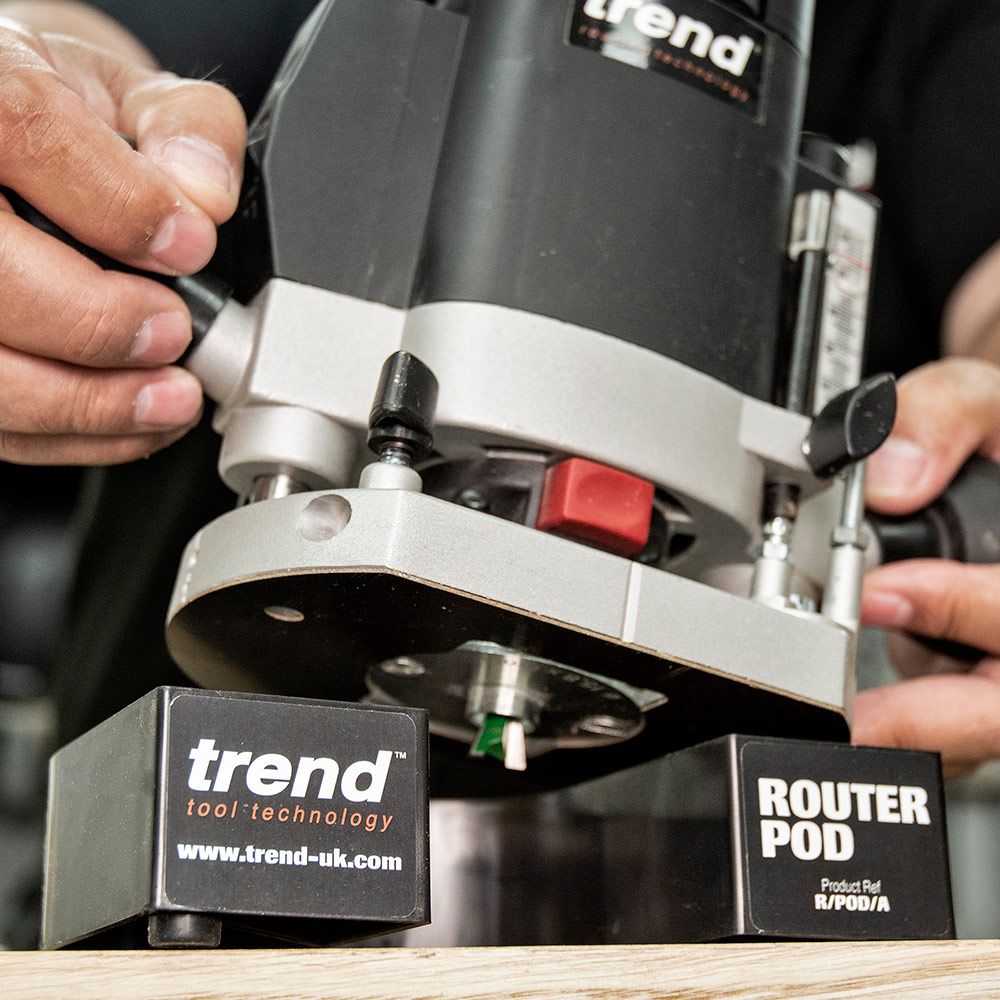 The new Trend Workshop Router Pod is the simple but effective wood routing accessory designed to keep your router in an upright position for fast, easy access in any routing application.
While good working practice states that the router plunge should be released to lift the cutter safely within the router base whenever possible, there is an age-old problem of placing a router safely when a guide bush is fitted. The projection of the guidebush makes the router unstable when trying to stand it upright, resulting in the router being laid on its side or stood inverted.
This can be unsafe, especially if the cutter needs to remain projecting through the guidebush such as in dovetail or other jig work, and where the Trend Router Pod offers maximum safety, with fast, easy access to the router at all times.
Made from lightweight durable impact resistant plastic, the 40mm high horseshoe design has 60mm wide access slot for safe, easy parking or router pick up, minimising any chance of cutter contact., allowing the router to slide or drop into the opening between each cut, or to store it safely, ready for the next time.
Trend Workshop Router Pods can be used with any router, and are especially useful for fixed base models where there is no plunge facility to retract the cutter.
Each Workshop Router Pod also has four non-slip rubber feet with corresponding recesses on the top surface allowing Pods to be stacked if required for longer cutter projection.
The Router Pod is priced at £9.95 including VAT and is available from all Trend Routing Centres and Trend Stockists around the UK. Please visit www.trendÐuk.com for further details.
9th April: The New Trend Snappy Impact Driver Bit Holders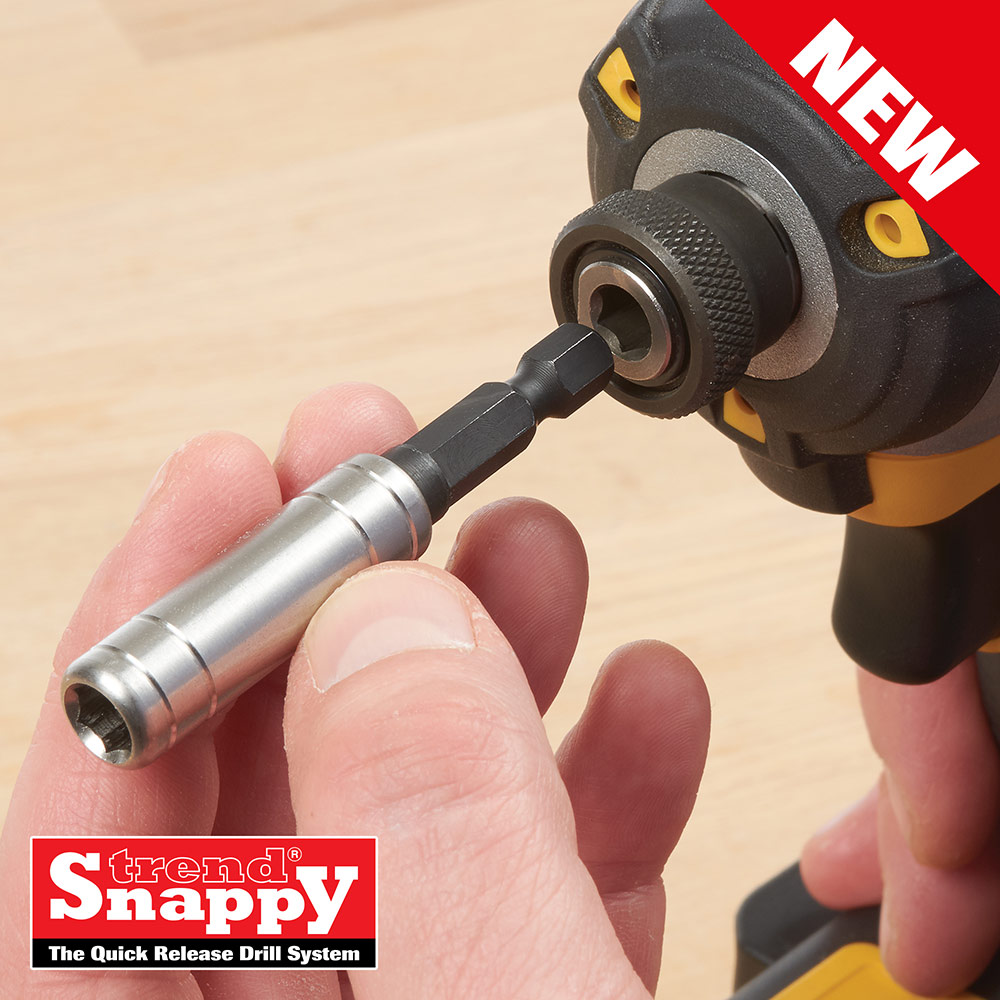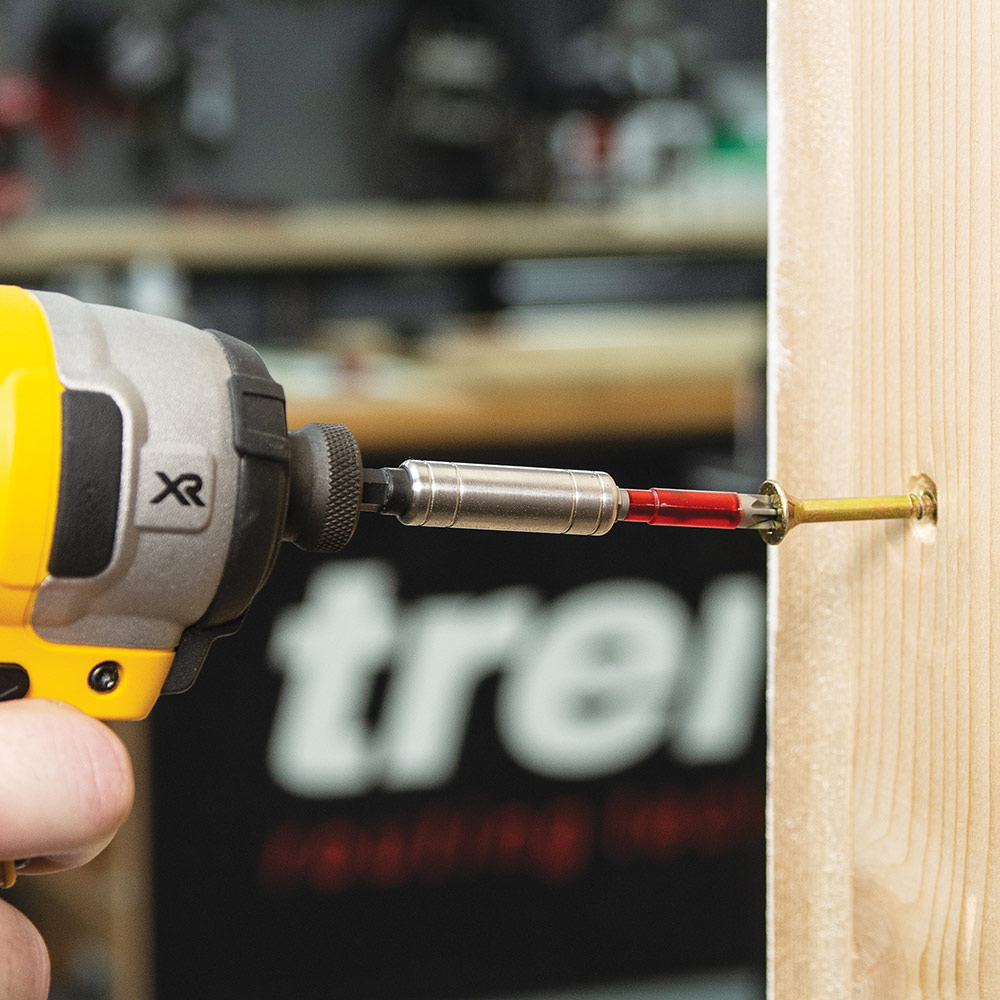 In todays world, due to their efficiency and ability to drive big fixings, impact drivers form an essential part of many toolkits nowadays. However, they generate high torque levels that need bit holders capable of dealing with the associated higher loading levels.
The New Trend Snappy impact driver bits are just the ticket for any screwdriving applications with a two piece heavy duty build to match heavy duty fixing applications.
The Trend Snappy Impact Driver bits are retained firmly within the holders with an internal circlip along with a high quality, powerful neodymium magnet to keep screws securely in place for controlled driving.
The Trend Snappy bit holder barrels are 11mm diameter and precision machined from stainless steel for concentric driving, rust resistance and maximum durability and strength under load. Each shank is also hardened to Rockwell 45/50C for assured strength under higher torque levels and is designed to work with loads up to 80 Nm.
With a 66mm and 150mm long option covering standard day to day use or driving into deeper recesses, each bit holder has a quick change 1/4in hex shank for a direct fit to impact driver chucks as well as compatible quick release chucks for general driving work with standard drill/drivers.
The Trend Snappy Bit Holders can withhold 3X as much torque than a standard bit holder. So, if you are using impact drivers then the Trend Snappy bit holders are a must have addition to your toolbox.
8th March: The New Trend Digital Angle Rule 300MM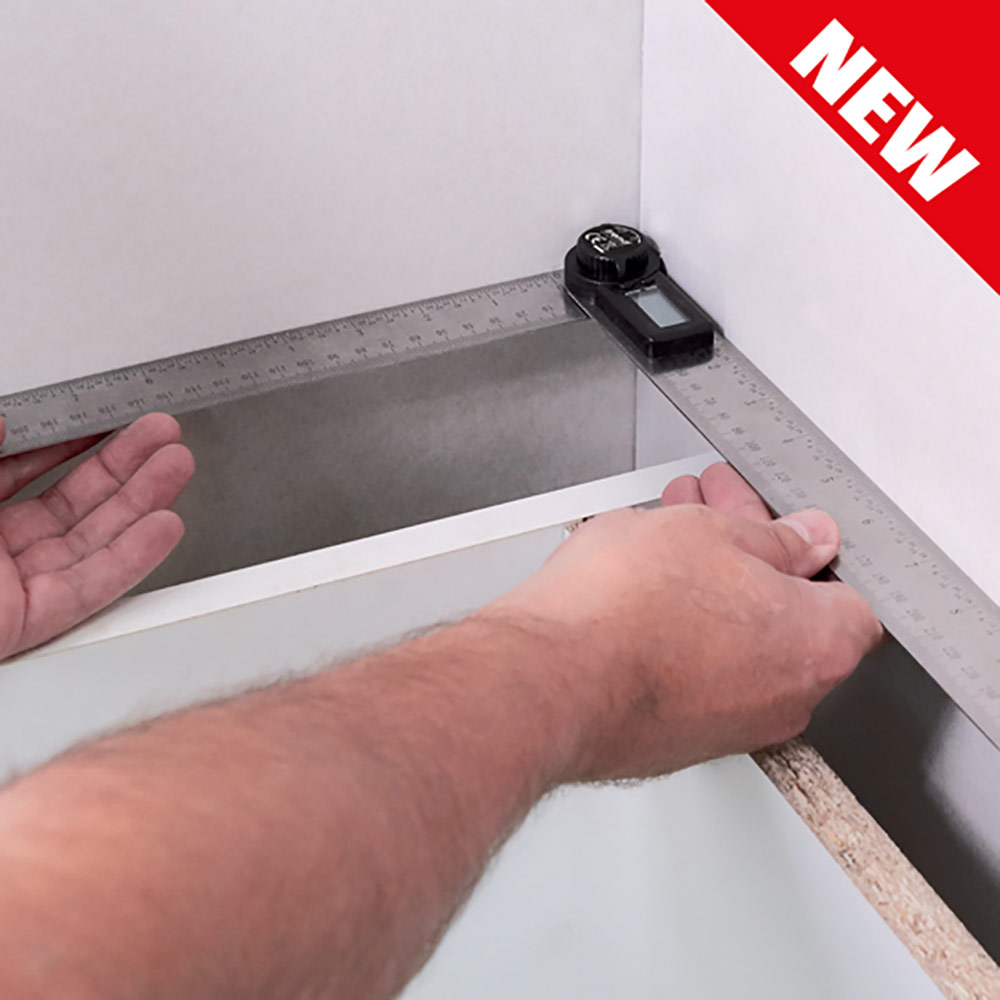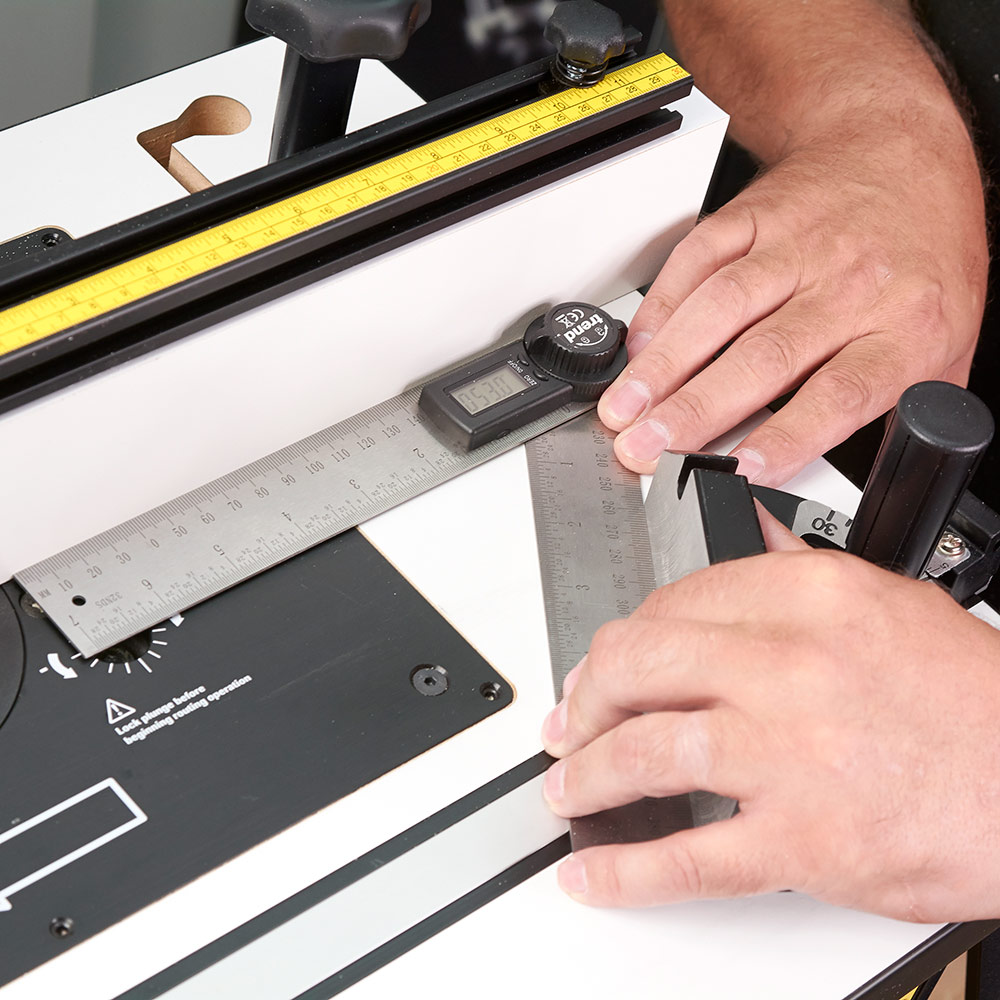 The perfect measuring accessory for fitting skirtings and cornices, shelves into alcoves and many other uses, wherever an angle needs to be checked, replicated or transferred the DAR/300 is the digital angle finder that will step up to the plate and do the job.
The TREND Digital Angle Rule DAR/300 is a one stop shop for marking, measuring, checking and replicating angles from 0 to 360 degrees, with each measurement registering on the easy to read digital display.
High accuracy is ensured with the display registering in 0.1 degree (one tenth of a degree) increments, and with the centre locking knob, settings can be secured for referencing and transferring the angles.
Angles can be quickly transferred to tools such as table saws or mitre saws to set and match the angle for a perfect fit every time, speeding up and simplifying any angled work, with the zero-function button making it quick and simple to take accurate angle measurements and make additional setting out fast and easy to achieve.
Precision ruler functions for general marking and measuring can also be made using the metric and imperial scales, and with the rulers made from stainless steel, the DAR/300 is built to last to give years of accurate, repeatable performance across multiple platforms.
The DAR/300 is supplied ready to use with a long life CR2032 3V battery and also has a built-in auto power off function after six minutes to conserve battery power and is an electronic measuring tool that should form an essential part of any toolkit.
7th March: The Brand-New Trend 50 piece Router Cutter Set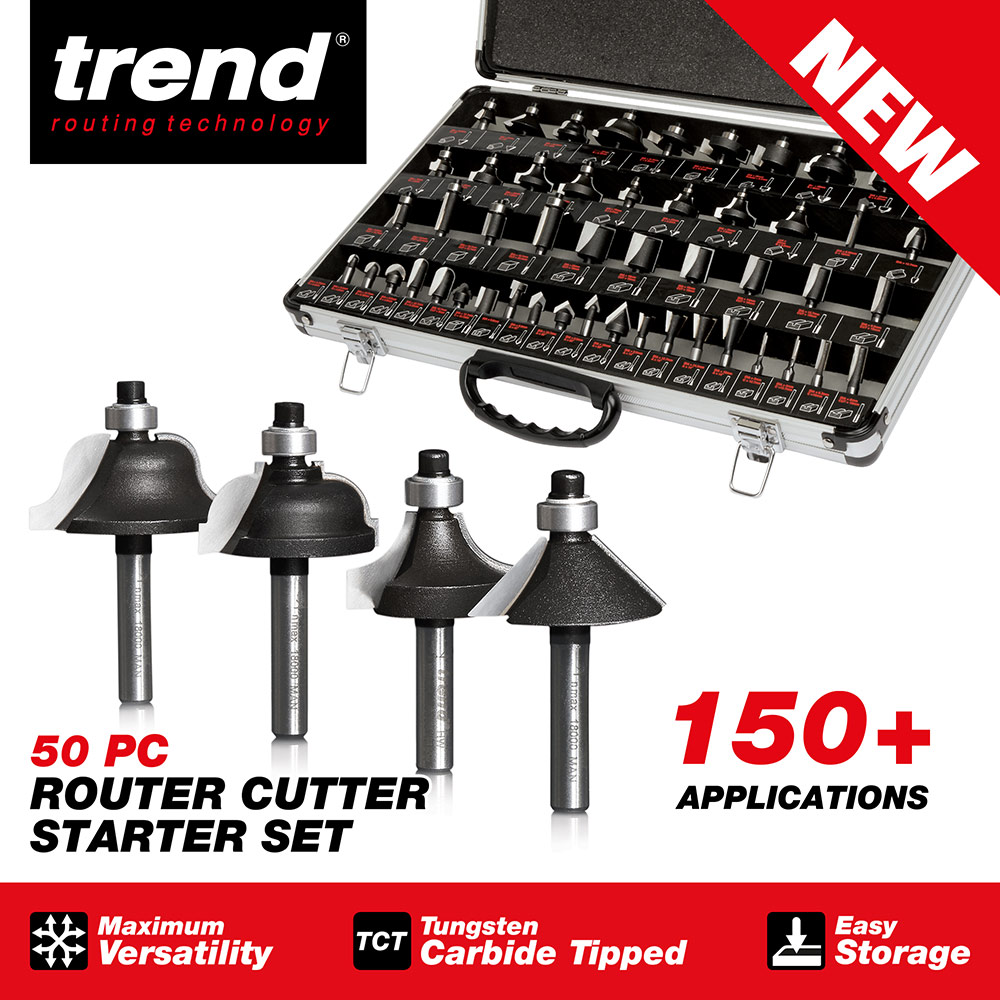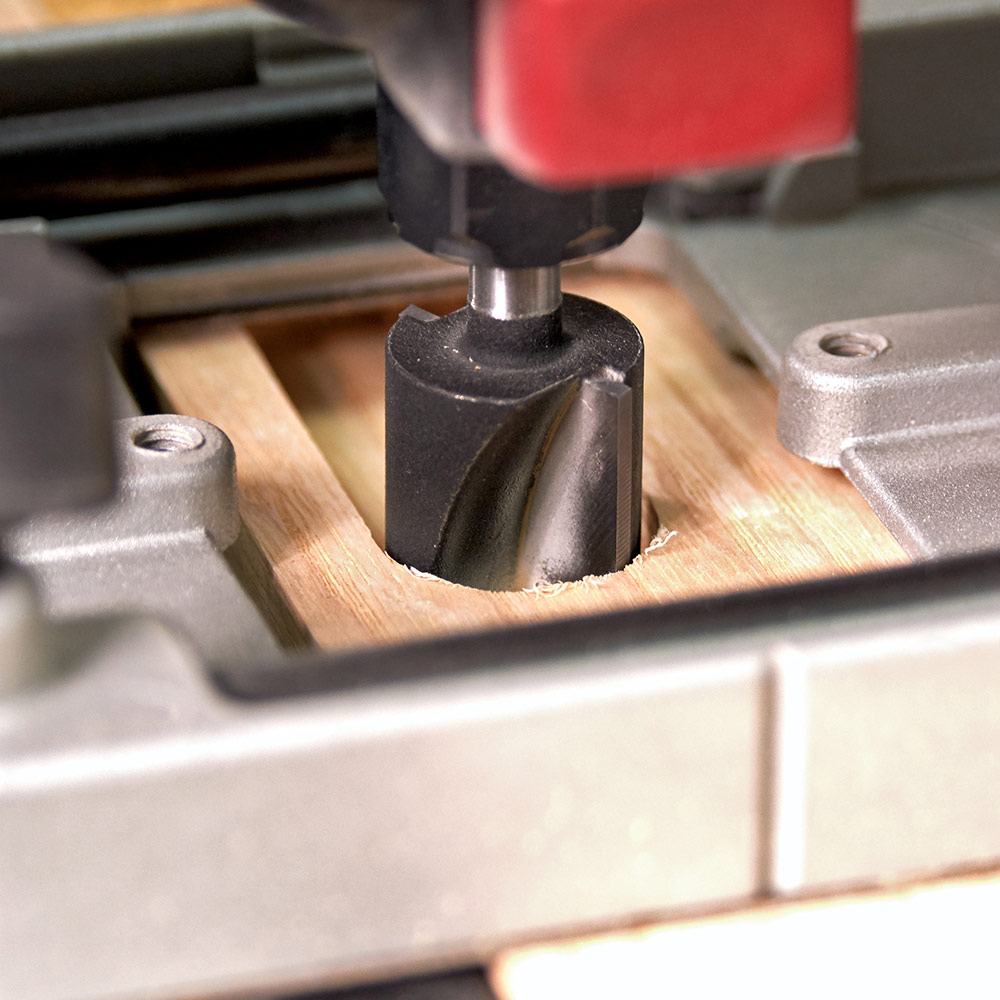 Trend has a new 50 Piece 1/4in Shank Router Cutter Set offers a comprehensive range of cutter profiles that includes roundovers, Ovolo, Ogee, core box, cove, straight, flush trim, chamfer, V groove, dovetail and much more in a variety of bearing and non-bearing guided styles to cover a huge spectrum of applications from the finest detail moulding, through to bigger jointing and rebating cuts.
Supplied in a sturdy aluminium storage case with each cutter easily identified with a graphic representation for swift selection, the 50 cutters offer over 100 different cutting and profile variations when used with different router fence and plunge settings, increasing and maximising the diversity and adaptability of the set further.
Designed with the hobbyist, keen amateur or anyone dipping their toe into the joys of router work in mind, the 50-piece set offers exceptional value for money and will allow the user to replicate classic mouldings, experiment with new ideas and profiles as well as designing and creating their own unique, functional and useful pieces.
Each cutter has a two-flute design for cleaner, faster cutting performance along with TCT (Tungsten Carbide Tipped) cutting edges for maximum durability and premium performance in hard and softwoods and wood-based materials such as ply, MDF and chipboard; perfect for using a crossover of materials to achieve your own signature look.
The 1/4in shank set is an excellent addition to any routing set up and especially suited to light duty and medium duty routers for fine control and ease of use.
This superb, balanced selection of cutters covers a raft of applications from light joinery work through to templating, inlaying, furniture and cabinetry work and much more in between.
21st February: The New Trend CraftPro Planer Blades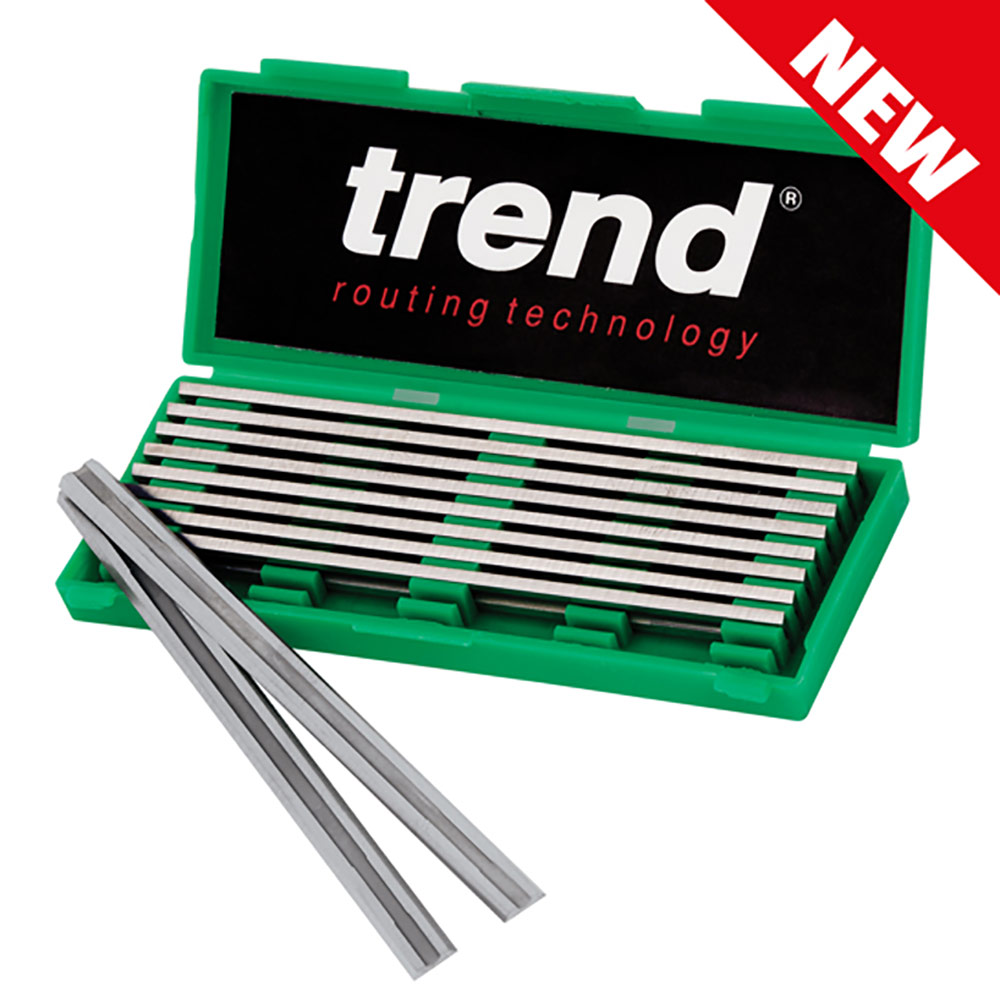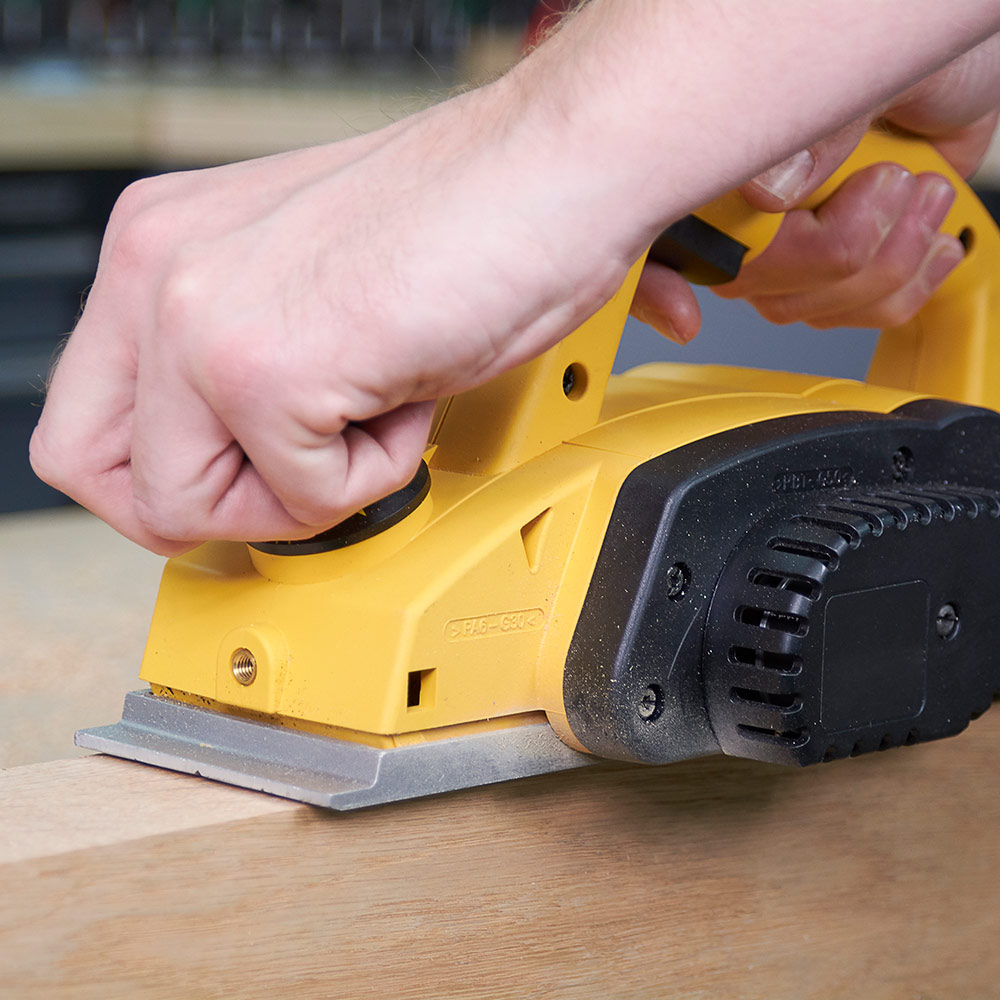 Keep your power planer in tip top cutting condition with the new 10 blade pack of replacement cutters from Trend.
The 82mm long blades are designed to fit the majority of planers on the market, both mains and cordless and are simple to fit meaning minimal downtime when changing them.
The Trend CraftPro blades are made from Solid Tungsten Carbide (STC) for maximum durability, the set of 10 cutters are double edged, offering twice the life.
With precision ground edges to ensure consistent, assured performance, the blades will leave flawless smooth surfaces in hard and softwoods and they are especially resilient to more abrasive materials such as ply, chipboard and MDF.
Unique to the market, this multipack comes in an innovative plastic storage case to keep each blade free from potential damage while also solving the age-old problem of losing blades within tool boxes, bags and vans, and as a pack of ten, also offers exceptional value for money.
19th February: The Brand-New Trend Winbag Inflatable Wedging System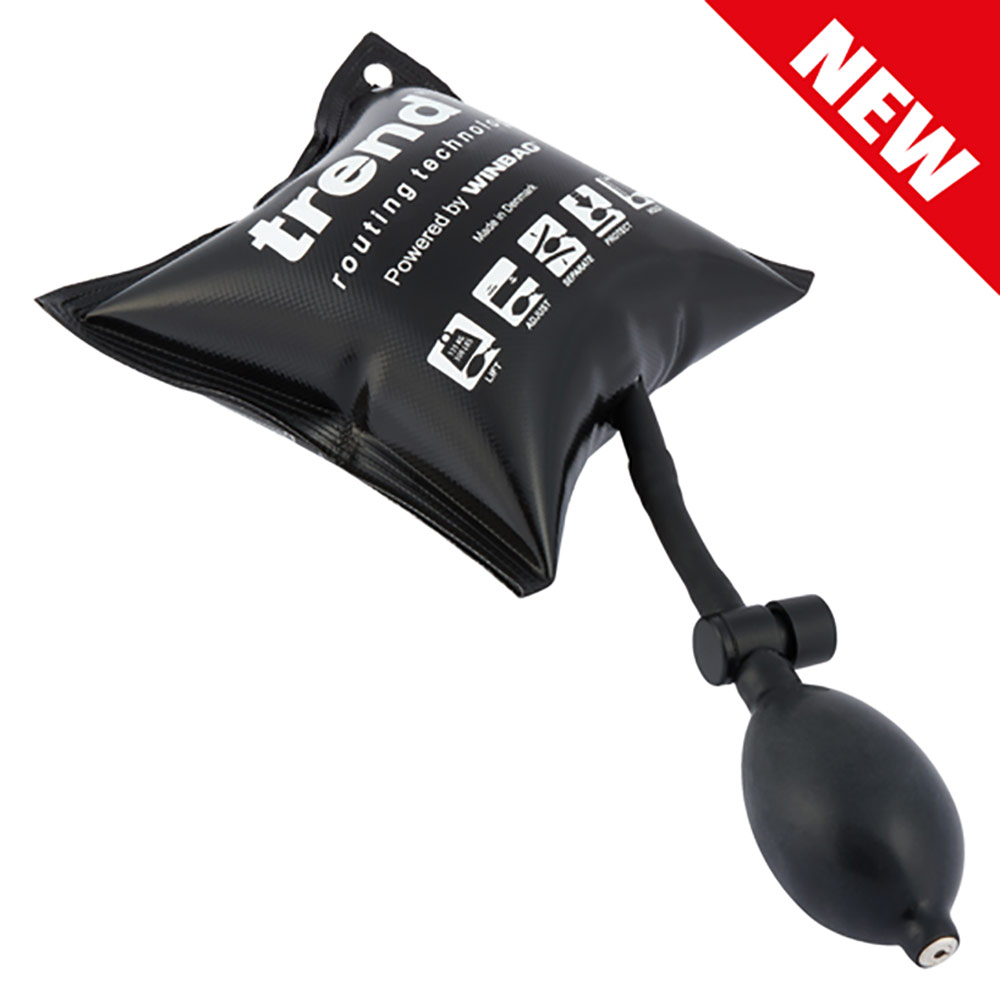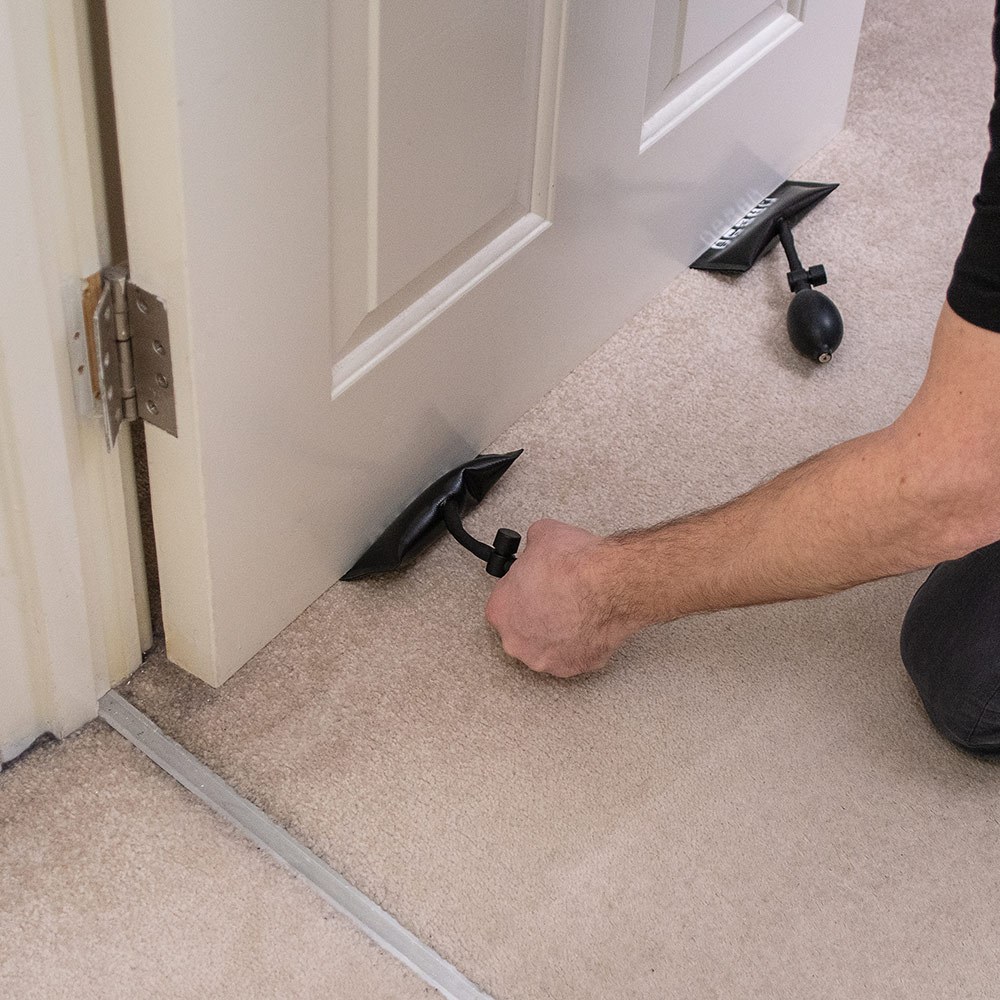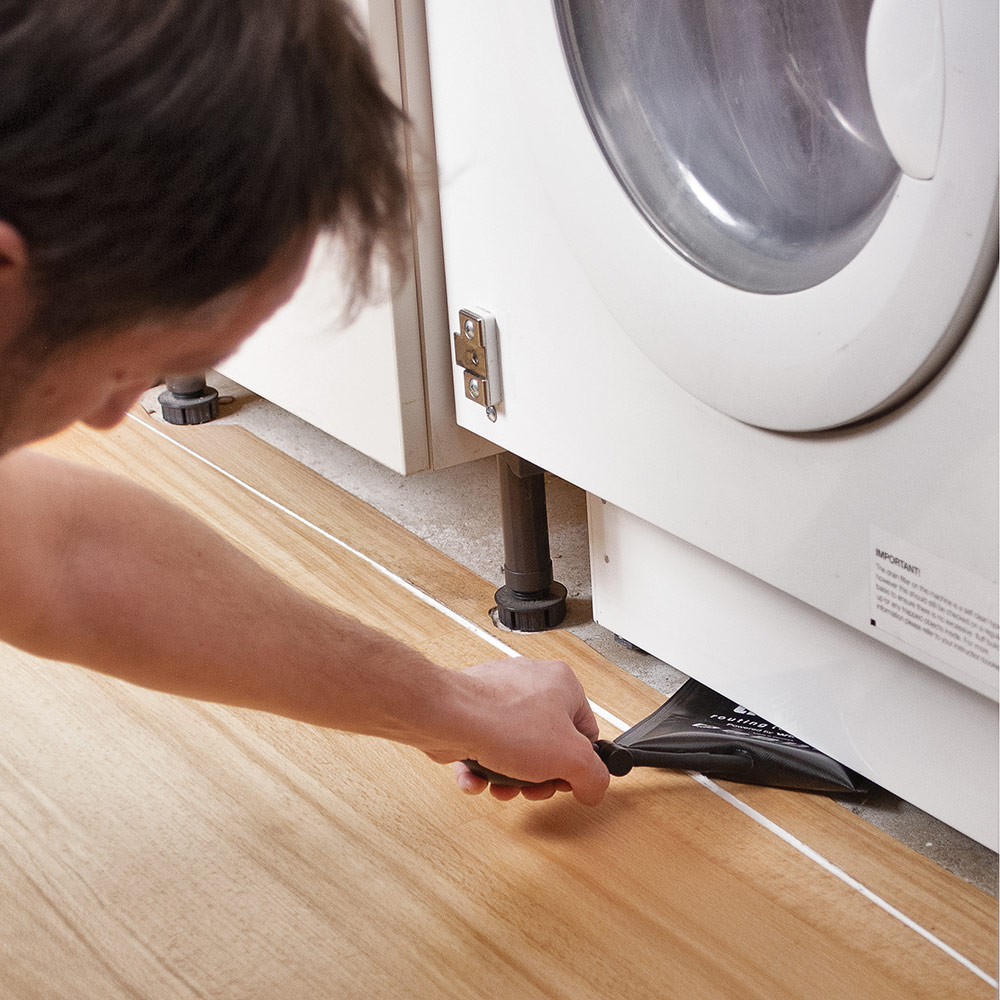 Fast, accurate and easy lifting. Wedging, positioning and packing operations, the Trend Winbag is your go to tool kit accessory.
With a lifting capacity of 135 kilos (300lb) The Winbag is ideal for lifting heavy appliances for levelling up, fitting and adjusting door and window frames for fixing, hanging doors, aligning cabinets and much more beyond.
With an adjustment range between 2mm and 50mm, the easily operated, highly controllable inflation bulb needs minimal effort to operate and can be achieved using either hand or foot, for easy alignment, secure wedging or lifting tasks.
This ultra-fine adjustability is perfect for precision tasks such as fitting doors, including heavy fire doors, allowing the hinge positions to be quickly and easily aligned, keeping both hands free to run the screws in once in position.
The hugely durable Trend Winbag has a strong fibre reinforced, double coated and welded seam construction for maximum performance and can be used over and over again. The wide surface area also prevents marring adjacent surfaces and eliminates the usual pressure marks and crushing dangers associated with traditional levering methods.
Available as singles, twin and 4 pack options, the Trend Airbags offer a safer and easier approach to installing and moving heavy loads, speeding up any task and keeping both hands free to safely work on the final fitting or fixing.
Time saving and problem solving all in a single bag, the Trend Winbag is a multitasking marvel.
18th February: Trend Update - New Videos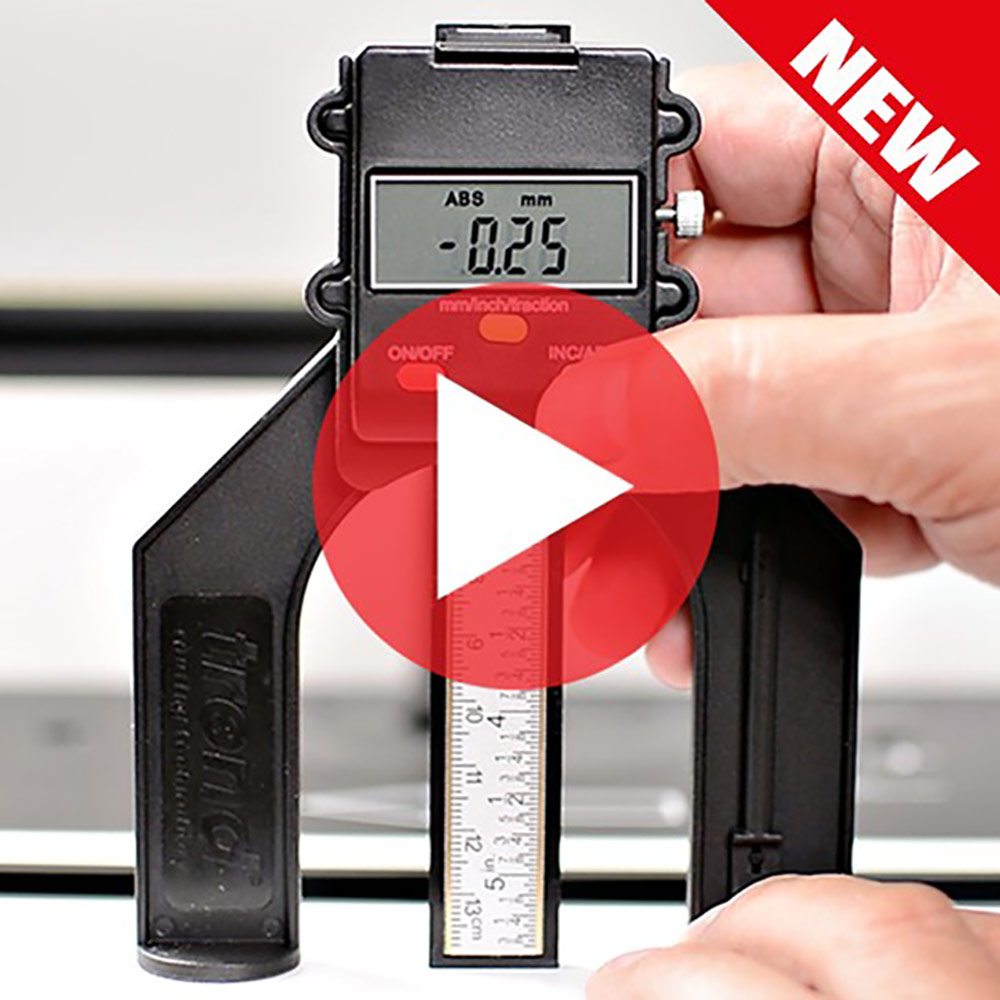 Enhance your woodworking skills and knowledge with the NEW Trend Videos now available on our website
Trend strive to constantly update the information on how to use, or get the most out of our jigs and products to ensure the end user gains maximum benefit.
Trend are dedicated to providing high quality videos so that you can get a better understanding of existing and new Trend Products, and with 24 new videos now available for you to view and download on our website, you can be sure that each one has clear, easy to follow information.
Our video library is designed to assist you in setting up and using the tools, jigs and accessories we offer, ensuring informed, quality advice so that any task can be easily and quickly achieved.
Trend Videos are a great starting point for any project but if you need extra advice or support on any of our products please do not hesitate to call our fantastic customer service or technical team who will be only too pleased to assist.
13th February: The New Trend Pro Pocket Hole Jig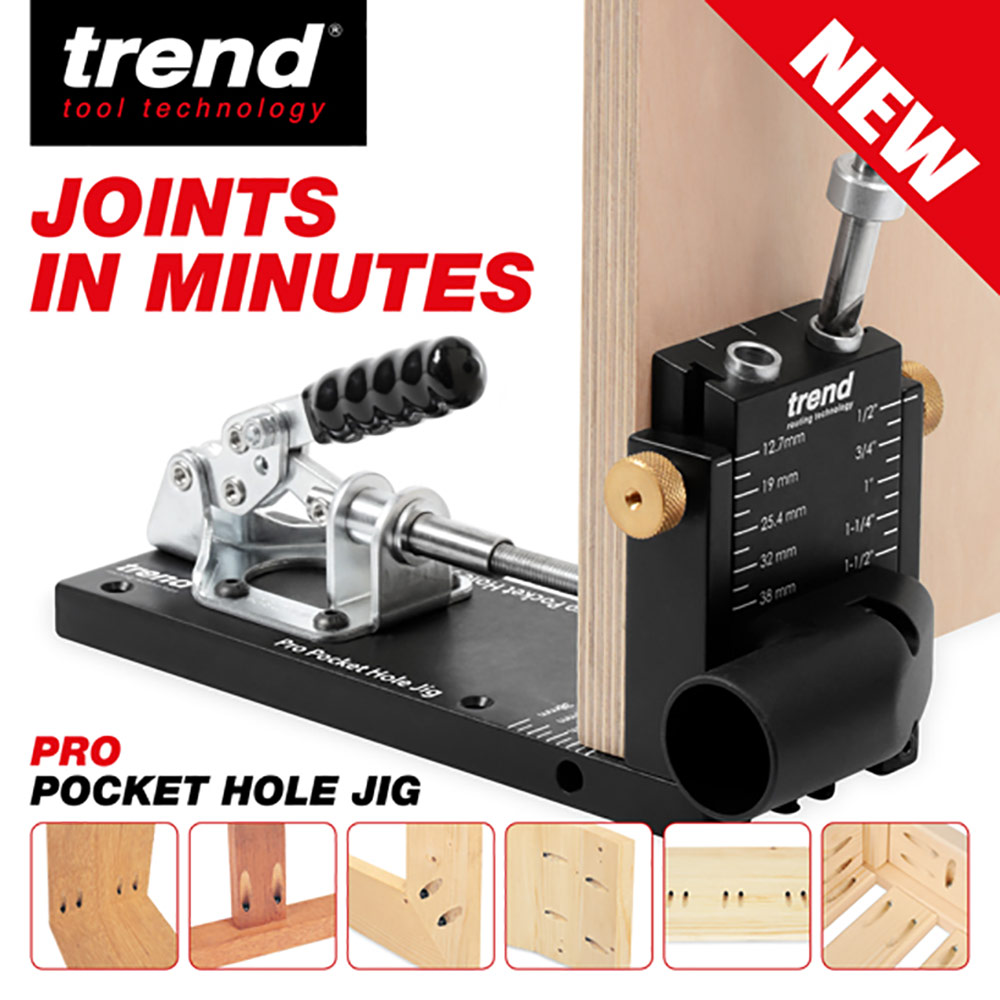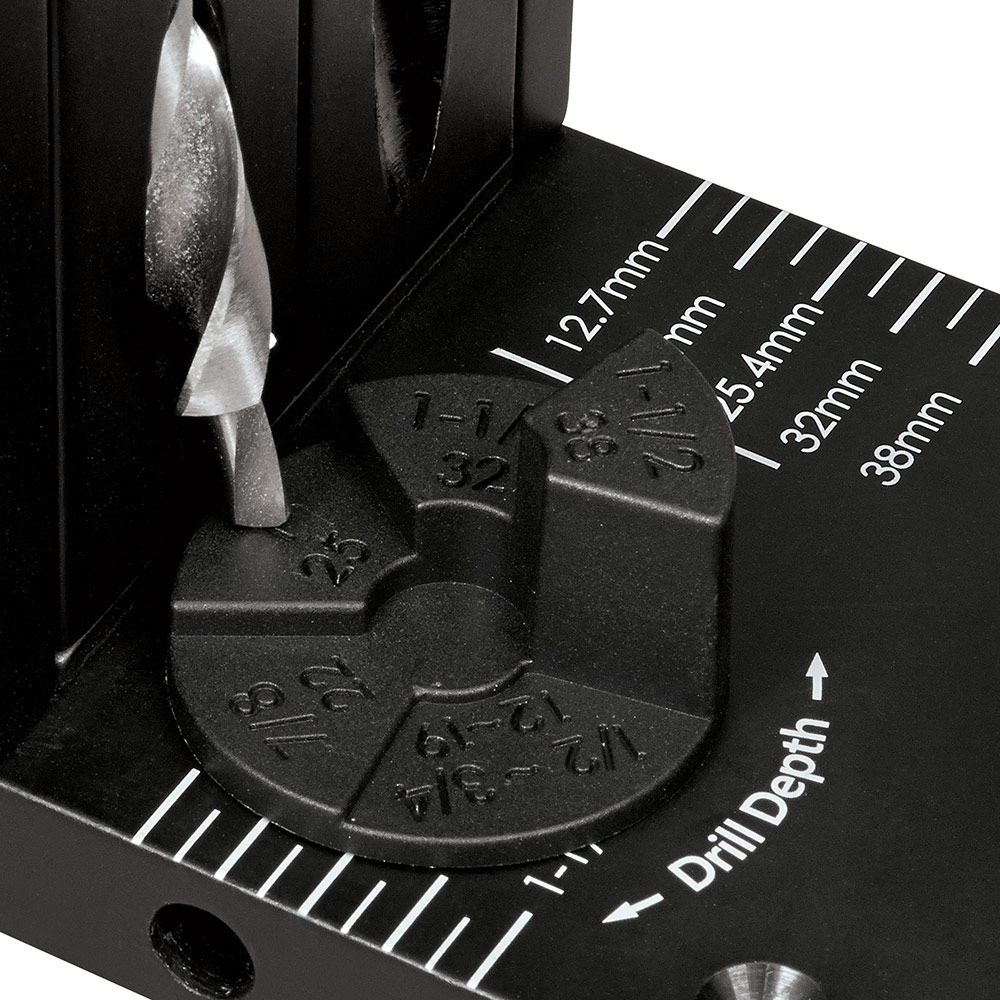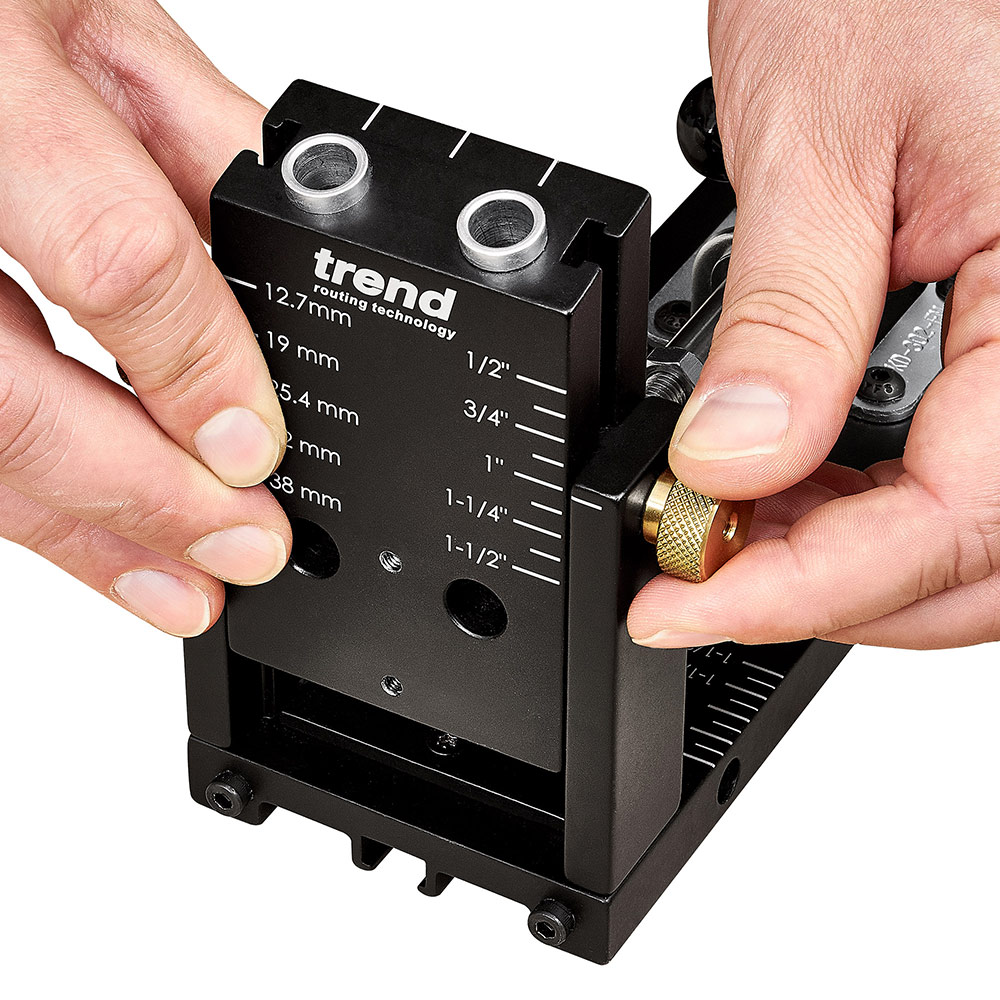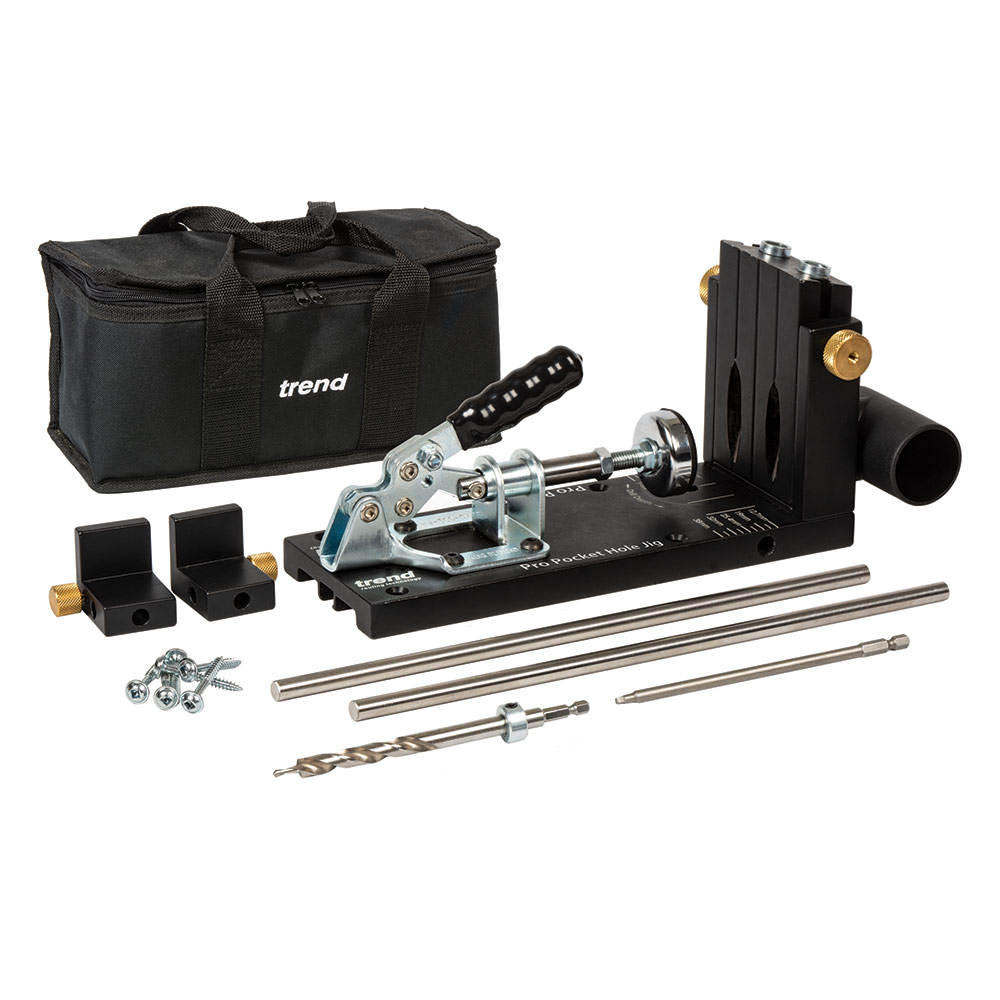 The Trend Pro Pocket Hole Jig is the ultimate time saving solution for a huge range of woodworking applications, perfect for fast and accurate joining of timber and sheet materials, make joints in seconds and achieve results in minutes.
The Trend Pro Pocket Hole joint is not limited to smaller or lighter work. With its fast and easy drilling height adjustment and maximum 38mm material thickness capacity, the Trend Pro Pocket Hole Jig can be put to good use in heavier joinery applications.
Furniture and joinery have long benefitted from pocket hole fixings such as fixing the bullnose end of riser to the newel post on the bottom of a staircase of strengthening webs in chairs and tables but the traditional, long-winded method is faster, easier and more accurate using the Pocket Hole Jig.
Other applications include:
1.Euro Style Cabinets (Also known as Cabinet Carcases)
Fast, strong cabinets are a cinch to make with Pocket Hole Joinery.
Using multiple fixings on wider panels achieves maximum strength, and with the cross members for bracing, drawer and door rails made with equal speed and efficiency, all the fixing positions can be easily made in areas where they will be covered or unseen to leave clean, internal surfaces.
2.Face Frames/Picture Frames
Face frames are the perfect accompaniment to cabinet carcase projects to cover the raw edges of the cabinets.
They are easily made using simple, square edge joinery which is a core strength of any pocket hole work, eliminating complex measuring so the novice can attain high quality, professional work with timbers of your choice at a fraction of the cost.
Mitred corners are pocket screwed in the same way; ideal for picture frames, mirrors or for a higher quality look to face frames for carcase work.
3.Furniture construction
While furniture can be complex and time-consuming, making the same stylish looking work can be done without the need for extensive woodworking skills, knowledge or tools.
Examples include table leg assemblies which can be quickly made up using leg frames and aprons and with the Trend Pro Pocket Hole Jig, it is simple to experiment with different screw lengths and stock sizes so components can be easily varied for an elegant solution or a chunky contemporary look.
4.Angles, Bevels and Curves
Angled, curved and bevelled corners are all joints that the Trend Pocket Hole Pro can make with ease, and all constructed in the same, simple way.
Simply making the bevel on one edge, the pocket hole is made on the mating square edge screwing through from the face that will not be seen.
Great for coopered effects, multi-facetted work such as hexagonal or octagonal forms or to achieve a flat angled corner as a transition point.
The Trend Pro Pocket Hole Jig Specifications:
- High quality all metal construction for assured, accurate results every time.
- Fast and easy height adjustment allows material from 12.7mm to 38mm to be jointed.
- Solid hardened bushes for durability and high performance, with fixed spacing of 30mm centres ideal for 50mm wide stock.
- Ideal for use on hard and softwoods, MDF, plywood, chipboard and blockboard.
- Dual purpose workpiece support and end stop for fast, repeatable positioning.
- Huge variety of joints and fixing applications can be quickly and easily created.
- Fast setup for any drilling position using the drill bit depth setting turret.
- Ultra-efficient dust management using the built-in dust extraction spout.
- Square drive self-tapping screws for use with the supplied No.2 square drive bit ensuring maximum driving power and came out resistance.