27th November: Router Surfacing Jig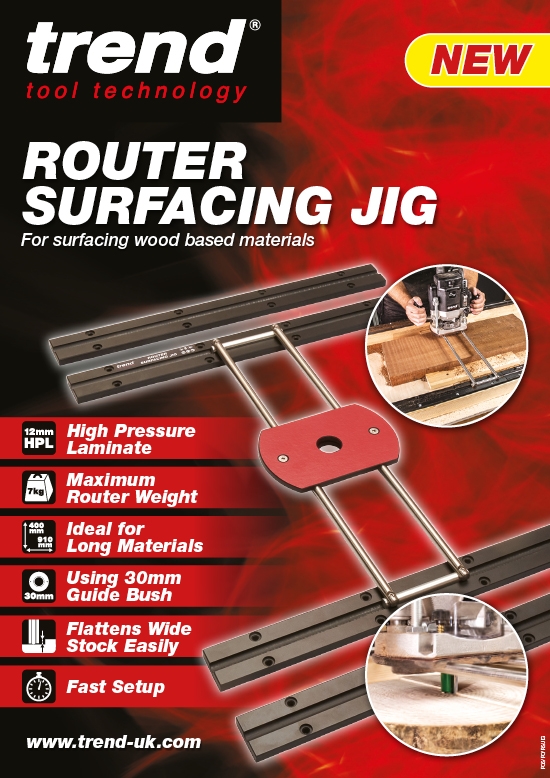 It's easy to get stock sized planed timber off the shelf, but what do you do when you need something wider than normal flattened and prepared?

Timber mills charge a pretty penny to do machining one offs, so Trend have the solution with the new Router Surfacing Jig that allows you to flatten, true and level any boards up to 400mm wide and 910mm long.

It is especially useful for short, wide boards that tend to live with the spiders in the 'that'll come in handy one day' corner of the workshop, but you don't have the tools to prepare it as it would be both difficult and dangerous to flatten with machinery.
Perfectly suited to the craft orientated market for making signs, chopping boards, flattening live edge 'river' table slabs and more, it also allows end grain to be cleaned up safely and easily. Boards beyond the 910mm capacity can be simply moved through the jig once flattened so the next area can be worked on.

Used with any router that can take a 30mm guide bush, there's no faff involved, no fitting of sub bases, simply locate the guide bush into the cradle, set the cutter depth and away you go.
The cradle can move both across the work and along it for fast stock removal and with the cutter depth easily set with the plunge of the router, the finest skimming cut through to the maximum recommended 1.5mm cut allows you to make controlled, easy truing and flattening cuts on hard and softwoods alike.

The guide bush format also allows any router that has the facility to take one to be used so it isn't limited to one style, brand or size, allowing smaller routers to do the work equally as well as a big heavy duty beast up to 7kg in weight. If you do go big, the 12mm diameter solid stainless steel running bars ensures that even with the heavier routers out there, everything stays solid without deflection so the results are consistent throughout.

The Router Surfacing Jig comes as a kit complete with all the fixings and instructions you need to build the carriage it sits on, allowing you to tailor it to your own needs, ready to crack on with those awkward sized special pieces of timber you've been keeping back.

Router Surfacing Jig (Product Ref. RS/JIG) List price is £129.00 + VAT. To find out more please contact your local dealer or visit the Trend website www.trend-uk.com to find your nearest stockist.
22nd October: Trend Worktop True Cut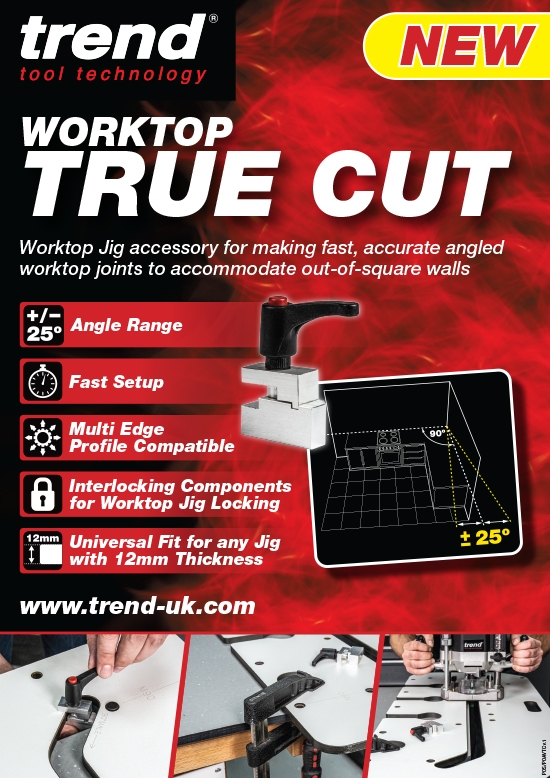 Achieving accurate, tight worktop joints are a pivotal part of kitchen fitting; easy enough if everything is square and true, but kitchen fitters across the land will testify it's rarely the case.
So what do you do when your walls aren't true and the joint needs to be cut out of square to match it?

Angled joints are now as fast and easy to cut as square ones, with the new Trend Worktop True Cut, achieving that perfect fit by becoming the pivot point to swing the worktop jig into place to suit the angle discrepancy while maintaining the correct backset.

Compatible with Trend standard jigs as well as the new Trend KWJ750P and KWJ900P Worktop Pro jigs, the True Cut is fast to fit, fast to set, fast to work.

No head scratching, frustration with joints that still don't fit, the True Cut eliminates them all and covers obtuse or acute angles up to 25 degrees out of square.

Clamping into the guide bush channel on the jig and addressing the edge of the worktop, the True Cut automatically sets and maintains the correct backset position on the male part of the joint when the joint is out of square.

A simple matter of 'measure, mark, clamp and cut'. The amount of angle discrepancy is measured, marked to the worktop and then the jig pivoted to the mark, clamped in placed and then cut.

Compatible with any worktop profile whether traditional postformed laminate, bullnose, solid timber, or such as the current trends of thin, square edged top in compact laminate and composites. All profiles and materials can be jointed with the same easy set up and accuracy.

Made from two pieces of solid aluminium with an interlocking swivel design to allow it to be easily positioned and locked firmly without slippage, the Trend Worktop True Cut is the accessory every kitchen fitter has been waiting for.
The Worktop True Cut (Product Ref. KWJ/OSD) List price is £34.95 + VAT. To find out more please contact your local dealer or visit the Trend website www.trend-uk.com to find your nearest stockist.
5th October: New Pro Kitchen Worktop Jigs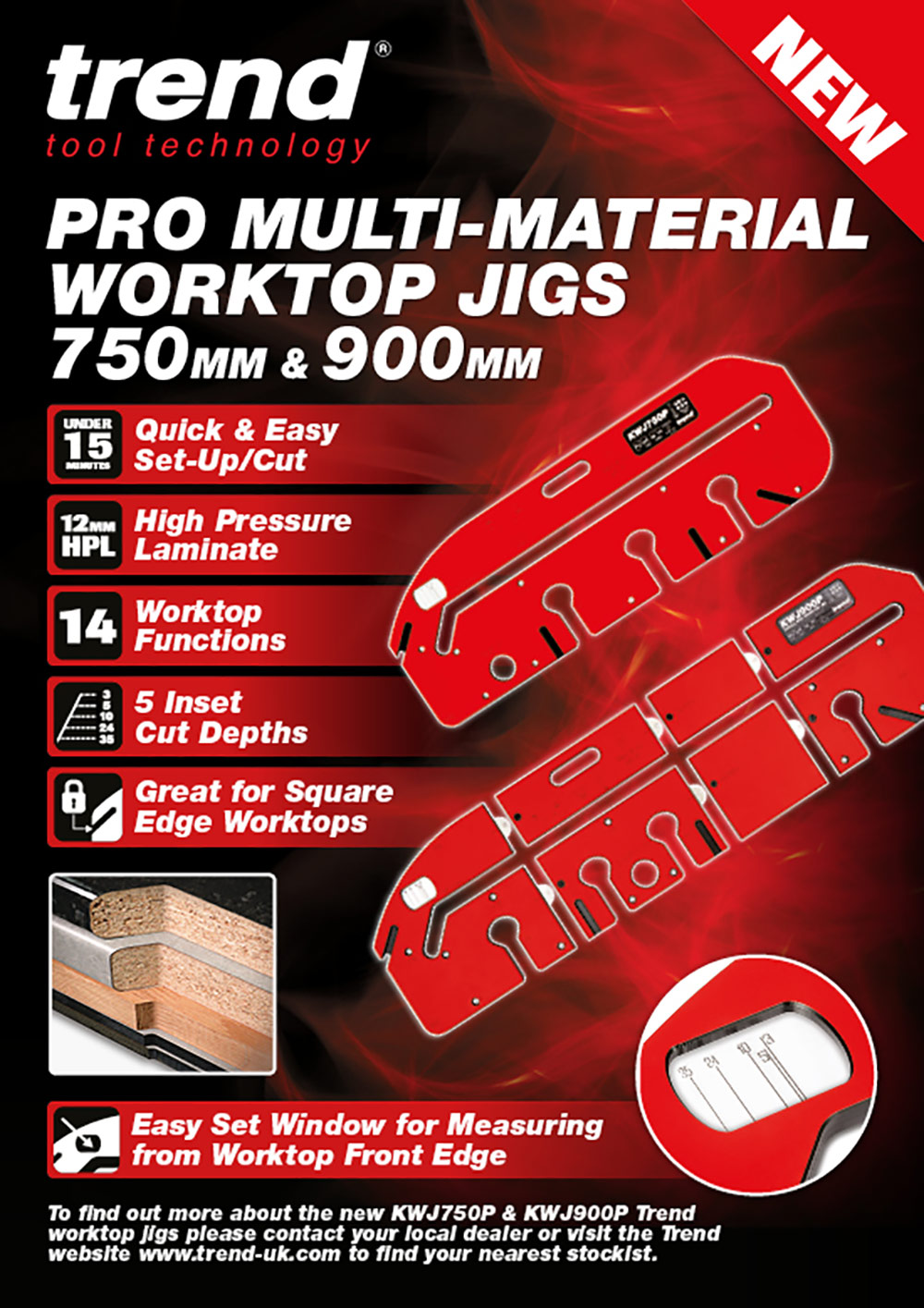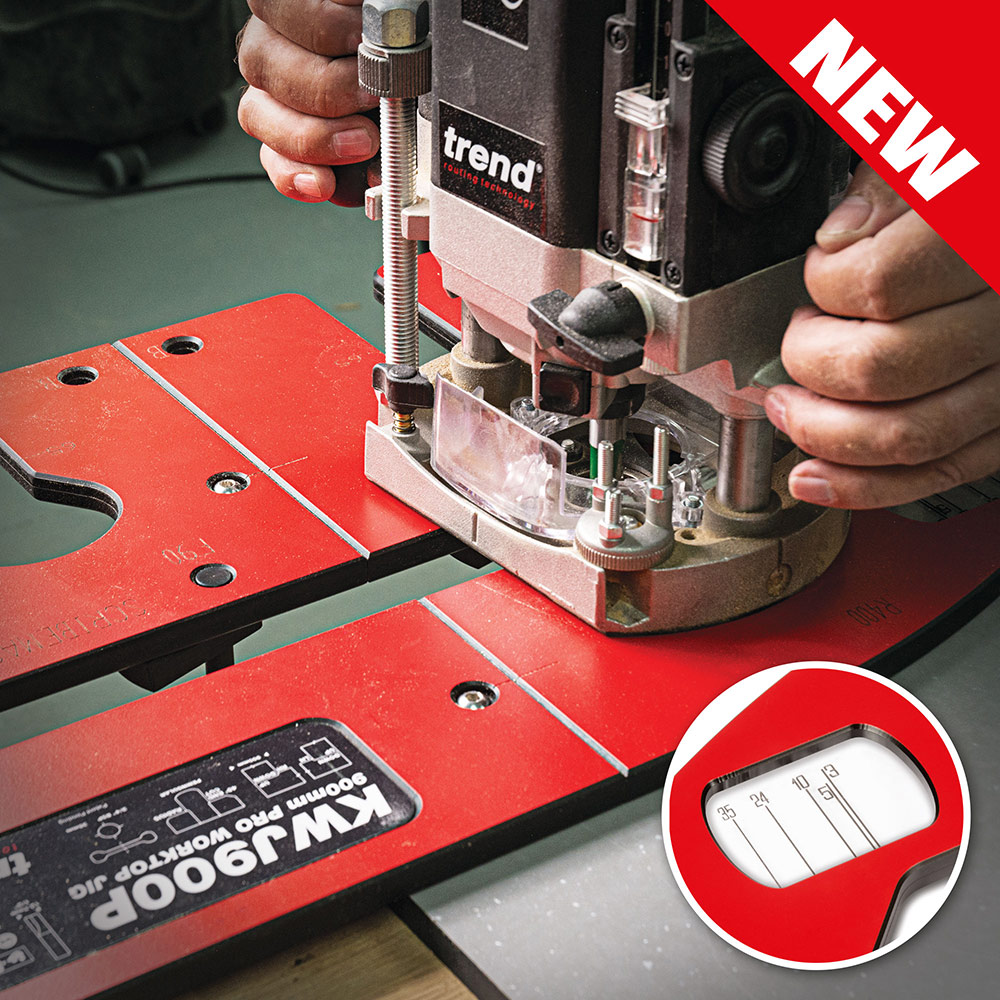 It is time to throw the traditional worktop jointing jigs out of the window in favour of the revolutionary Easy Set alignment window found on the new KWJ750P Pro and KWJ900P Pro Worktop Jigs from Trend.
It is time to throw the traditional worktop jointing jigs out of the window in favour of the revolutionary Easy Set alignment window found on the new KWJ750P Pro and KWJ900P Pro Worktop Jigs from Trend.
With minimalistic thin worktops and flush front edge Handleless styles being the latest must have kitchen features, the KWJ Pro Jigs are now the jigs you must have; able to cut joints to suit any style, and in multiple materials including compact laminate, composite, solid timber and laminated chipboards. Designed to remove all the issues of jointing when back edges have been scribed, or trying to joint non-standard width worktops with standard jigs, the new Trend Jigs are as simple as Measure, Mark, Clamp, Cut.
Unlike standard jigs, no pin is required to set and also limit the joint length so accuracy is guaranteed by taking all the set up and registration positions from the front edge. The jigs will not only match the current trends and the traditional edge profiles, they are also able to evolve to keep up with new designs, trends and styles as they come in to fashion. These are jigs that work across multiple edge profiles as well, so whether they are Postform, Bullnose, small radius or square edge profiles, all styles are covered with 5 different backsets of 3mm, 5mm, 10mm, 24mm and 35mm, set using simple backset cams that match up to settings in the Easy Set window.
For harder square edge tops such a compact laminate, the 3mm backset allows the joint to be made in a single pass with the benefit of reduced router strain, increased cutter life and of course, faster, more productive results; essential for the time conscious, self-employed trade user. Whether it is a standard, scribed or bespoke width worktop, every joint can now be made with unerring accuracy no matter what the worktop width.Joint lengths are 150mm to 750mm for the 750P and 150 to 900mm for the 900P.
The KWJ750P is the direct replacement or upgrade to traditional worktop jigs, but for added diversity and adaptability, the KWJ900P is a four in one component based jig system that can be built into different worktop jig sizes for different applications; 500mm maximum cut length for bathroom vanity installations, 750mm maximum for standard kitchen installations and a full 900mm cut for wider breakfast bars and peninsular installations.The fourth function is the standalone mini jig for letting in bolt recesses, 35mm hinge recesses and monobloc tap fittings. The adaptable modular size is ideal for easy positioning in awkward installations. The whole jig packs down into a compact carry bag, ideal for transportation if you use public transport, or for easy safe storage in the van or workshop.
Common to both jigs are the flush fit clamp recesses; designed for use with standard plunge saw rail clamps. Allowing restriction free travel of the router through the cut for faster and safer cutting.
The KWJ750P List price is £139.00 + VAT and the KWJ900P £189.00 + VAT. To find out more please contact your local dealer or visit the Trend website www.trend-uk.com to find your nearest stockist.
16th September: New Trend Abrasives Range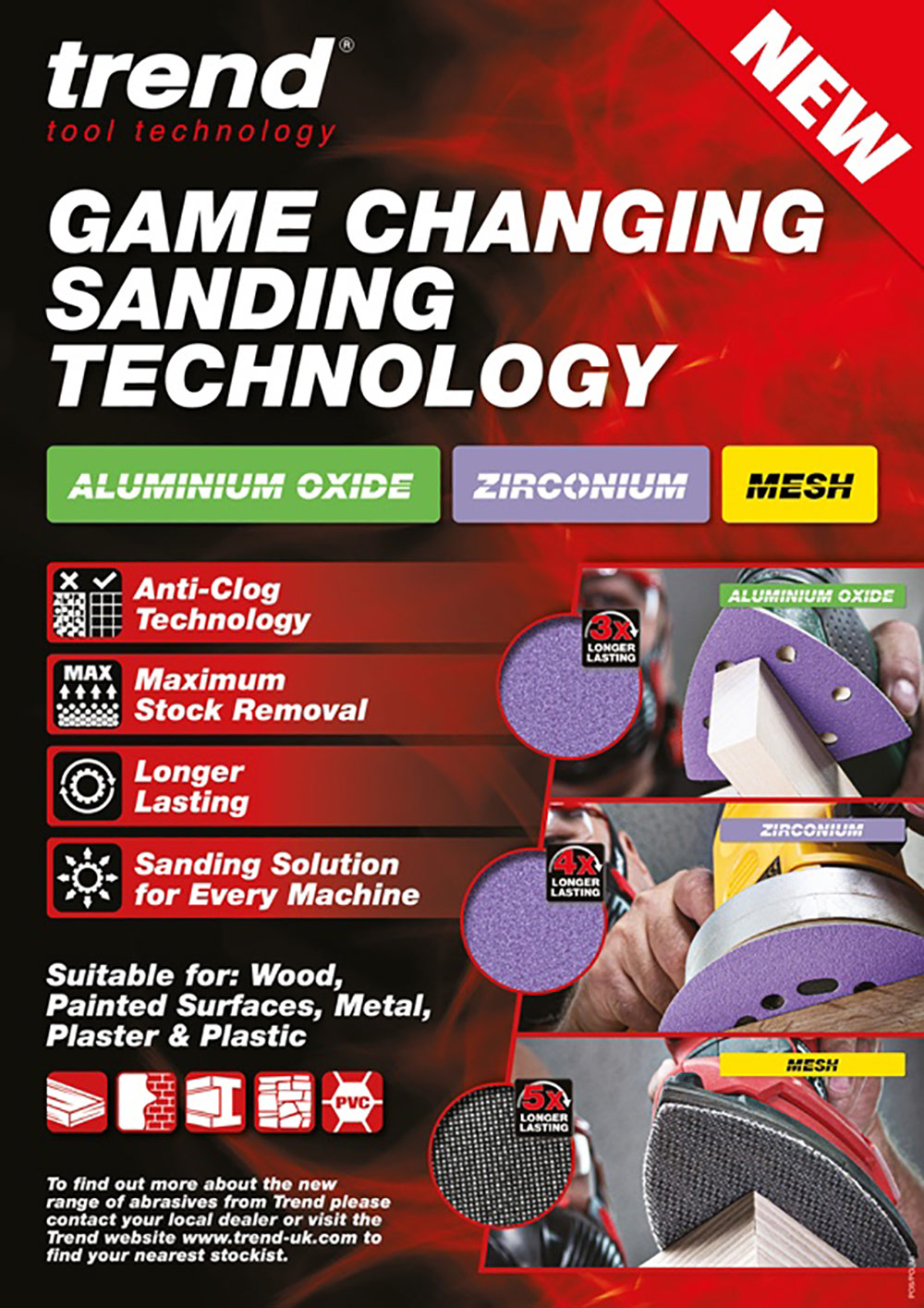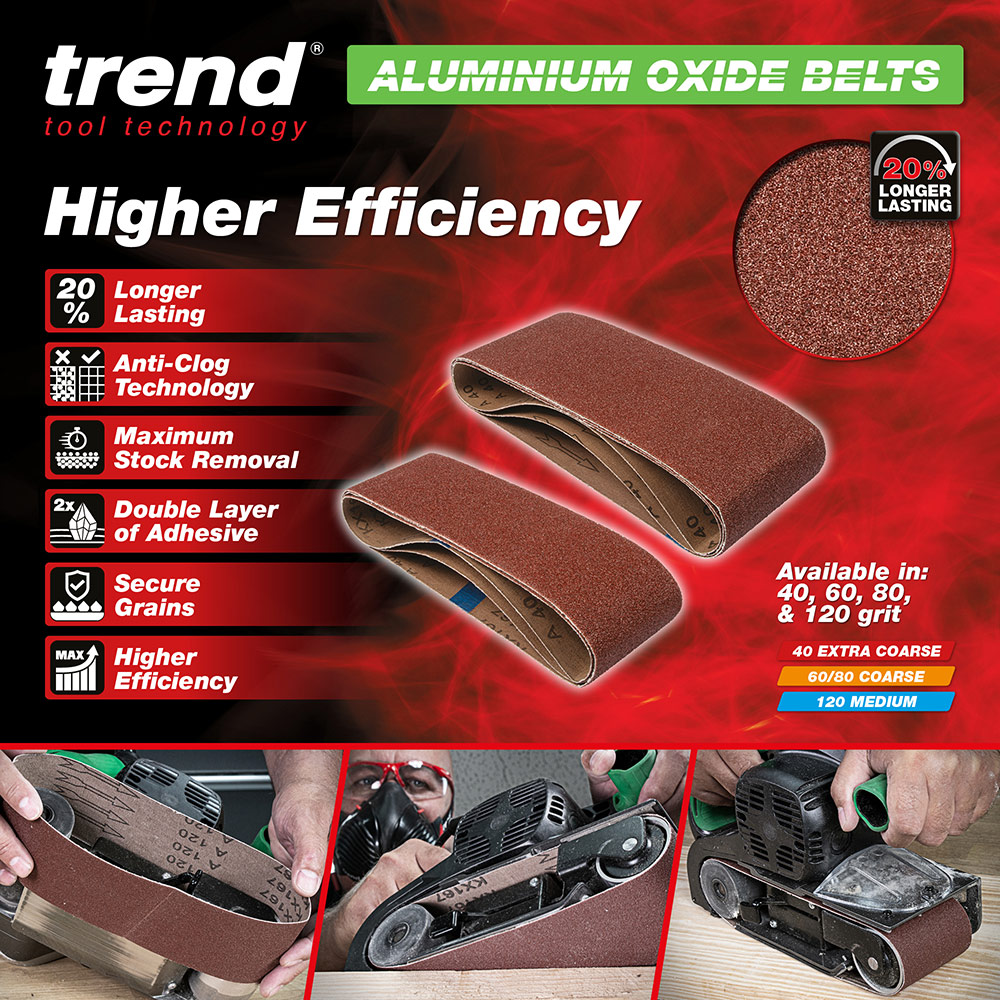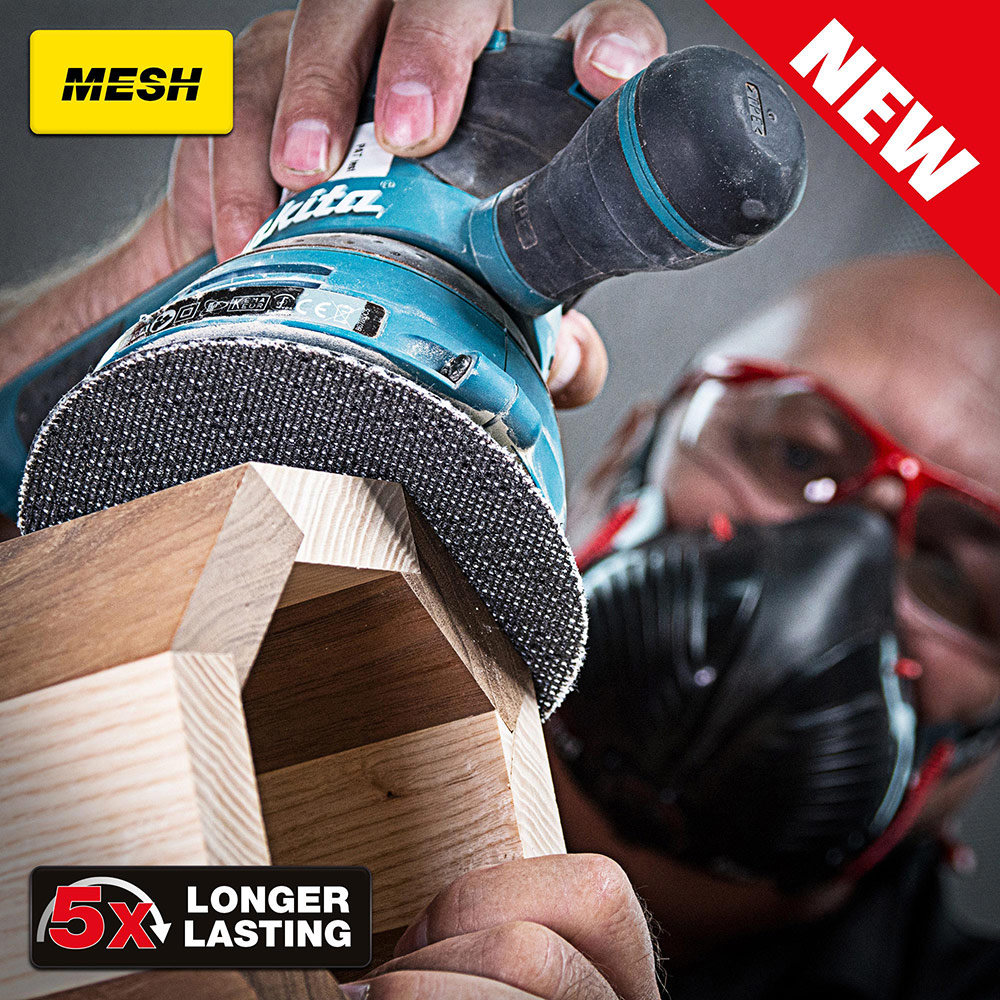 Trend have launched a new range of innovative, high performance abrasives designed to tackle every aspect of sanding from aggressive fast stock removal through to fine finishing across a wide range of materials including wood, metal, paint, plaster and plastic.
Key features such as Anti-Clog Technology, Dual Resin Bonding and Rinse and Re-use Cleaning, ensure maximum stock removal and long lasting performance. Trend step up to meet the challenges of high quality sanding head on with premium performance and a wide range of grits available in Durable Aluminium Oxide, Self-Sharpening Zirconium and Ultra-Resilient Silicon Carbide. A full selection of sizes are available so there is a sanding solution for every machine.
If you see sanding as a chore and as frustrating or exciting as watching paint dry, chances are you have hit all the problems inferior abrasives can give you; grit coming loose, dull cutting, poor performance, poor finishes, clogging, overheating the list goes on. Bad enough that the abrasives let you down, but buying cheaply and investing in poor quality abrasives is as detrimental as it is costly; hours, days or weeks of work can be ruined by skimping on abrasives. If the abrasive you use is not up to scratch, the scratches it leaves will stick out like a sore thumb once a finish is applied and you will be spending more time sanding it back off.
Closed coat electrostatic abrasives, where the grits are packed tightly together are prone to clogging and excessive heat build-up. Trend´s Open Coating Technology leaves free space between each grain of grit, allowing it to clear debris more readily, achieving faster uniform cutting and reducing heat build-up for longer lifespan and performance.
Paper backers on low quality abrasives are unable to cope with flexing and can crack and suffer grit loss; Trend use long life flexible film backers that are designed to cope with sanding on both curved and flat surfaces without degrading. The Mesh abrasives have the added bonus of being cleanable; a quick rinse under running water will remove any dust build-up leaving the abrasive rejuvenated and ready to be used again.
The 3 distinct grit types will give a longer lifespan over conventional abrasives; Aluminium Oxide 3X longer, Zirconium 4X longer and Silicon Carbide Mesh 5X longer. So, whether you need to level irregular floor boards, strip back old paint on a treasured piece of furniture, get a premium super smooth finish on your latest masterpiece or sand tight into a nook or cranny, Trend has the frustration free solution. Selection is also a breeze with informative icon based packaging that points you in the right direction, ensuring you make the right choice for the job in hand.
General day to day medium to fine sanding for finishing a workpiece, sanding back fillers or keying and de-nibbing finishes? Durable open coated Aluminium Oxide in 120, 180 and 240 grit is the way to go. Large flat areas in need of levelling, stripping back or fast shaping? Aluminium Oxide belts in 40, 60, 80 and 120 options will zip through the job in the blink of an eye. Heavy duty stock removal, stripping back heavy finishes, cleaning, abrading or rust removal on metal? Open coated 40, 60 and 80 grit Zirconium has the harder coarser grits that take command in these areas and with the self-sharpening feature, fresh new cutting faces are constantly replenished for superior results.
For the fastest most durable solution for preparation, fine finishing, sanding plaster, and removal of old finishes, Trend Mesh in 80, 120, 150 and 240 grit has the ability to pull dust away with ultra-efficiency in any task and revels in softer clogging materials like plaster and resinous softwoods, ticking all the boxes across every application.
Covering Delta, Detail and 1/3rd sheet sanders plus 125mm and 150mm sander styles, both the Aluminium and Zirconium abrasives have hook and loop backers for fast application and removal with punch patterns that conform to standard base layouts for efficient dust extraction. The random orbit options also have a unique Universal pattern with elongated holes to match models with slightly different base hole configurations, maximising compatibility across all manufacturing brands. The hook and loop mesh pattern have no issues of extraction hole alignment for fast application to any sander base and has enhanced extraction benefits through the entire surface area for superbly efficient sanding and dust control.
1st May: New Air Pro Max Battery Powered Respirator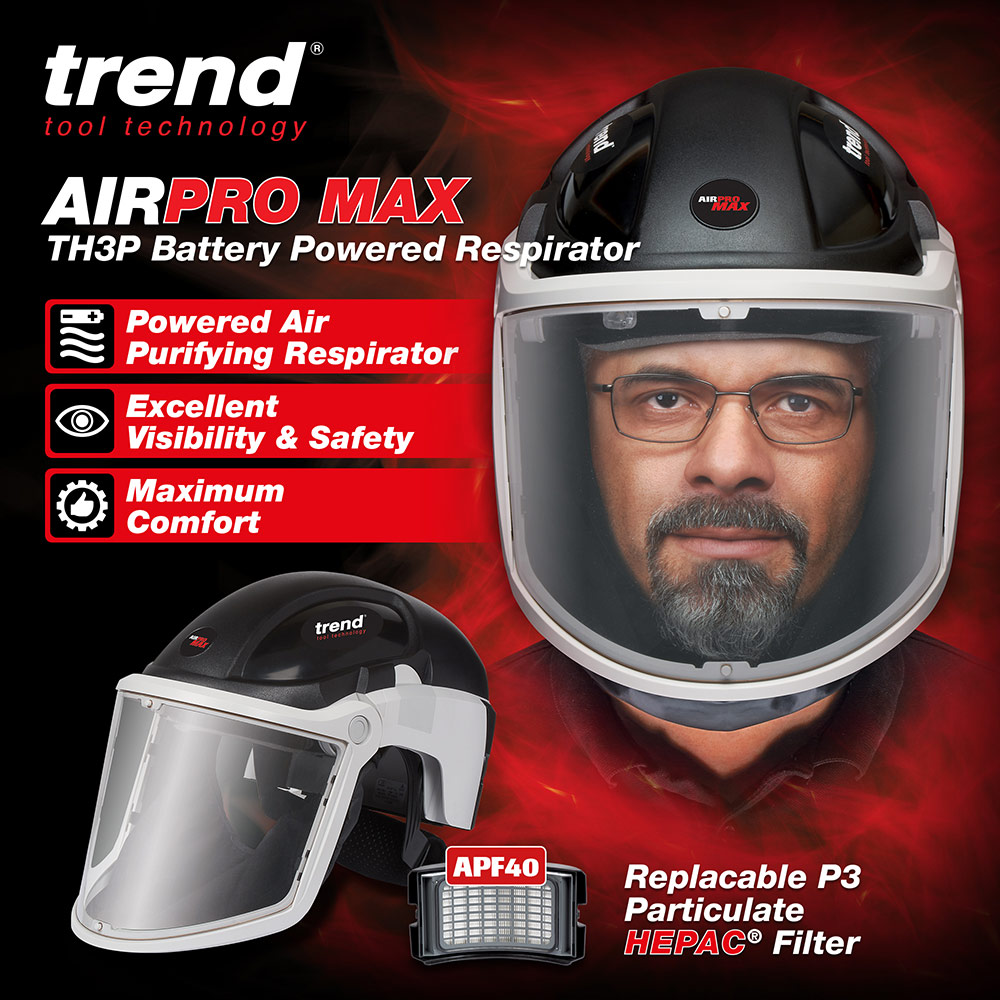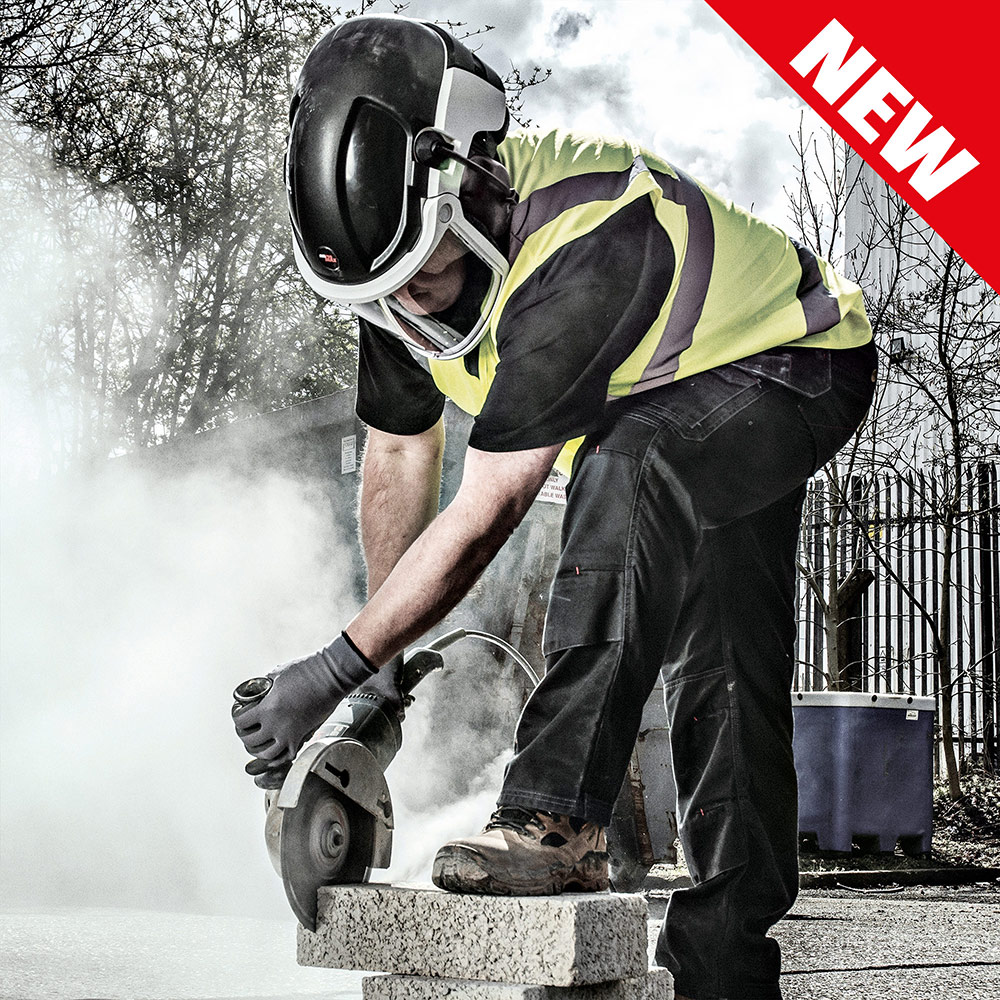 Trend are excited announce the launch of the amazing Trend Air Pro Max. Head, eye, lung and (optionally) ear protection is provided to ensure the user is fully protected. Single users or businesses alike can ensure safe working practices with the ultra-efficient protection against harmful airborne particles, head impact and flying debris. The compact lightweight unit meets HSE industrial standards for consistently reliable protection across a range of applications.
Using a quiet motor driven fan within the helmet, it delivers positive airflow at 220 litres per minute. This provides restriction free breathing for day long comfortable use while also preventing inward air leakage. With no face fit required for a tight face seal, it makes the Air Pro Max ideal for users with facial hair and can be used with prescription glasses without any fogging or misting issues. A built in LED indicator within the flip up visor shows when the battery is close to depletion or if the filter requires replacing. This ensures safe working practices at all times.
The TH3P HEPA filter is APF40 rated and meets EN12941:1998+A2:2008 Protection standard. It filters out particulates down to 0.3 microns with 99.99% efficiency, ensuring superior respiratory protection across a wide range of industrial and trade applications. The Air Pro Max filters out airborne particles including silica, fibreglass, masonry, woodworking, paint removal, grinding, agricultural dust and some airborne mists and sprays. This makes it an excellent choice in areas and trades where nuisance and harmful dusts are present.
The fan, filter, motor and battery are all housed within the helmet so there are no trailing cable or hose links, allowing safer movement around the workplace. The filter and battery are both accessed externally with simple retention clips securing them for fast and efficient changeovers as required. Two lithium ion batteries are supplied, each with a four-hour run time allowing a full day of use from a single charge. With a recharge time of 2 hours, extended periods of use are easily attainable.
Eye protection is covered with the curved full face polycarbonate visor, achieving superb panoramic vision with impact resistance to EN166 B Class 3. This makes the Air Pro Max ideal for demolition jobs, metal cutting, grinding, sawing, routing or any other trade or industrial work where flying debris is commonplace. The Air Pro Max is supplied with 10 replaceable visor overlays ensuring the main visor is constantly protected from impact or spray damage to maintain clear vision.
The hard shell head protector meets EN397:2012+A1:2012 standard, identical to a hard hat site helmet, making the Air Pro Max suitable for use in industrial and on site applications.
This extends the use to areas of demolition where risks of head impact are significant or where the danger of falling objects is high. The Air Pro Max is also fully serviceable with a set of watertight bungs supplied to protect the fan, motor and battery ports. It allows the helmet to be fully immersed in water for cleaning.
The Air Pro Max provides premium all-in-one head, eye and respiratory protection in a well-balanced lightweight design, delivering to HSE specification for industry and trade use ensuring fatigue free day long use. Additional ear protection is also available with a set of optional clip-in ear defenders. Perfect for use with tools that create excessive noise such as breaking hammers, machinery or in noisy work environments, it makes the Air Max Pro the perfect solution for supreme sensory protection on four levels.

The AIR/PRO/M is available at £795.00. All prices excluding VAT.
10th April: New Single Pocket Hole Jig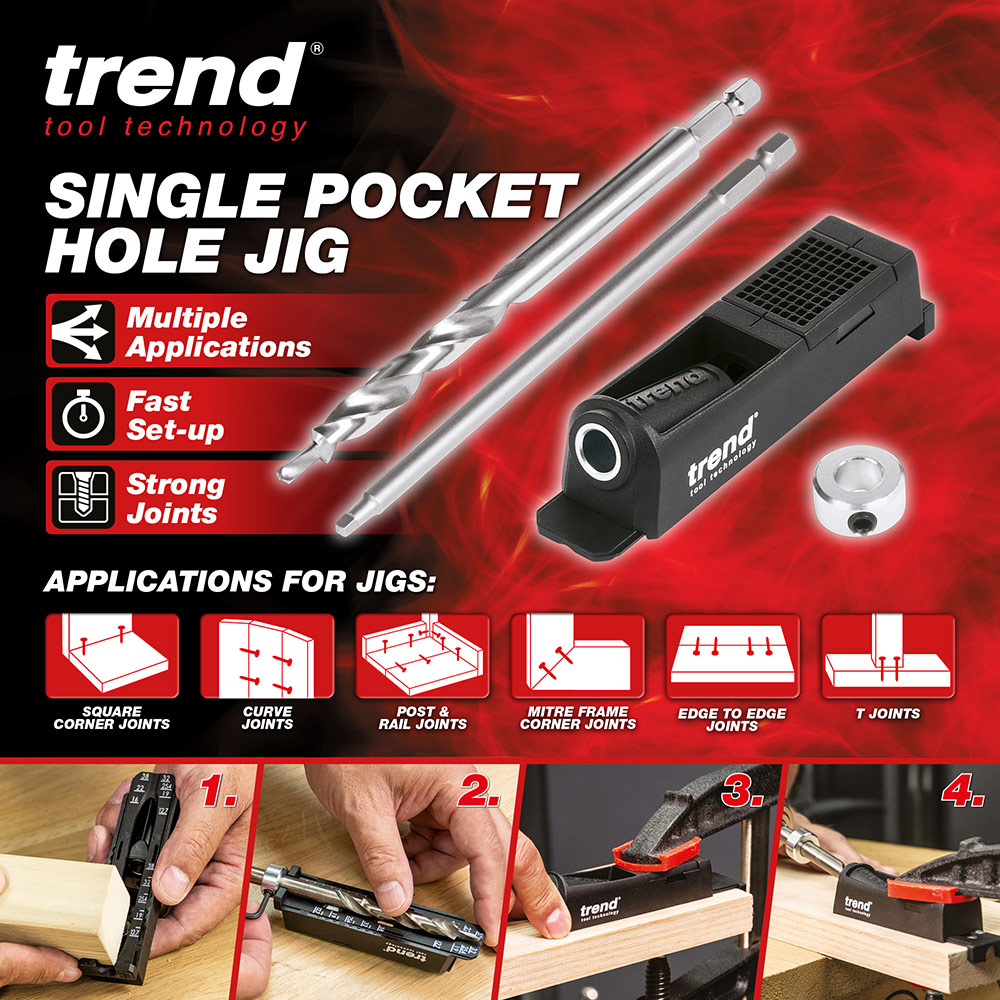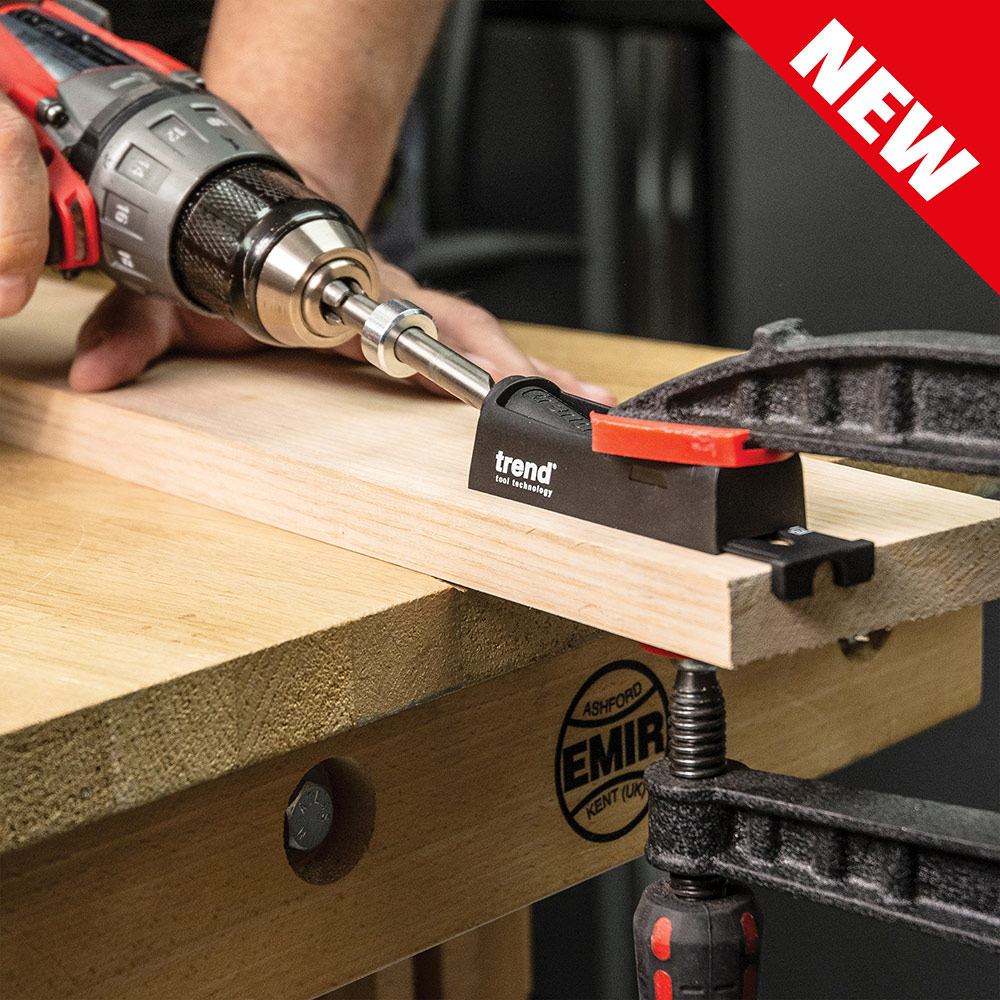 The new portable sized Single Pocket Hole Jig from Trend is an invaluable addition to any woodworking kit. The adaptable slim, compact single hole design ensures consistently precise and high quality pocket hole jigs are produced every time. It's adaptability allows it to be used on a wide range of applications.
It's features include a built in drill depth gauge for fast set up, a clamping plate to hold it securely to the workpiece and a reversible sliding stop for working on different material thicknesses. The adaptable sliding stop has indicator marks for easily setting the correct timber thickness to ensure precise pocket hole jigs. It also doubles up as the depth gauge for setting the correct collar position for the drill, eliminating errors while allowing the user to achieve consistent finishes.
Covering timber sizes from 12.7mm (1/2in) to 38mm (1 1/2in) the Jig will make its mark across a raft of tasks. New projects, adding additional strength to existing work or repair work, the pocket hole jig is versatile enough to cover it all. The Jig can also be clamped in multiple positions on a project which gives it the advantage of not being limited by material width. It adds convenience for the user as they will not be limited when working in confined areas and tight spots.
The Single Pocket Hole Jig is made from durable glass fibre reinforced nylon with a hardened steel drilling sleeve for quality long lasting results. Trend Snappy Chuck compatible accessories including a High Speed Steel 9.5mm diameter stepped drill and 150mm long square drive driver bit are included in the package. This increases speed, adaptability, consistency and ease of use in any application.
The Trend Single Pocket Hole Jig is a must have accessory for any toolkit that puts in a power packed performance at a pocket money price.
10th April: New Trend T32 M Class Site Vac and Dust Extractor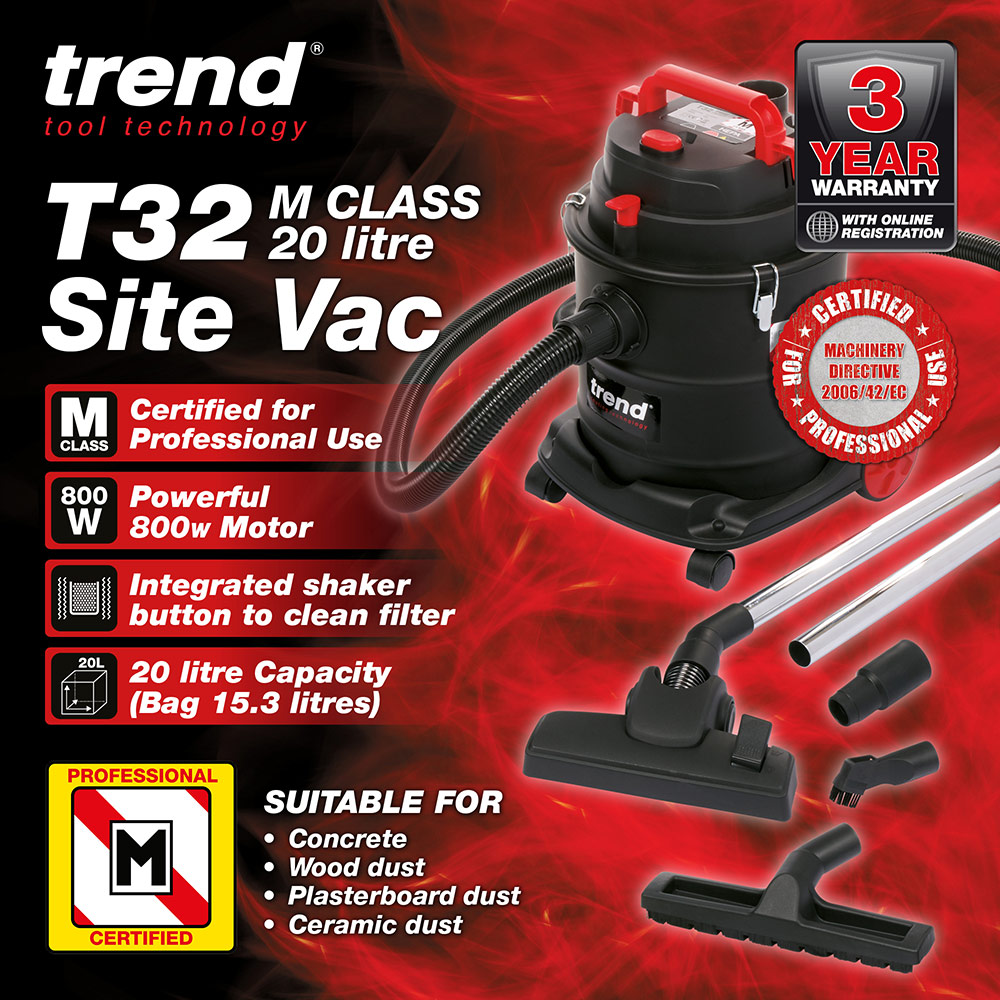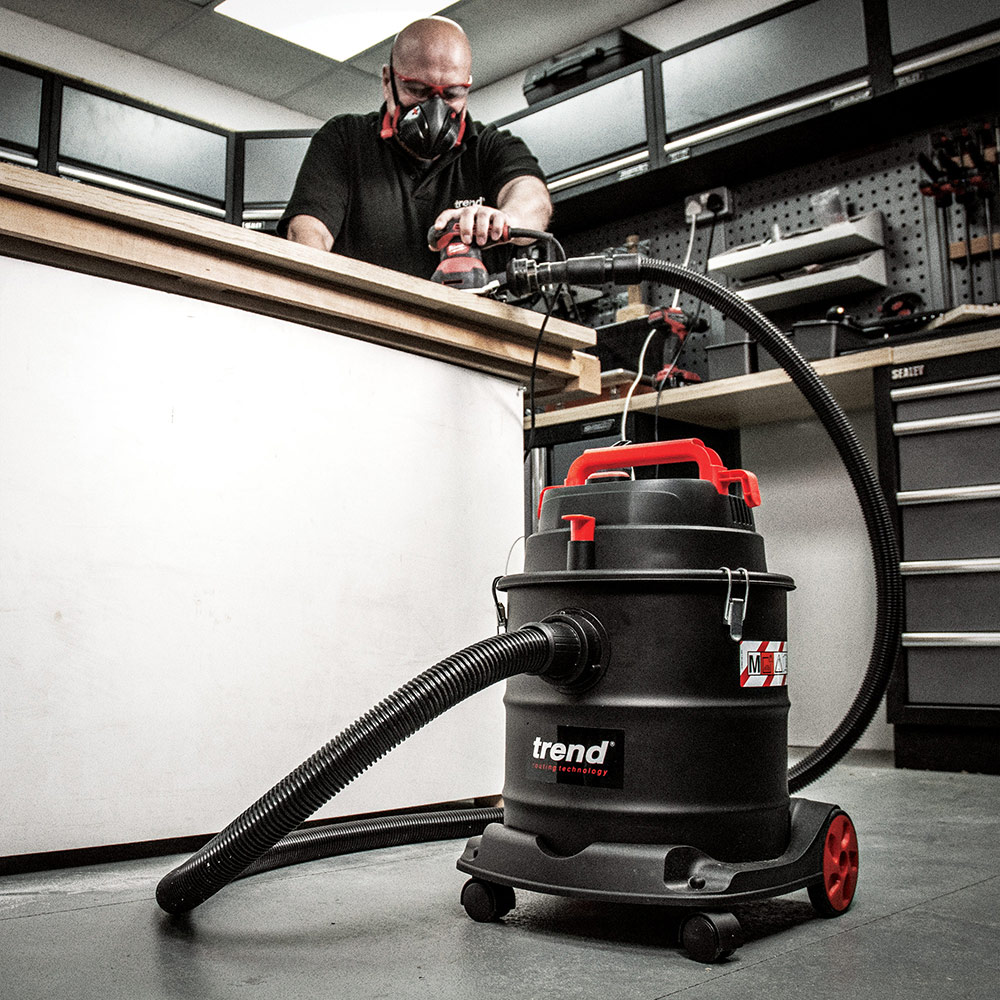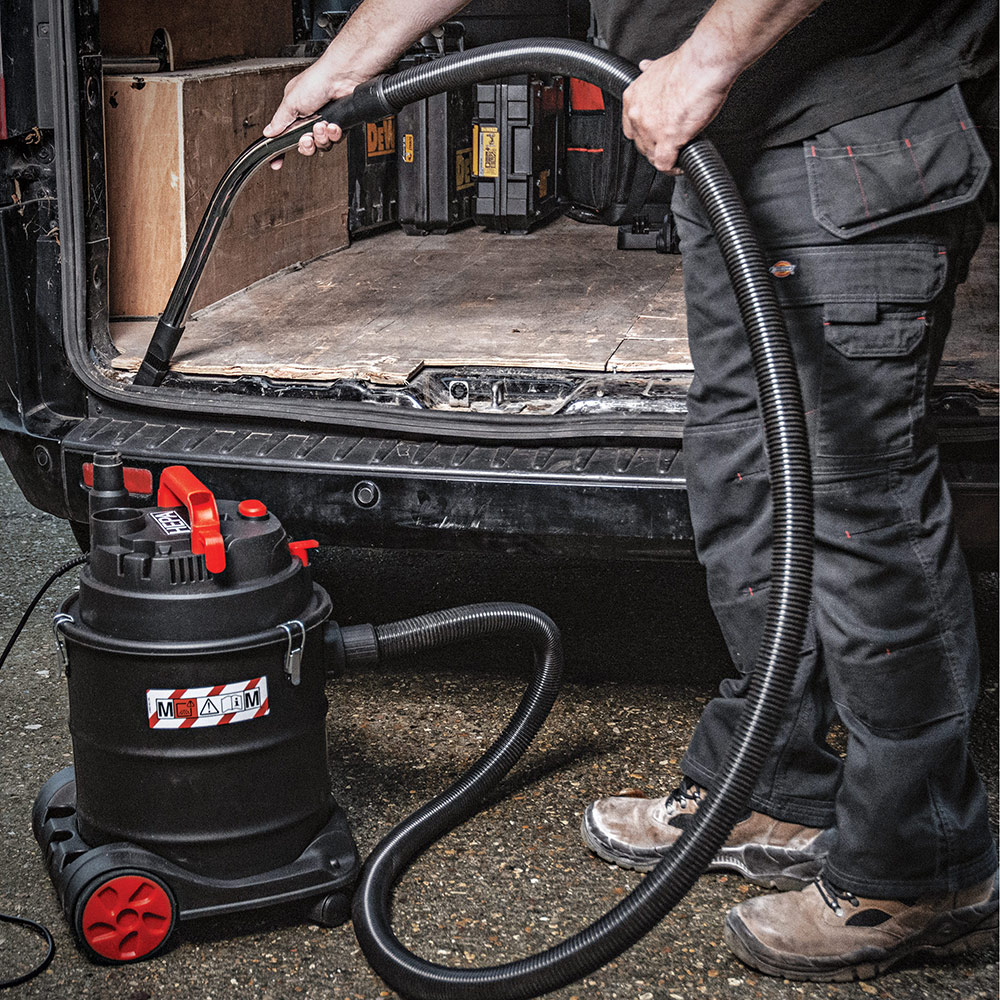 Expanding on the Trade and professional's favourite Trend T31 and T35 dust extractors, Trend's dust control range is further expanded with the inclusion of two new 800 watt 'M' class compact extractors; the 230v T32 and the 115v T32L.
The T32 is fully Certified for Professional use – conforming to standard 2006/42/EC – unheard of at this price point in the market and means that T32/T32L are Truly 'Site-Certified'. Not only is it Site Certified – but by achieving the 'M' class designation, it meets HSE legislation requirements to allow trade users to work safely on construction sites. Ideal for hazardous dust control from construction and building materials including MDF, hardwoods, softwoods, brick, cement and other silica type dusts.
With two voltage options and a robust steel canister the T32 is 'Site Tough', and ideal for use by general builders, carpenters, decorators and other trades. Despite its small overall size, capacity is large - Dust and debris is captured within the 20 litres Drum and the 15.3 litre capacity disposable synthetic filter bags with microfine dust controlled by the secondary Class M (H13 rated) Pleated HEPA filter, capturing at 0.3 microns and above with 99.9% efficiency.
A manual shakedown filter cleaner and low airflow indicator ensure the T32 is always working at its best, helping to shield the end-user from harmful dust exposure. The compact, lightweight design makes transportation easy without taking up valuable space when being taken to and from the jobsite and with the durable steel drum, it's designed to take the knocks of daily trade use. With a 5 metre cable and 3 metre hose, the Trend T32 can cover a working diameter in excess of 16 metres, and can be easily moved around the workplace on its multi-directional wheels.
A complete set of cleaning tool heads and robust chrome steel wand tubes, ensure it is at home in a range of general clean up applications. A flexible tapered power tool adapter is also included to pull dust and waste directly from the tool to minimise airborne particles at source. The Trend T32 extractors give a powerful blend of price and performance - and are ideal for trade and hobby use, meeting all the requirements of an 'M' class extractor. It's the ideal solution for those requiring the same protection against harmful microscopic dust particles across a range of trade uses whilst retaining ruggedness and simplicity.
The Site Extractor is available in both 230v (Product Ref. T32) and 115v (Product Ref. T32L) at a List Price of £159.00. The Micro filter bags are available singularly (Product Ref. T32/1) at £4.95, 5 pack (Product Ref. T32/1/5) £21.95 and a 10 pack (Product Ref. T32/1/10) at £35.99. All prices excluding VAT.
1st April : New Adjustable Benchtop Roller Stand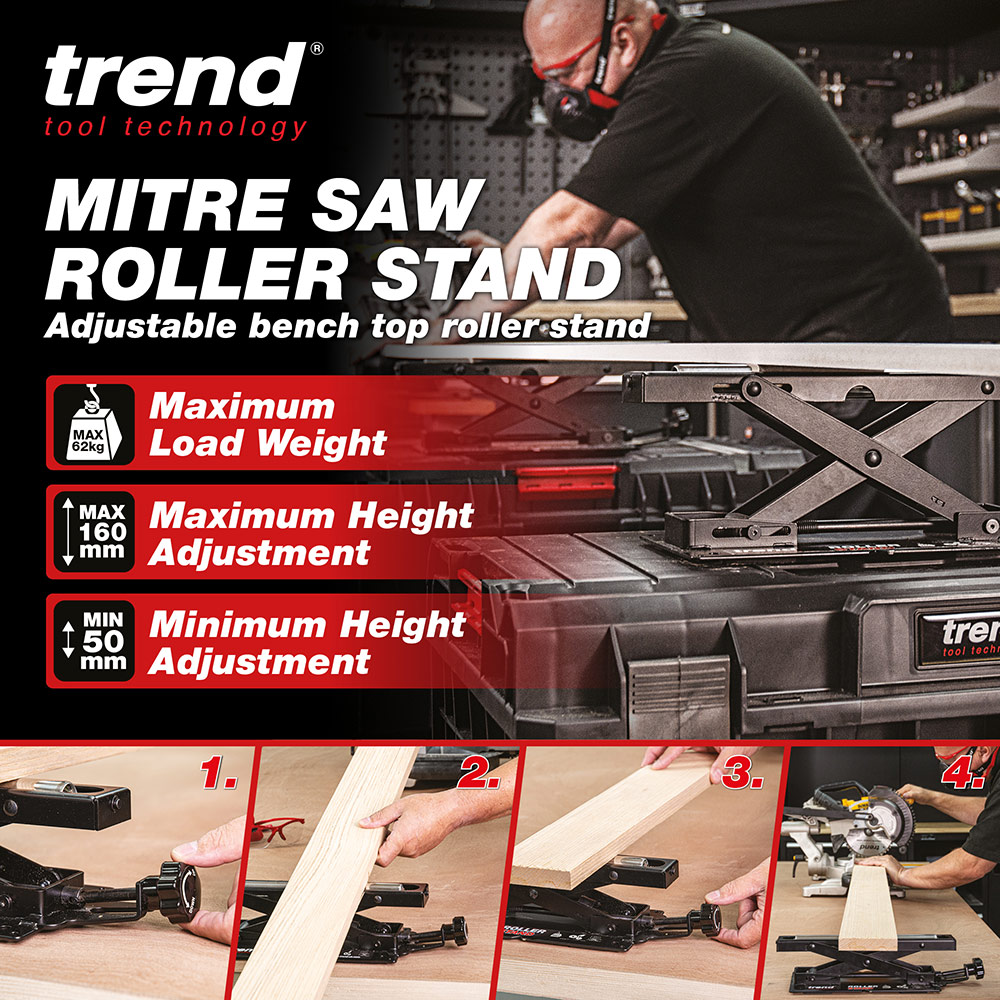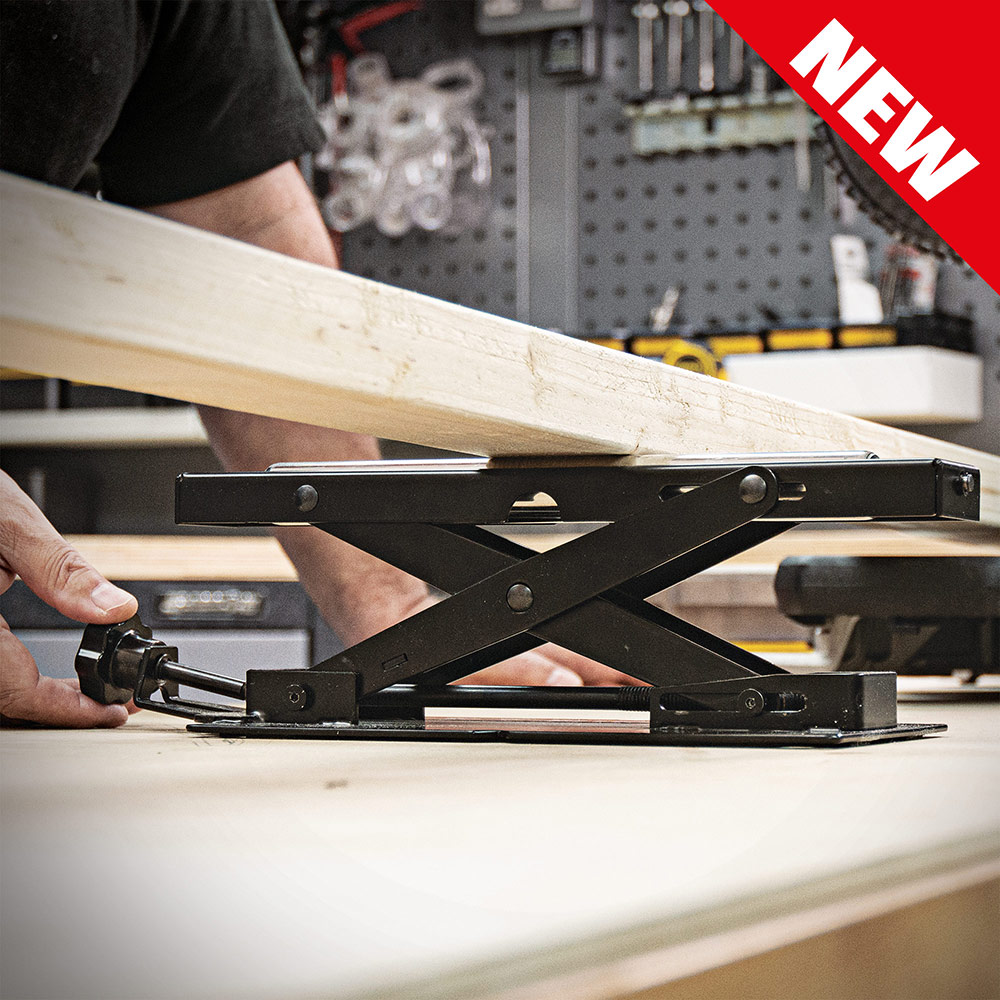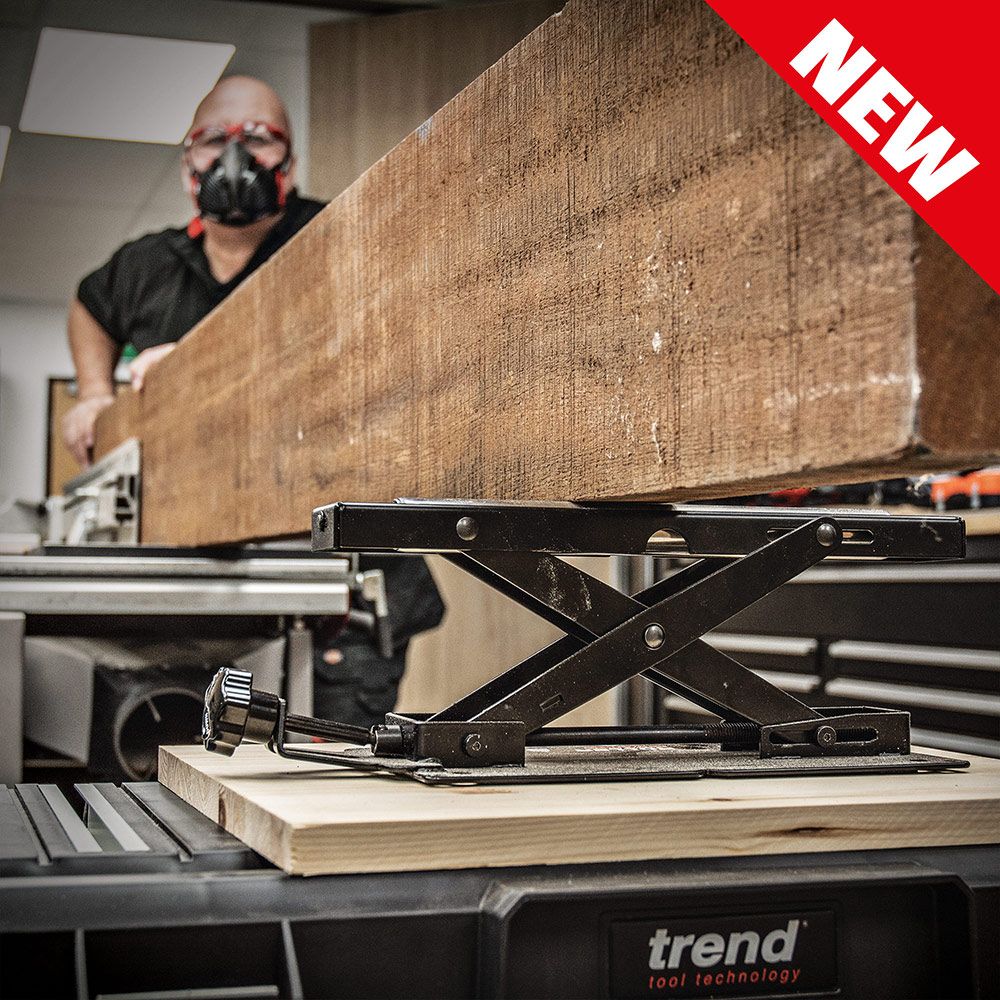 Work safe. Work Smart. Trend are excited to launch their new Trend Adjustable Roller Stand! Woodworkers or metalworkers alike will be able to work safely and smartly when using long lengths of stock.
The incredibly versatile, adaptable roller stand is designed for use on mitre saws, snip saws, table saws, planers, bandsaws, morticers and pillar drills. It excels in areas where long lengths of materials need to be supported as they are machined. An adjustable height range of 50mm to 160mm makes it adaptable for multitude of machines and models from different manufactures.
The Trend Roller Stand can be fitted to portable stands, trestles or used on a workbench. It has a simple threaded winder mechanism that adjusts the height to match the surface bed of the tool or machine.
This quickly ensures any material is flat and stable once in position.
It eliminates binding and prevents the stock from dropping as it is cut, maximising safety by keeping both hands free to control the machinery safely.
The compact all metal design has a scissor lift action which allows the roller to always remain parallel as it is adjusted. It keeps the work stable and true to the tool bed. A 62kg weight capacity makes it ideal for supporting larger and longer materials for dimensioning.
The 260mm x 125mm sole plate maximises stability when used as a portable option. Its non-slip rubber pads keep it secure to prevent marking of any surfaces it is used on.
With a 250mm wide bearing surface, the roller offers excellent support for wider materials. It keeps everything stable once positioned on the machine ready to be cut.
The roller also runs on ball bearings for a fluid action, making it easy to pull heavy materials into position single handed. Productivity is therefore increased whilst also making it easy to deliver fatigue free movement of materials.
Used singly or paired as an infeed and outfeed option, the new Trend Adjustable Benchtop Roller is the perfect addition to any workshop or on-site setup. Ensure a safer, quicker method of working on long stock and material support in general.
1st April : The New 2020 Trend Catalogue is here!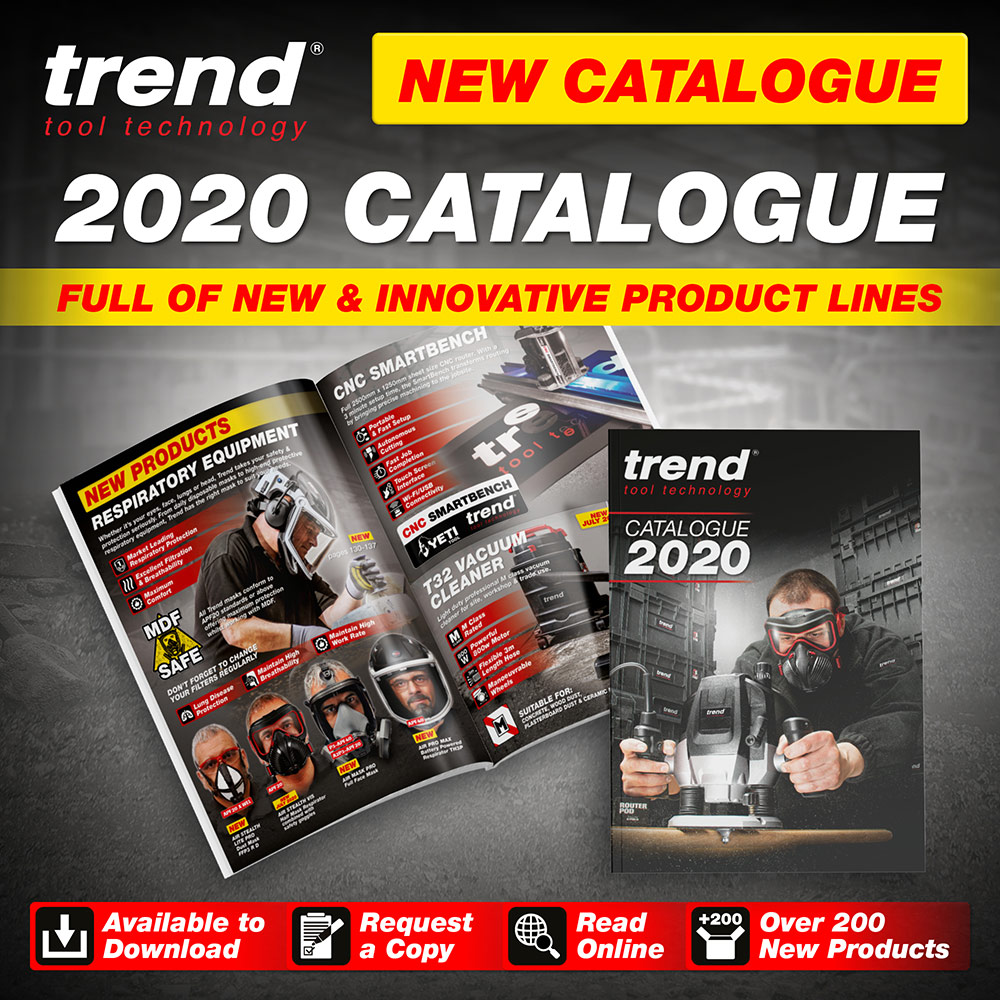 15th January: New Trend Tool Bag Range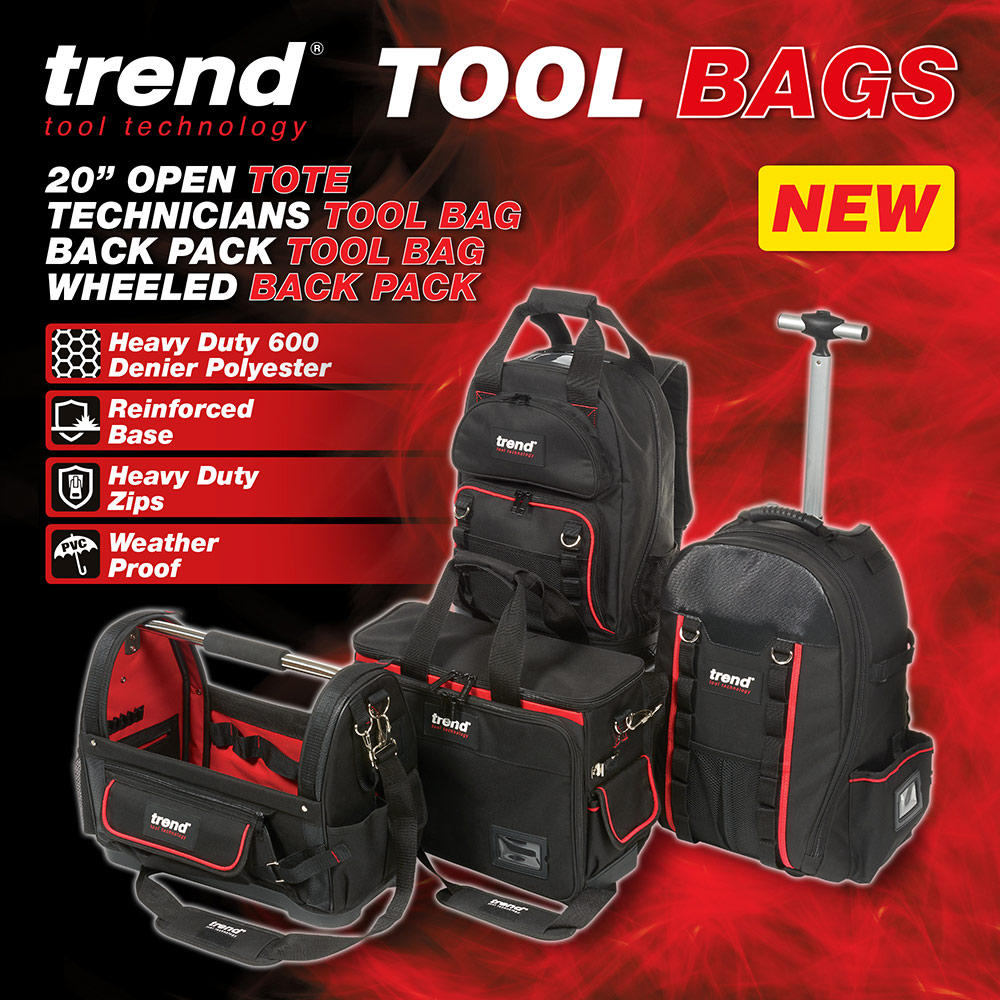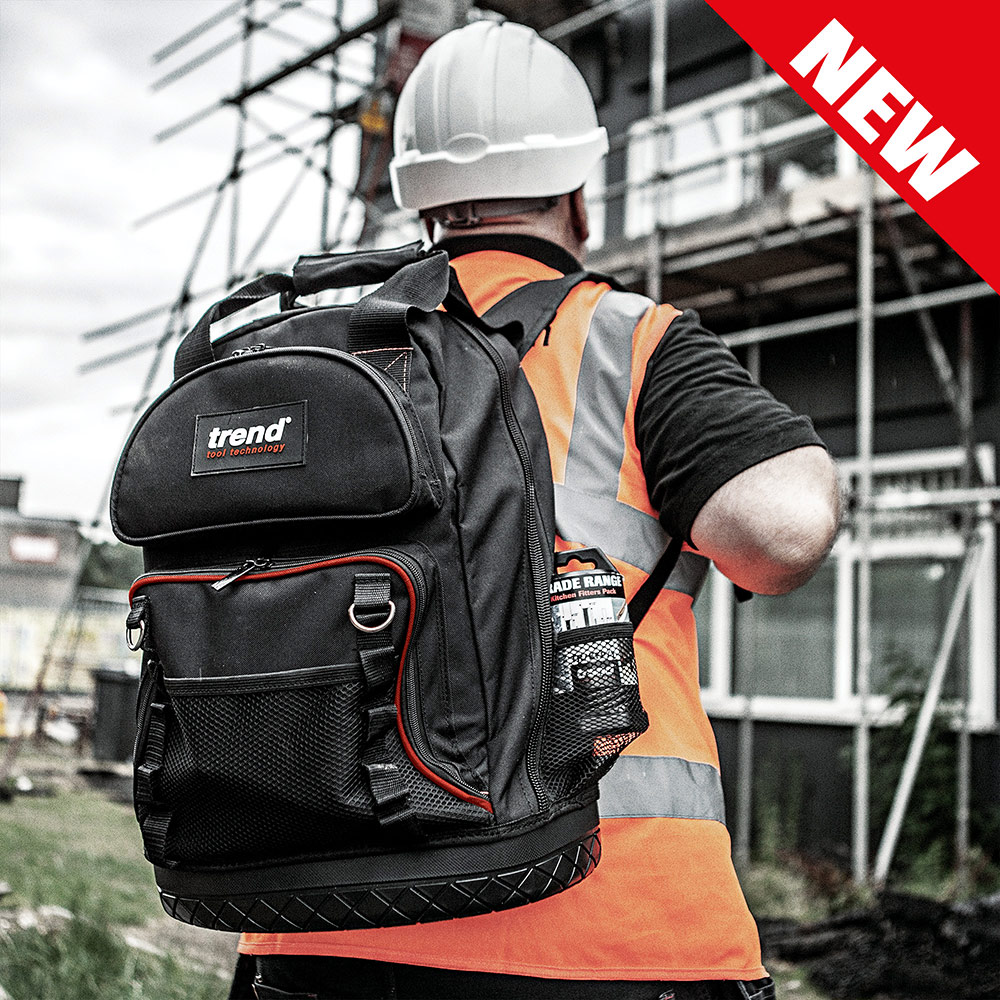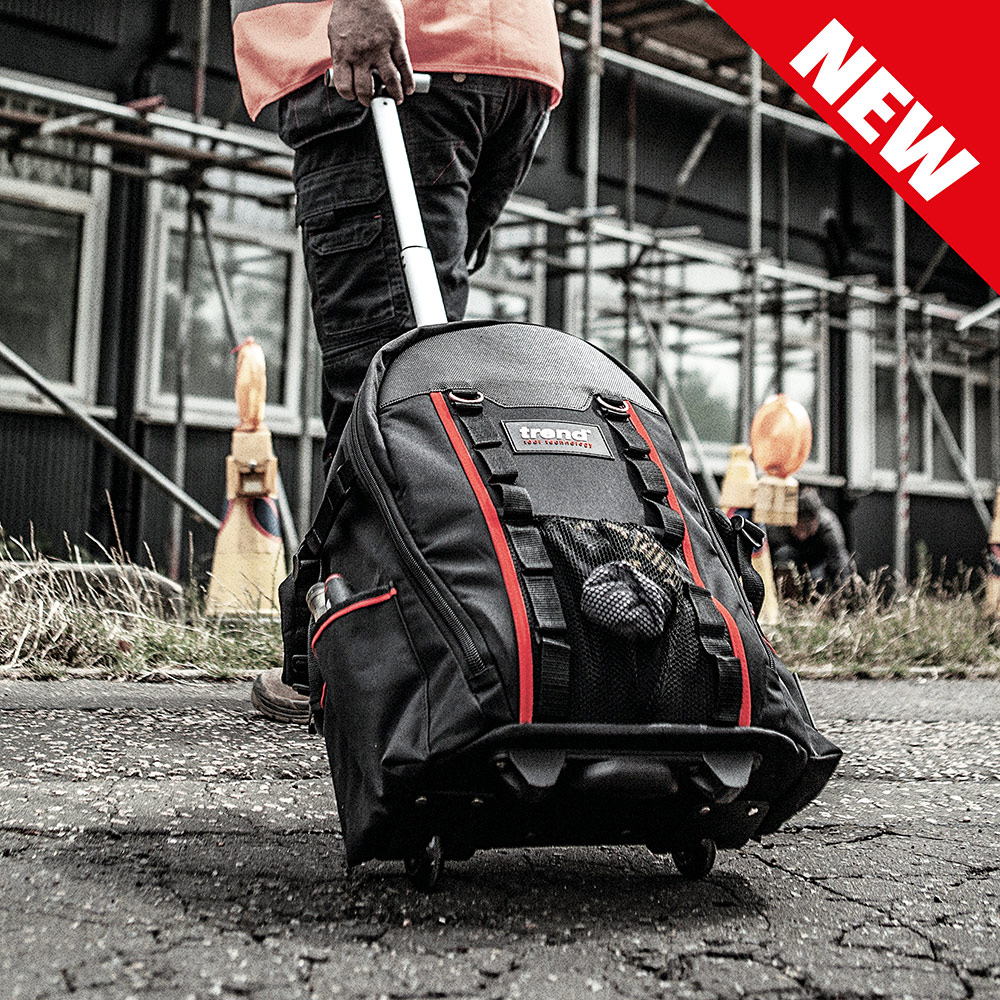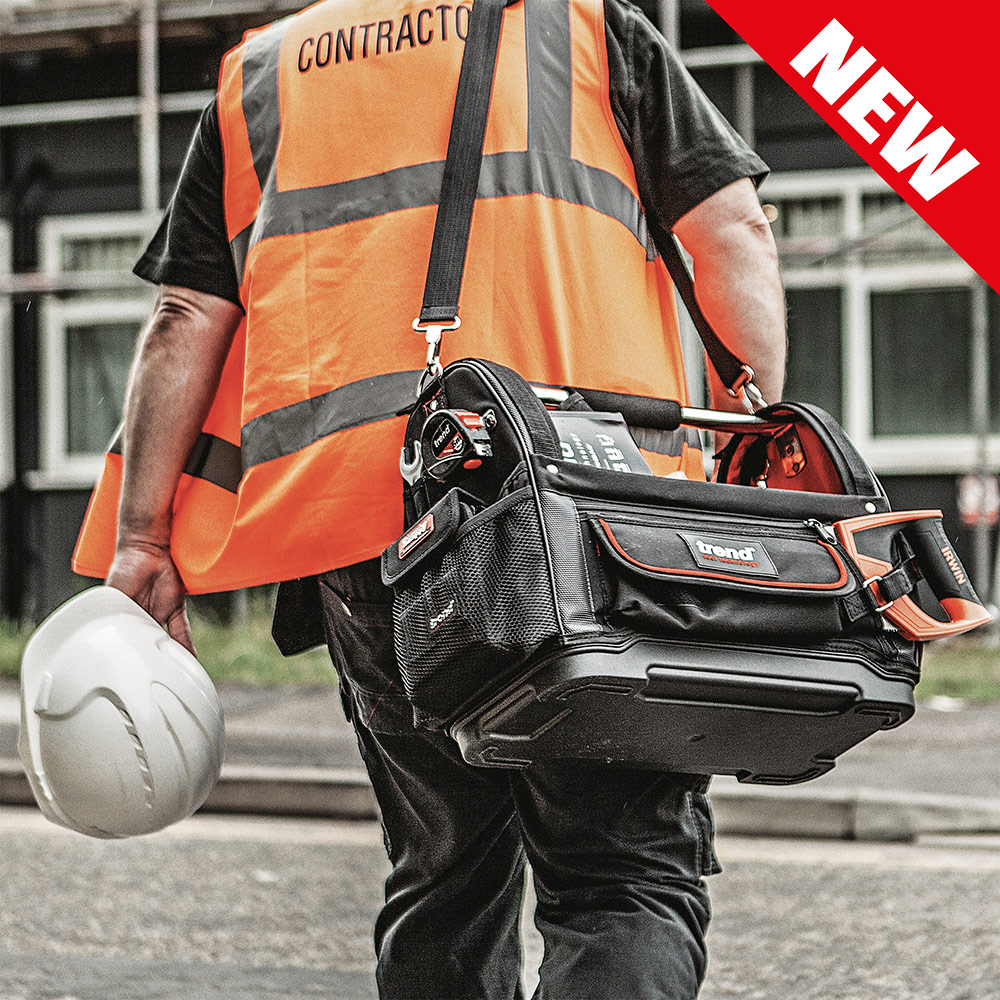 Work safe. Work Smart. Trend are excited to launch their new Trend Adjustable Roller Stand! Woodworkers or metalworkers alike will be able to work safely and smartly when using long lengths of stock.
The incredibly versatile, adaptable roller stand is designed for use on mitre saws, snip saws, table saws, planers, bandsaws, morticers and pillar drills. It excels in areas where long lengths of materials need to beWith four options available, the new range has two Back Pack variants, an Open Tote and a Technician's tool bag.
Adaptability, portability and maximum storage are key points featuring across all four pieces. Storage pockets are available in abundance for tools, accessories or drinking bottles.
Using heavy duty zips, hook and loop compartments, open pockets and elasticated loops, there are multiple storage solutions available across each model. These come along with padded handles and straps for extra comfort. Each storage bag option is constructed from hardwearing 600 denier polyester, maximising strength and keeping weight to a minimum, making it perfect for dealing with the challenges of day to day use. The fabric is also PVC coated to make it weatherproof - keeping the contents protected from the elements.
TREND BACK PACK TOOL BAG:
The 380mm x 225mm x 480mm Back Pack Tool Bag has padded shoulder straps and thick pads on the rear for added comfort against the back ribs when loaded with tools and accessories. A sternum strap links the two shoulder straps together across the chest, keeping the back pack secure as well as adding additional comfort. It also features a top handle which allows the user to carry it single-handedly if required. In addition, a range of external pockets and zipped compartments for storing items are available for quick access. A full drop-down front flap giving access to the internal area of the bag is also another feature which will increase time efficiency.
The spacious interior provides plenty of room for a set of medium sized tools and a range of pockets within the front flap holds smaller tools. A zipped area can be found at the rear of the compartment which accommodates items such as phones, wallets and small tablets. Additional security options include an internal clasp for keeping keys safe and easy to hand. A hard plastic base protects the bag from moisture ingress when placing it down in wet areas to protect the contents.
TREND WHEELED BACK PACK:
Following similar lines with a range of external and internal storage pockets and internal security options, the Wheeled Back Pack can be carried on the shoulders as a standard backpack or pulled along using the built-in wheels and telescopic handle. This makes it great for working within commuter zones where parking or driving is an issue. It is also perfect for taking tools on public transport. The bag is sized at 550mm x 240mm x 545mm with external pockets and loops for carrying longer tools such as levels. Additional storage loops and D rings on the front area are perfect for securing items with bungees and lanyards is additionally available.
The rear of the internal compartment is padded for storage of full-sized laptop or documentation. There is also a lift-out multi-pocket tool pouch for commonly used tools which increases storage and convenience. It then allows for easier access to the main storage area. A second lower set of back pads protect the kidney area and offer increased support when carrying with the shoulder straps, especially when fully loaded to its 25kg capacity.
TREND 20" OPEN TOTE:
For general day to day use by the Trades person on the go, the 20" Tote is perfect with its open design. It's capacious internal storage with pockets for smaller tools to free up space, plus a zip up valuables pocket and key holder. Six external pockets give fast access to regularly used tools, pens and pencils, plus a spirit level loop, tape measure and insulation tape holders. These are complemented by the full-length zip up saw pocket which maximises the range of kit the tote can carry.
At 460mm x 210mm x 370mm the tote gives superior storage capacity and makes it easy to load up for a day's work. Transporting tools from job to job is comfortable using either the tubular steel handle with foam grip, or the padded shoulder strap. The hard plastic base keeps the bag free from water ingress when placed on wet surfaces whilst also offering additional strength when fully loaded.
TREND TECHNICIAN TOOL BAGS:
The final piece to the quartet of Tool Bag options is the 460mm x 225mm x 335mm Technicians Tool Bag. Ideal for electricians, electronic engineers and diagnostic users, it has a great range of storage options to allow a full range of technical equipment to be easily transported to and from the jobsite. It can be carried in two ways: as a shoulder bag with the padded strap or as a briefcase with the top handles able to connect together with the hook and loop flap for increased security and comfort.
Pockets and holders around the front and sides give external storage for fast access to pens, pencils and smaller regularly used items. This leaves the internal area for larger items.
Twin zip up front and rear exterior flaps gain access to additional storage areas, with a range of pockets and elasticated loops suitable for screwdrivers and other tools. The top of the bag is secured with a heavy-duty zip around its perimeter, folding back for restriction free access to the interior.
A padded rear section within the bag has ample room for a full-sized laptop, paperwork and note pads, leaving the 400mm x 150mm x 310mm main compartment free restrictions for other larger equipment. A small key clasp store keys inside the bag for increased security.
A TPR (Thermoplastic Rubber Base) prevents damage to work surfaces as well as eliminating moisture when placed on wet surfaces which, along with the solid side walls of the bag, ensures the bag retains its shape and support when fully loaded.
10th January: New Trend Pro Storage Range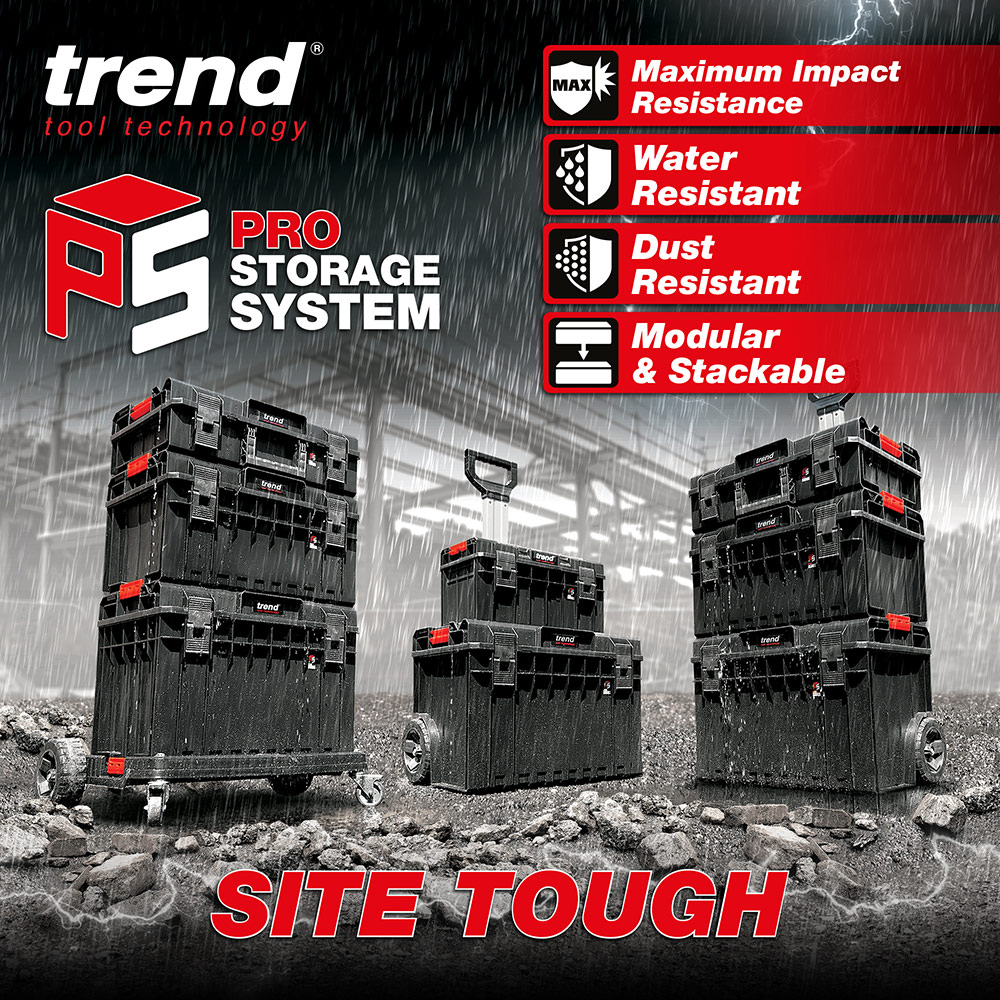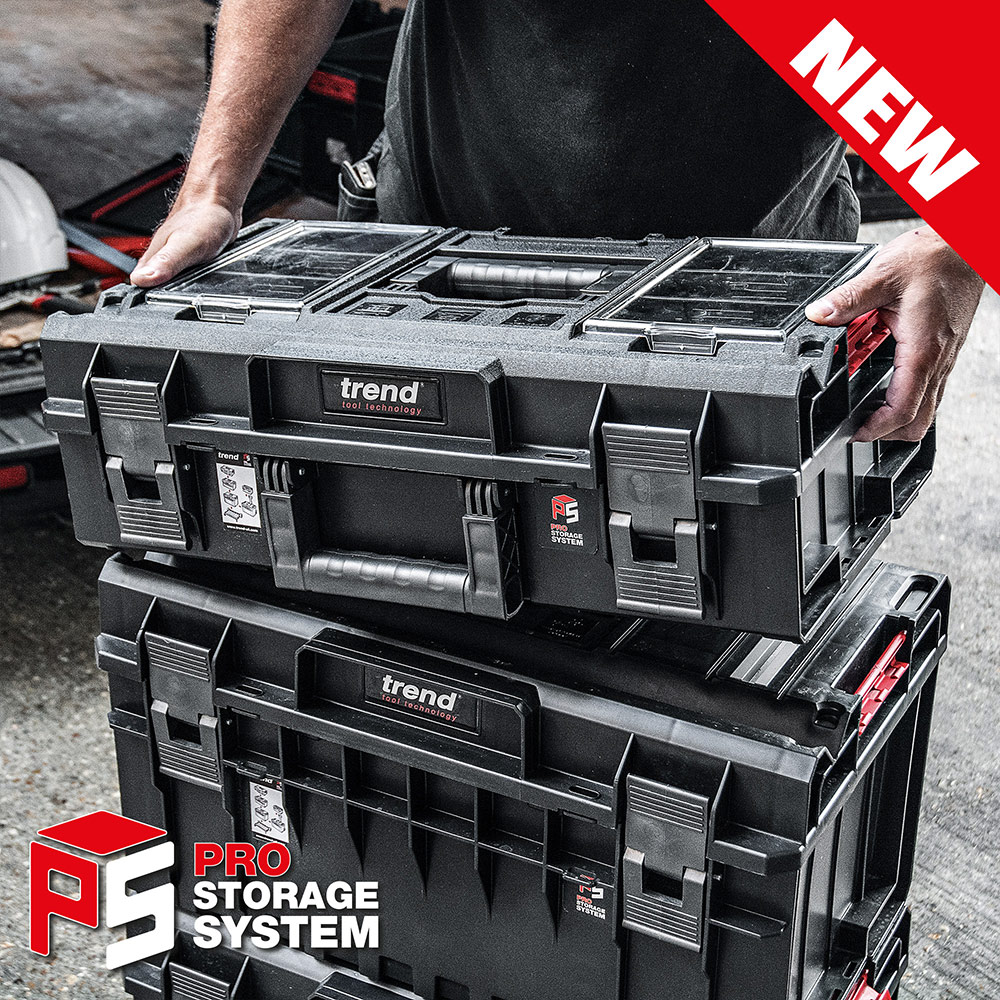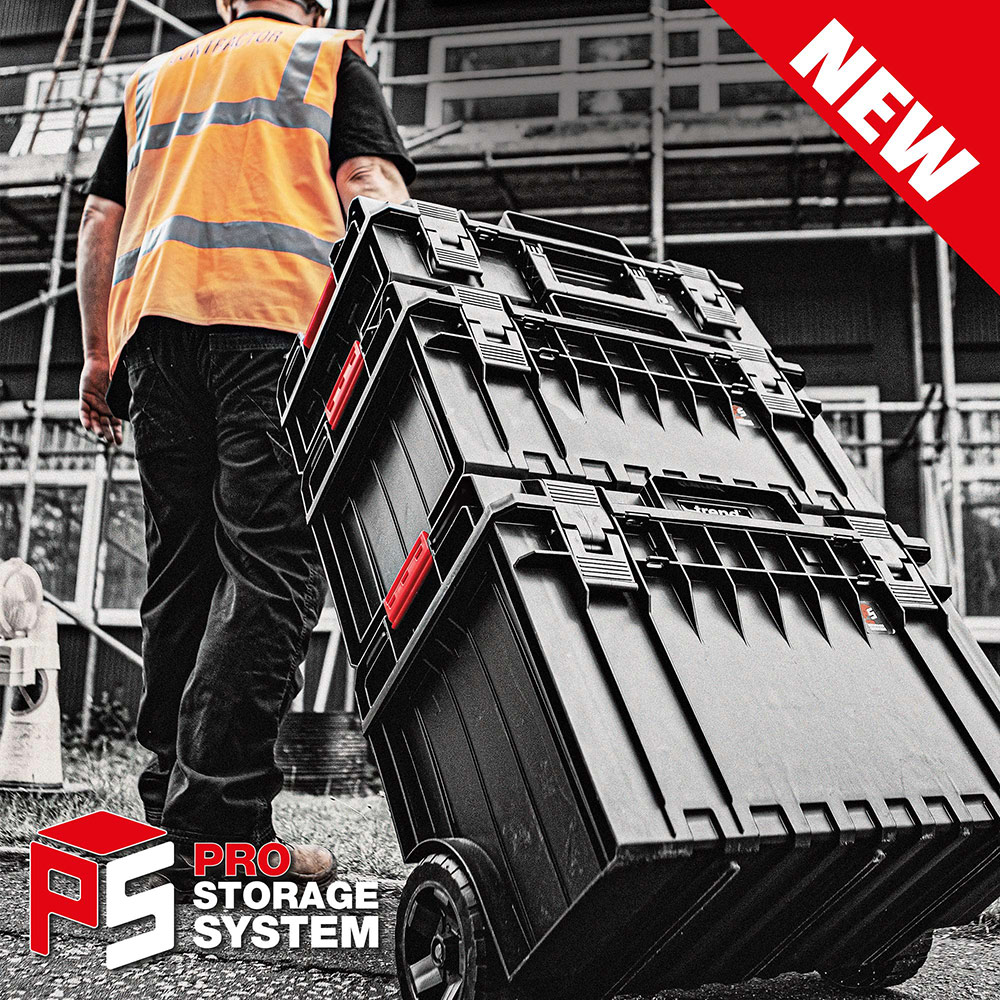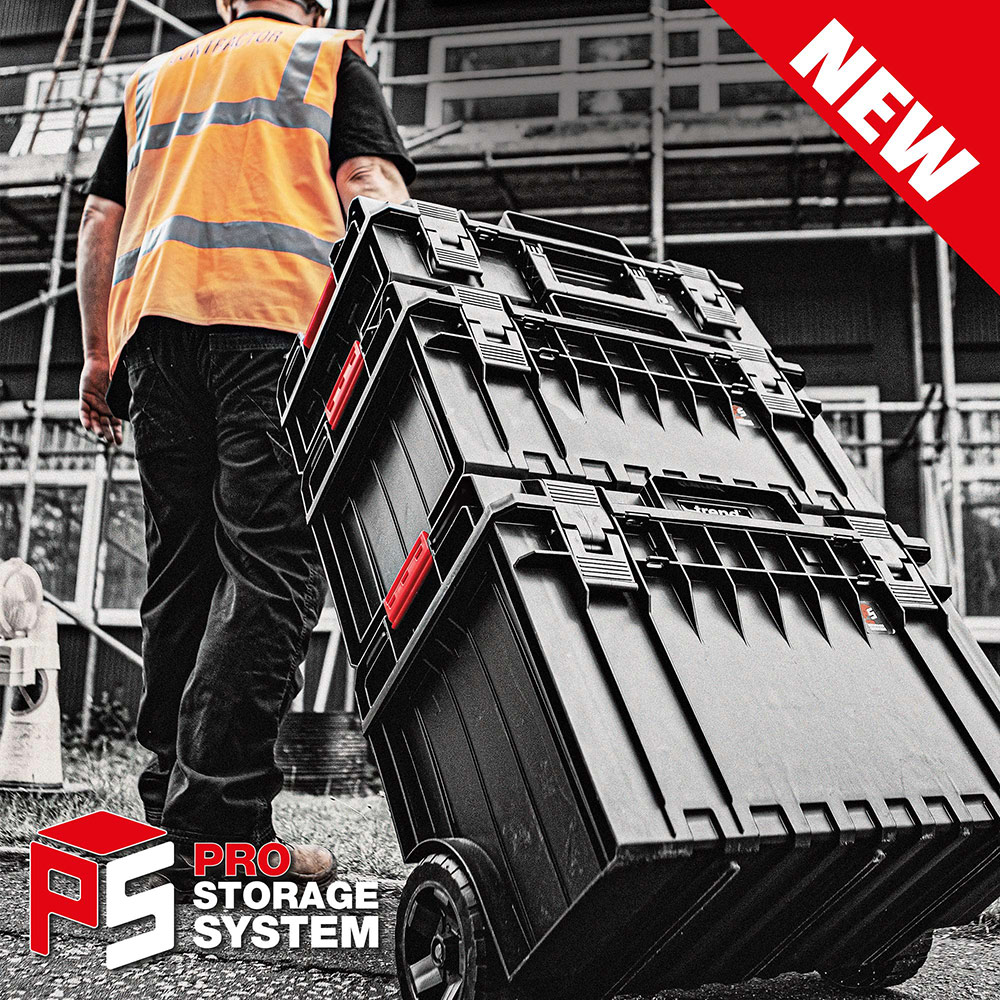 It is designed to have the flexibility to work with you. Ruggedness, strength and durability are all qualities the Pro Storage has, to endure the day to day rough and tumble of the jobsite and extreme conditions.
The Trend Pro Storage system is built around three different starter kits comprising of either a 2 piece Toolbox Set, a 3 piece Cart Set or a 4 piece Platform Set. There are additional storage module options to expand or build your own storage set to suit your own needs and requirements.
Strength, flexibility and water resistance are key factors with the Trend Pro Storage System. Using premium materials across the board, every module within the system is built with resilience to high impact and includes heavy duty Technical Polyamide latches and many feature polycarbonate organiser lids. The standard lids are reinforced and capable of taking loads up to 120kg easily coping with localised stress impact from falling objects also allowing them to be either stood or sat on.
The lids also have flexible rubber seals that once closed and latched, give water resistance to IP66 rating which protects the contents from dust and high pressure water ingress. This ensures power tools, electronic equipment and other valuable kit is safe from the elements such as rain, sleet or snow and can withstand accidental water spillage and splashes. Storage flexibility and adaptable solutions are equally key and include modules with lift out storage bins and clear polycarbonate lids for easy identification of contents.
Other modules have interchangeable dividers for compartmentalising to adapt and suit different tools or equipment. Bungee cords are available as well on bigger dividers allowing tools to be stored against them for easier selection when required. External strengthening ribs on each module keep the internal walls smooth and square for maximum storage capacity, allowing a full kit of tools to be transported easily. For security, all the lids have holes to allow padlocks to be used and locked individually or by using a wire loop through holes to secure them as a set.
The 2 piece Toolbox Set comprises of the two wheeled Cart Pro and the 500mm Toolbox. The Cart Pro has a built in extendable aluminium handle for moving from job to job, with a tilting function to allow full access to the box when the lid is lifted. Two bungee removable dividers can be used to alter the compartments for different storage options, and with a 500mm deep profile, it will hold bigger tools and bulkier equipment with ease. The 500mm Toolbox clips directly to the Cart Pro lip for transportation and with its wide length flip up handle it is designed to be used as a portable toolbox for taking a smaller kit of tools or equipment from place to place without taking the wheeled base. It has a clear lip compartmented organiser lid and a lift out tote for increased storage options.
The 3 piece Cart Set compromises of the Cart Base, a 200mm Organiser and a multi-function 350mm Workstation Rail module. The 200mm Organiser has twin clear polycarbonate organiser compartments in the lid for smaller and more used items. This allows for faster access with the internal compartment divided with six lift out bins for fixings and small components with dividers to leave a central open area for bigger items. The Workstation Rail module has increased adaptability with a lid that has a full length 'V' groove channels for use as a sawing aid to hold the work steady. Two aluminium 'T' track rails in the lid are designed to be used with optional clamps to secure workpieces for hands -free working.
The 4 piece Platform Set has two large wheels in the base platform with a steel axle plus two swivel and lockable castors for easy manoeuvring and stable positioning during transport and in use. A 450mm basic module offers deeper capacity for storing and transporting bigger items. It has two removable bungee dividers for additional storage options.
The two additional storage boxes make up the 4 piece set which are identical to the 3 piece Cart Set; the 200mm Organiser and the 350mm Workstation Rail modules. The Platform Base can be easily moved from place to place with a maximum loading of a 100kg during transporting operations. The 4 piece set can also be tilted and moved along as a cart set and allows it to be moved easily over rougher ground, up steps and kerbs.
The Workstation Rail Lid configuration is replicated in the standalone 700mm Longer tool Box. This has two additional 'T' slots plus two clear lid storage compartments. A top handle which allows it to be moved easily over rougher ground, up steps and kerbs. It also allows it to be lifted, as well as front handle and two rear wheels for pulling along to the work place. The internal space can be compartmentalised using the three internal bungee dividers to adapt to your requirements. Further optional modules for the 2,3 and 4 piece sets include an Open Tote with two bungee dividers and a 600mm Toolbox. The 600mm Toolbox has the same configuration as the 500mm Toolbox with a clear lid and dividers, an internal tote and full length hinged handle.
As well as the construction, automotive and industrial applications, the Trend Pro System with its water-resistant capability works perfectly in areas where water ingress is a potential issue such, as boatbuilding and boat restoration. It is also ideal for anglers to store and take fishing gear to the shore, river or lakeside highlighting how it lends itself to any situation where secure, safe transportation and storage of valuable accessories is a priority.