Pro Storage System
High strength, rugged, capacious and manoeuvrable storage system with IP66 certified dust and watertight seals, high impact resistant lids and latches and now with new pro organiser modules with lift out bins. It even comes with a two year warranty!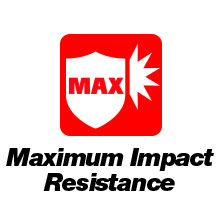 Rugged and durable, able to withstand the daily use and abuse of any jobsite, workshop or other heavy duty applications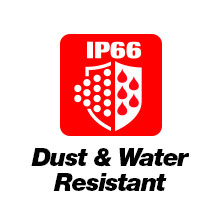 IP66 certified dust and waterproof seals for complete protection of valuable equipment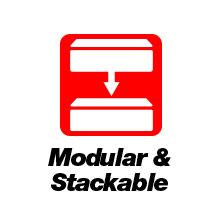 Interchangeable 'mix and match' design to build a storage solution to suit your own requirements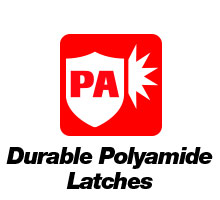 Constructed with high impact materials including Technical Polyamide latches for high performance and durability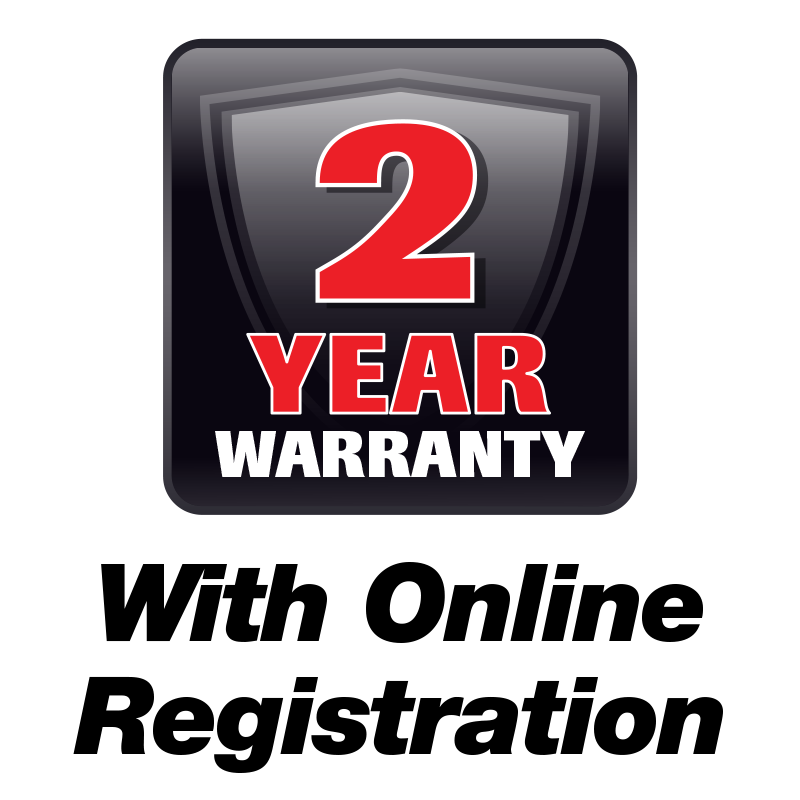 Register your product for an extended warranty (UK & Eire Only)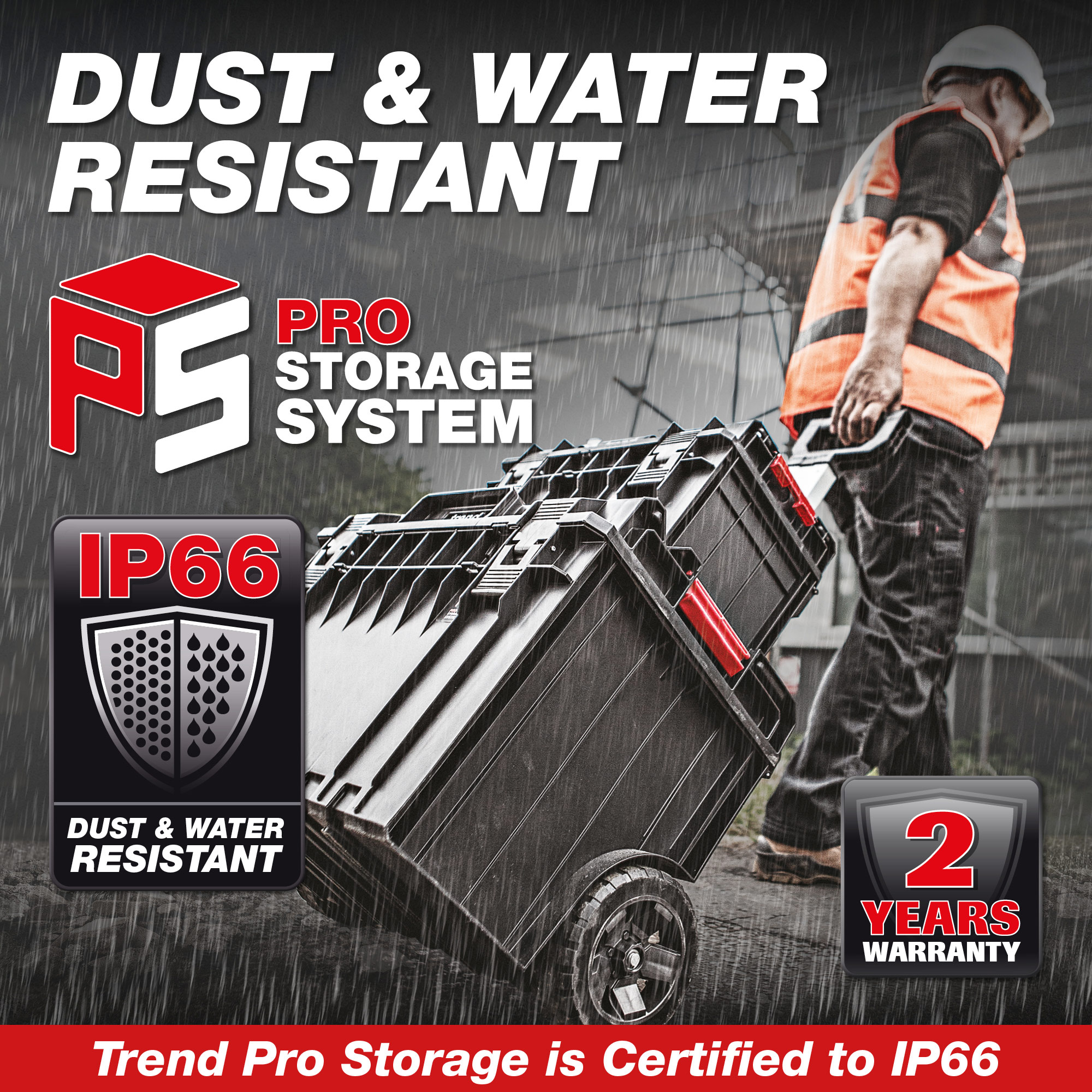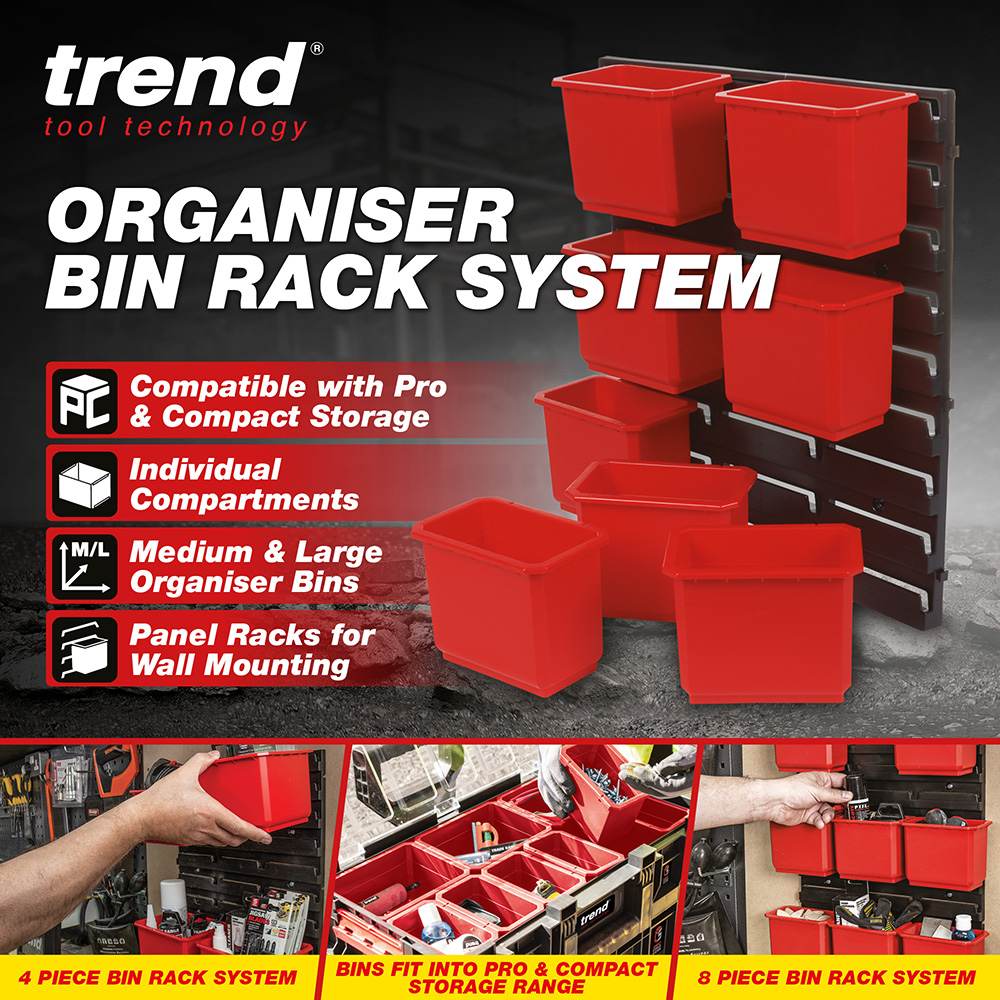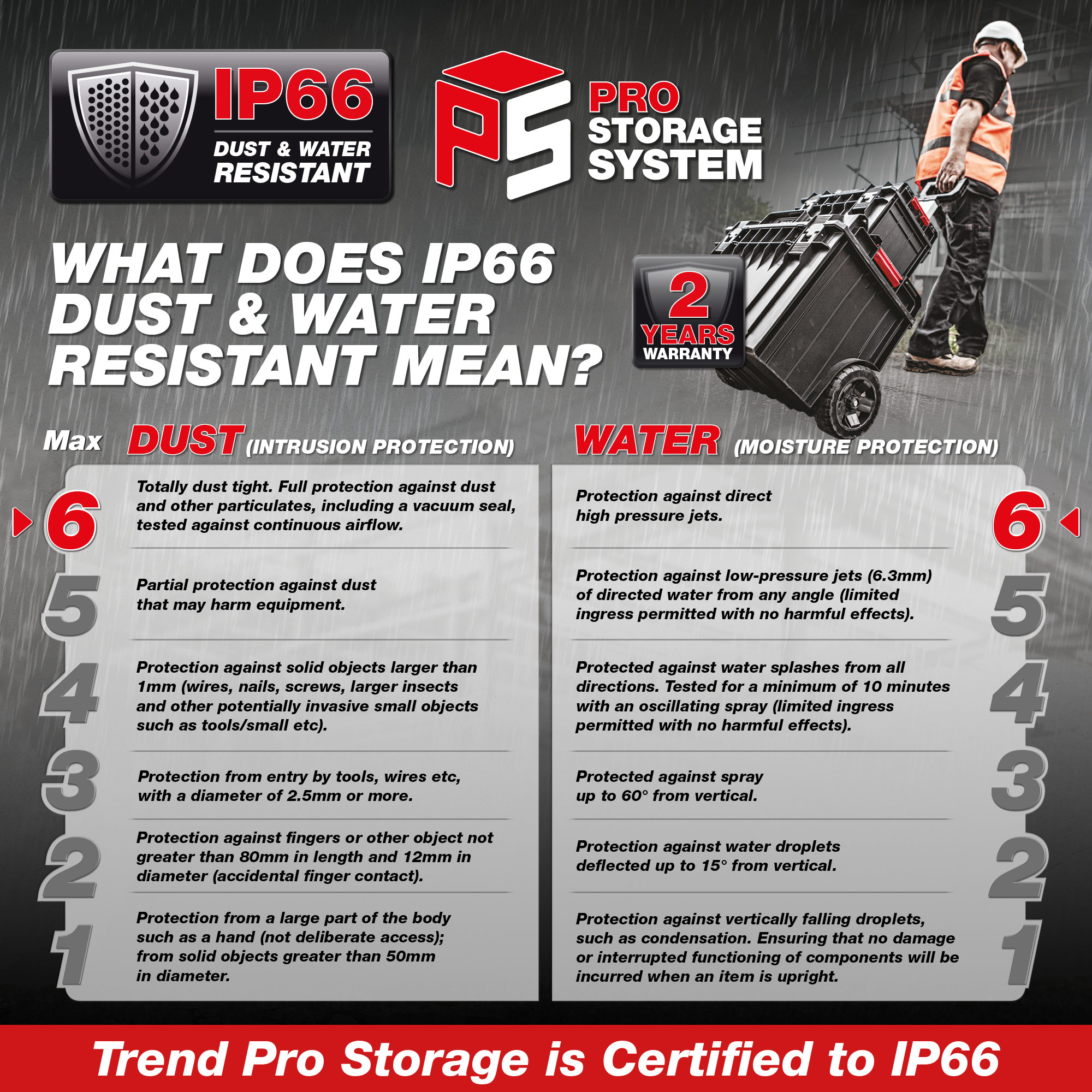 ---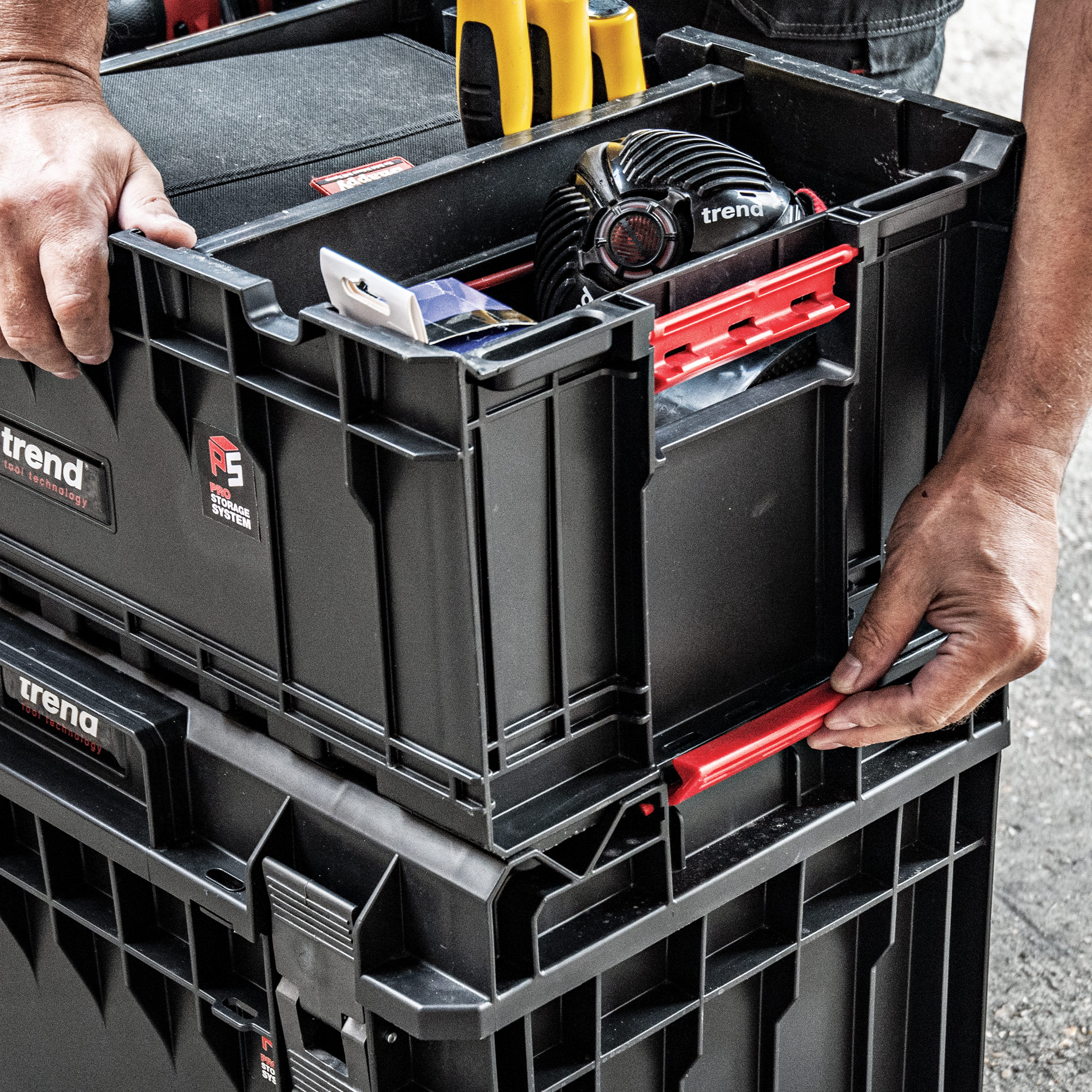 Each module has three connector clips for secure connection during transport and moving from site to site.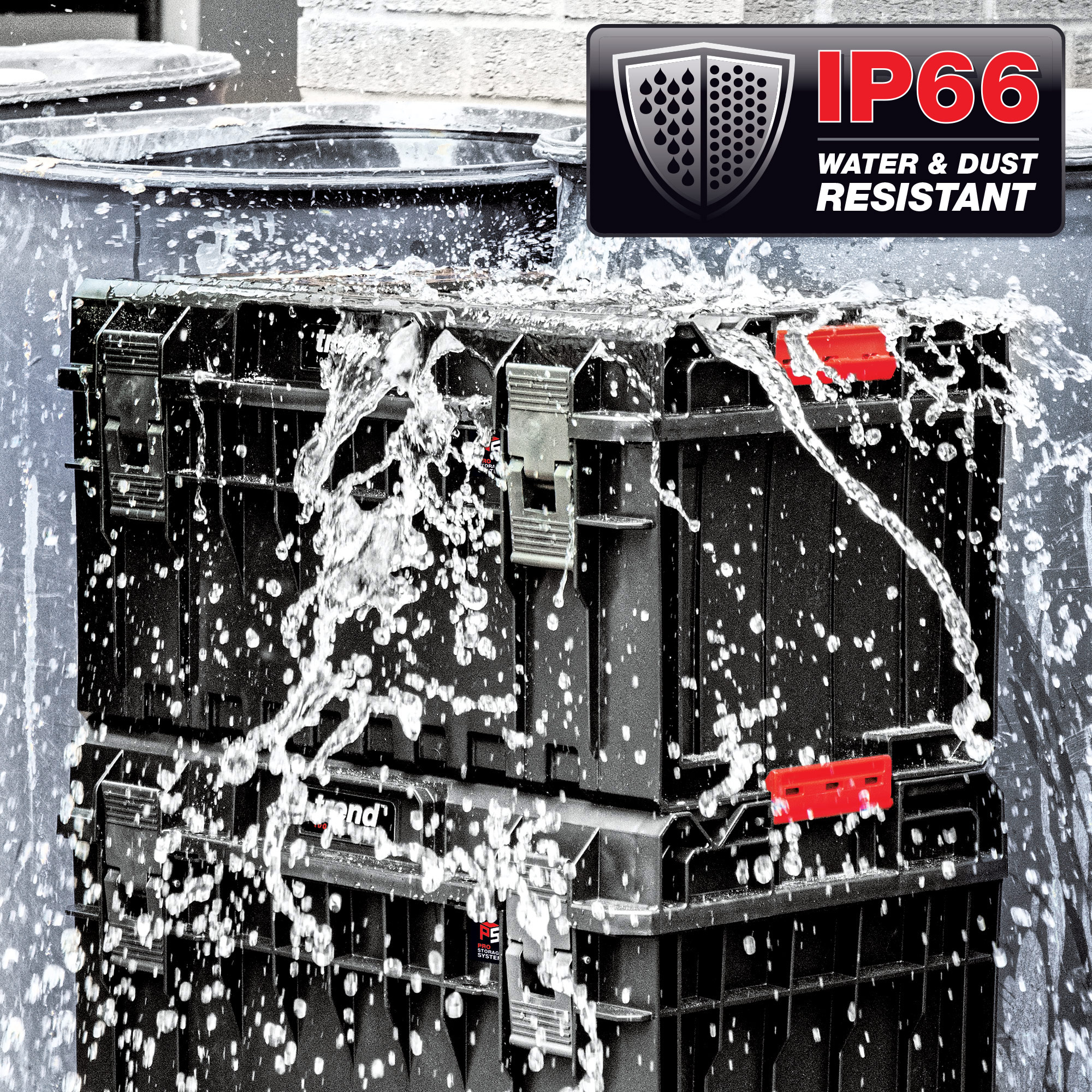 Modules with lids have an IP66 rated seal to protect tools and equipment against accidental water contact.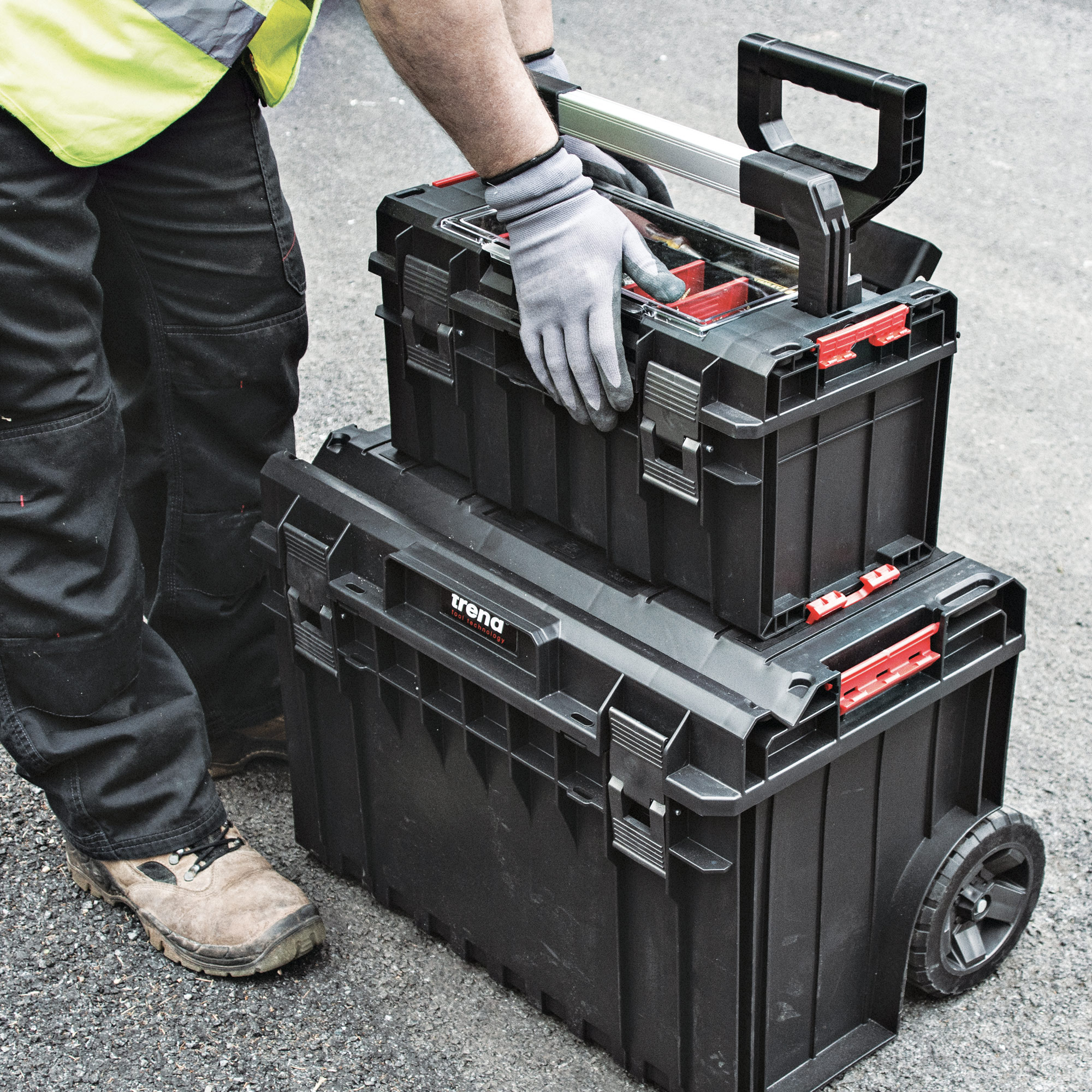 All Pro Storage modules can be easily stacked for transportation and have interlocking lugs for easy positioning.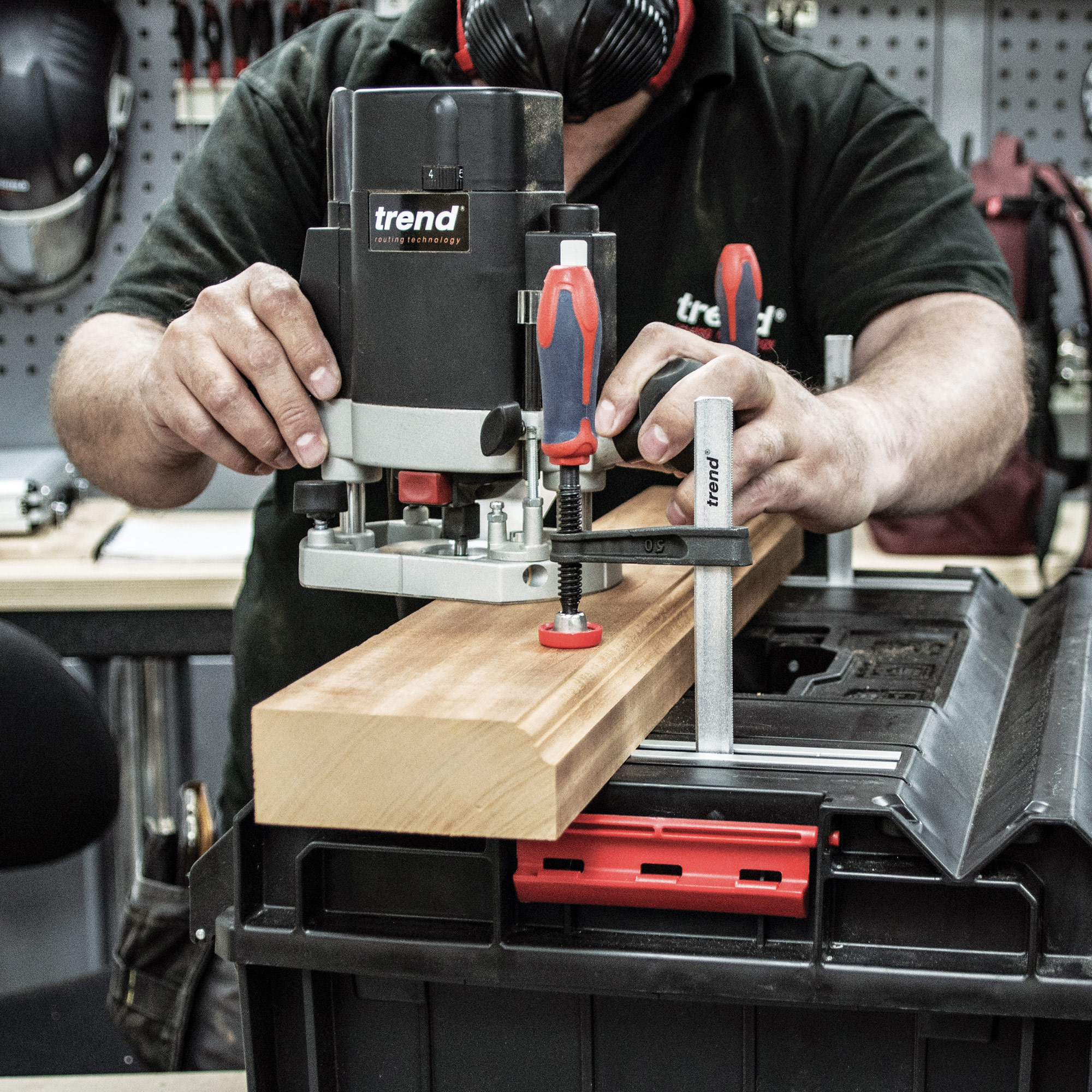 The Workstation module is a multi-function type with clamping rails built into the lid to allow work to be secured for hands free working, ideal for routing applications.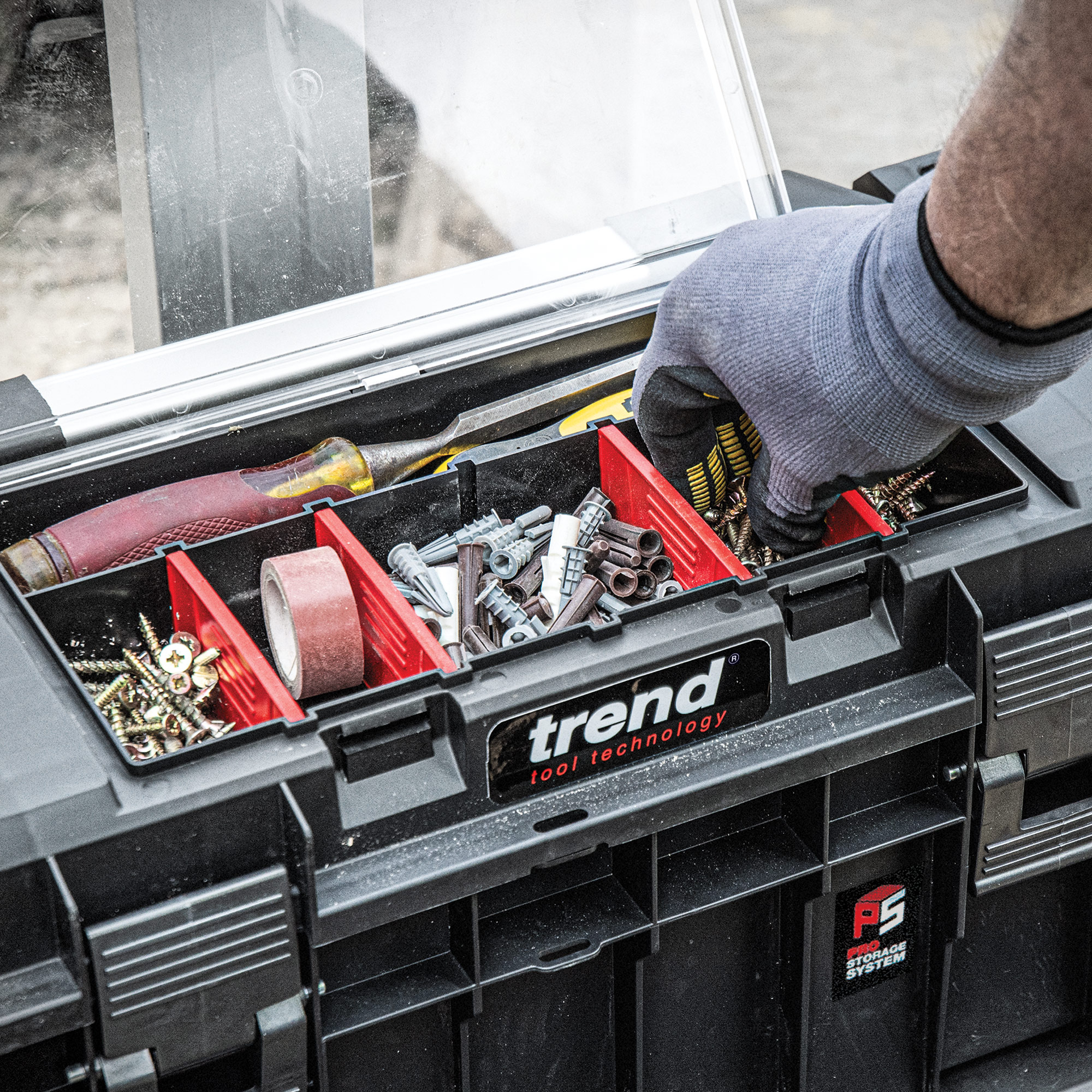 Storage compartments with removable dividers are included in the lids of some modules to allow the storage of smaller items for faster access.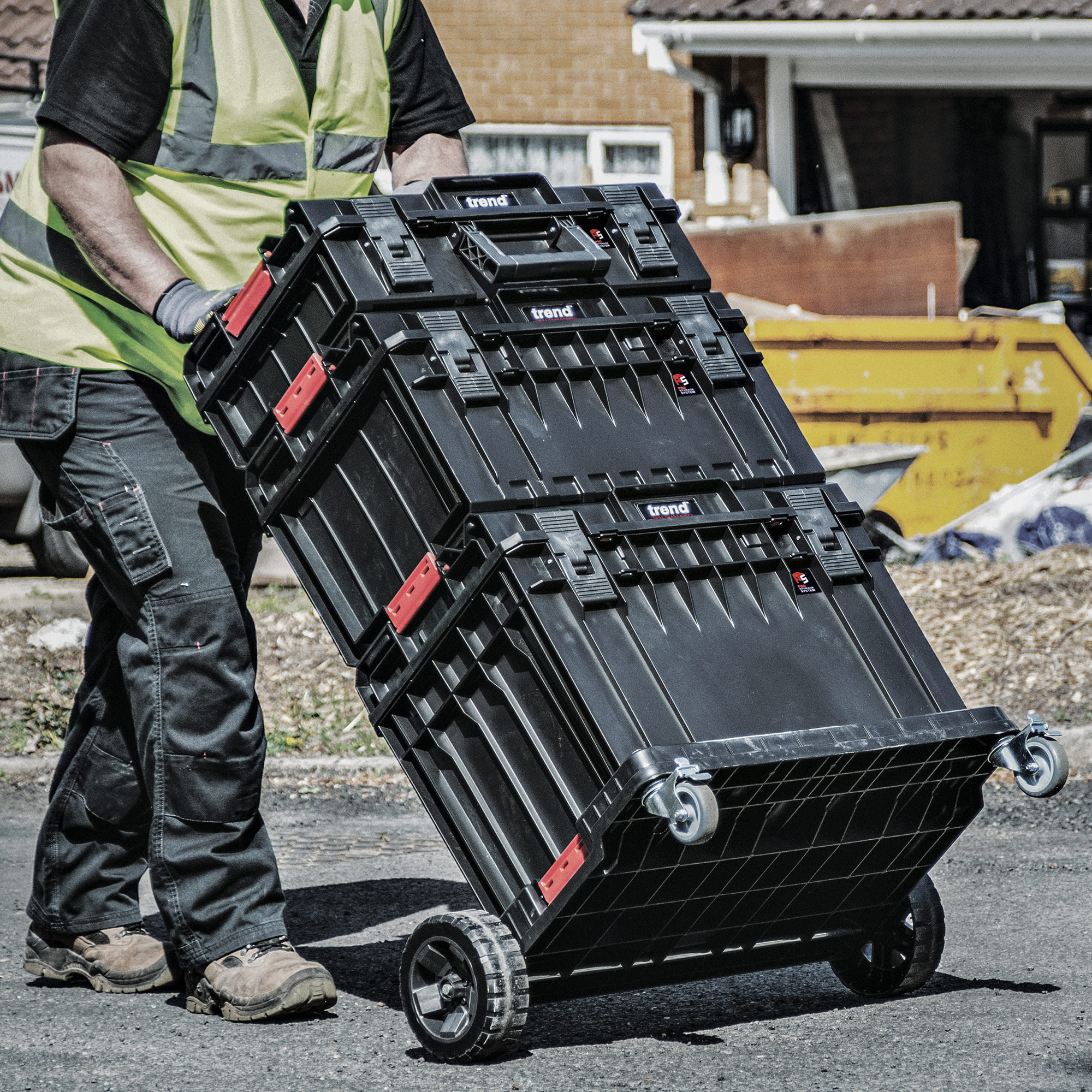 The dual purpose Platform Base can be pushed or pulled along on four wheels for easy movement on flat smoother ground either on site or around the workshop or garage.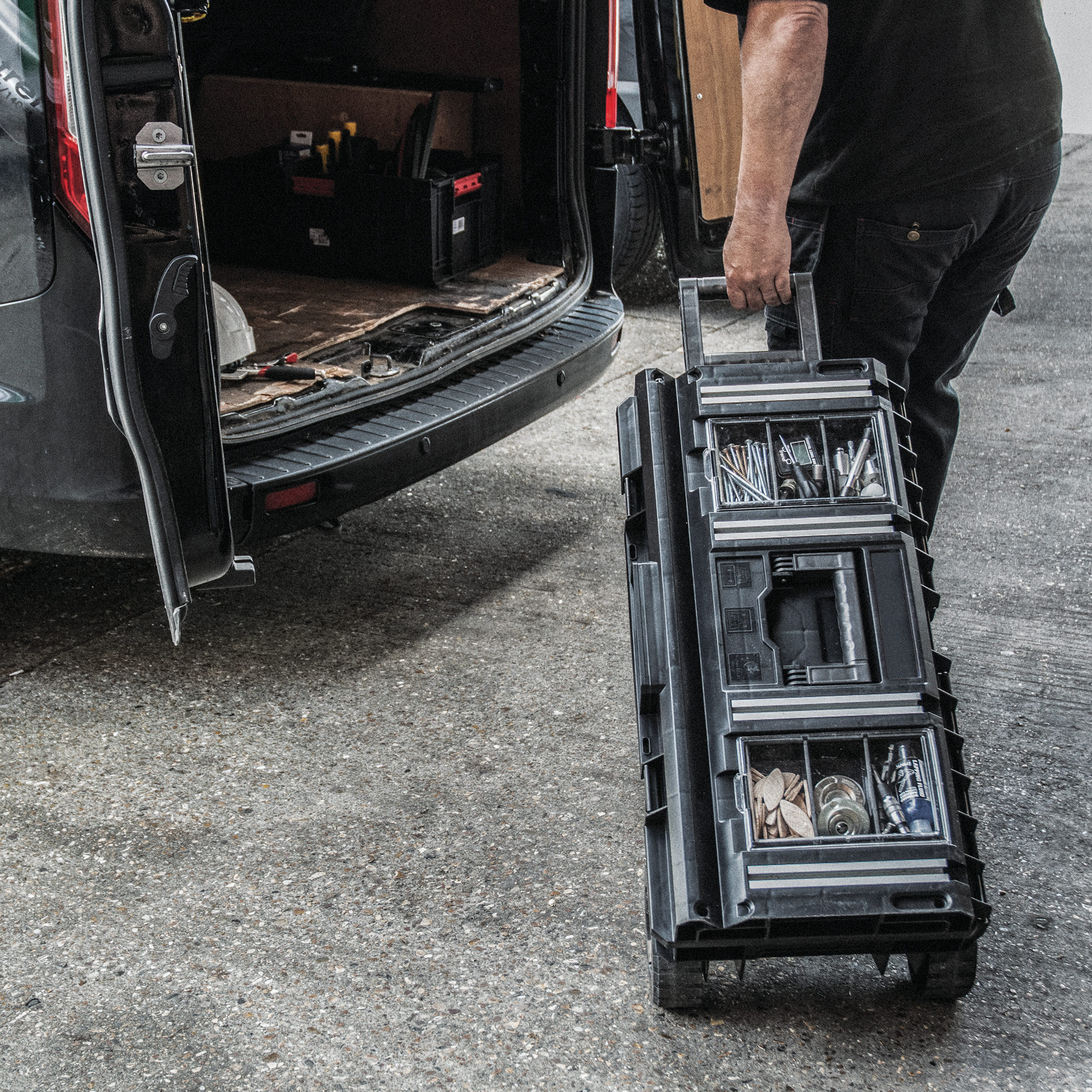 The 700mm Toolbox has built in wheels and front handle for easy transportation, plus storage in the lid for regularly used smaller items.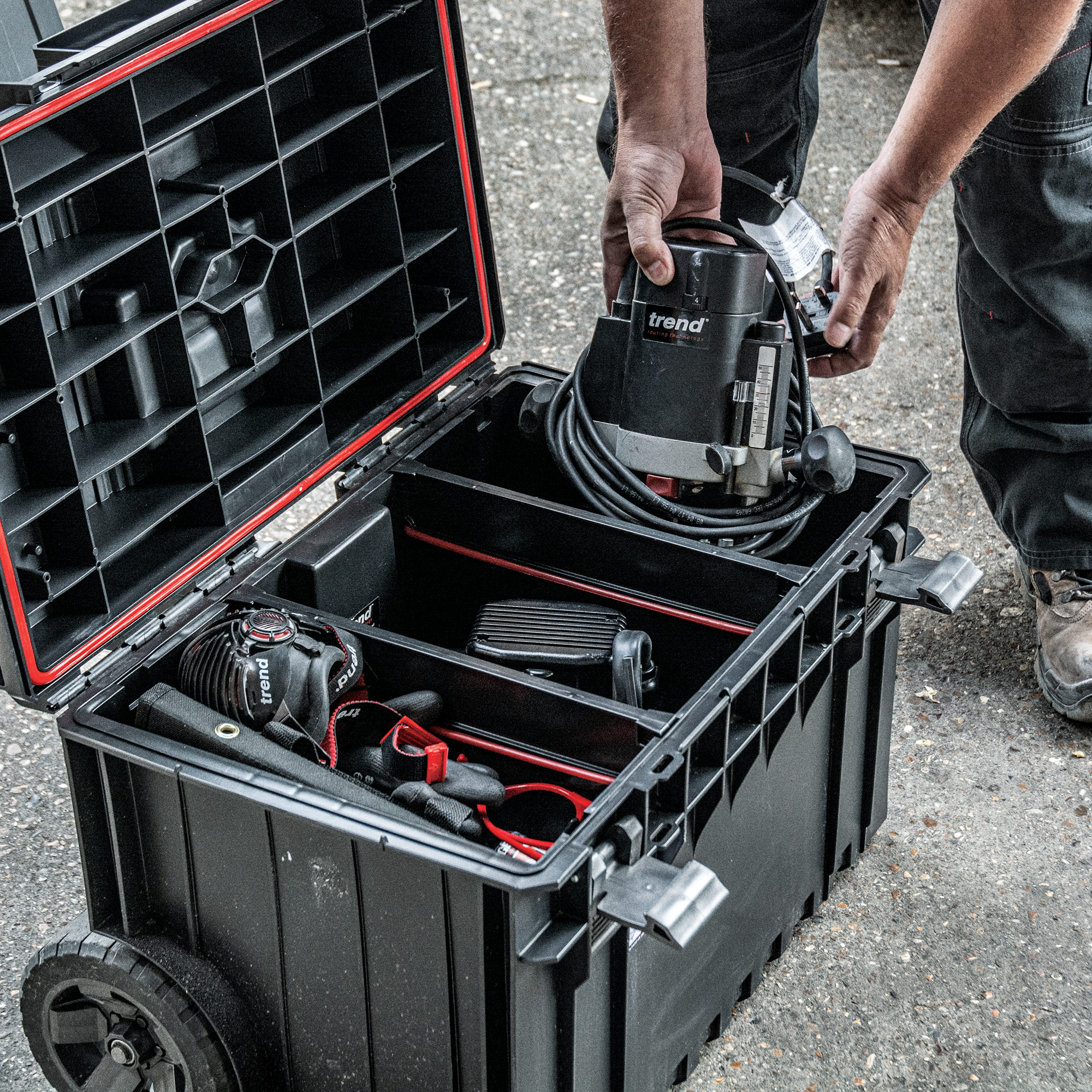 Modules can hold up to 50kg of tools or accessories, with reinforced lids capable of supporting up to 120kg direct loading.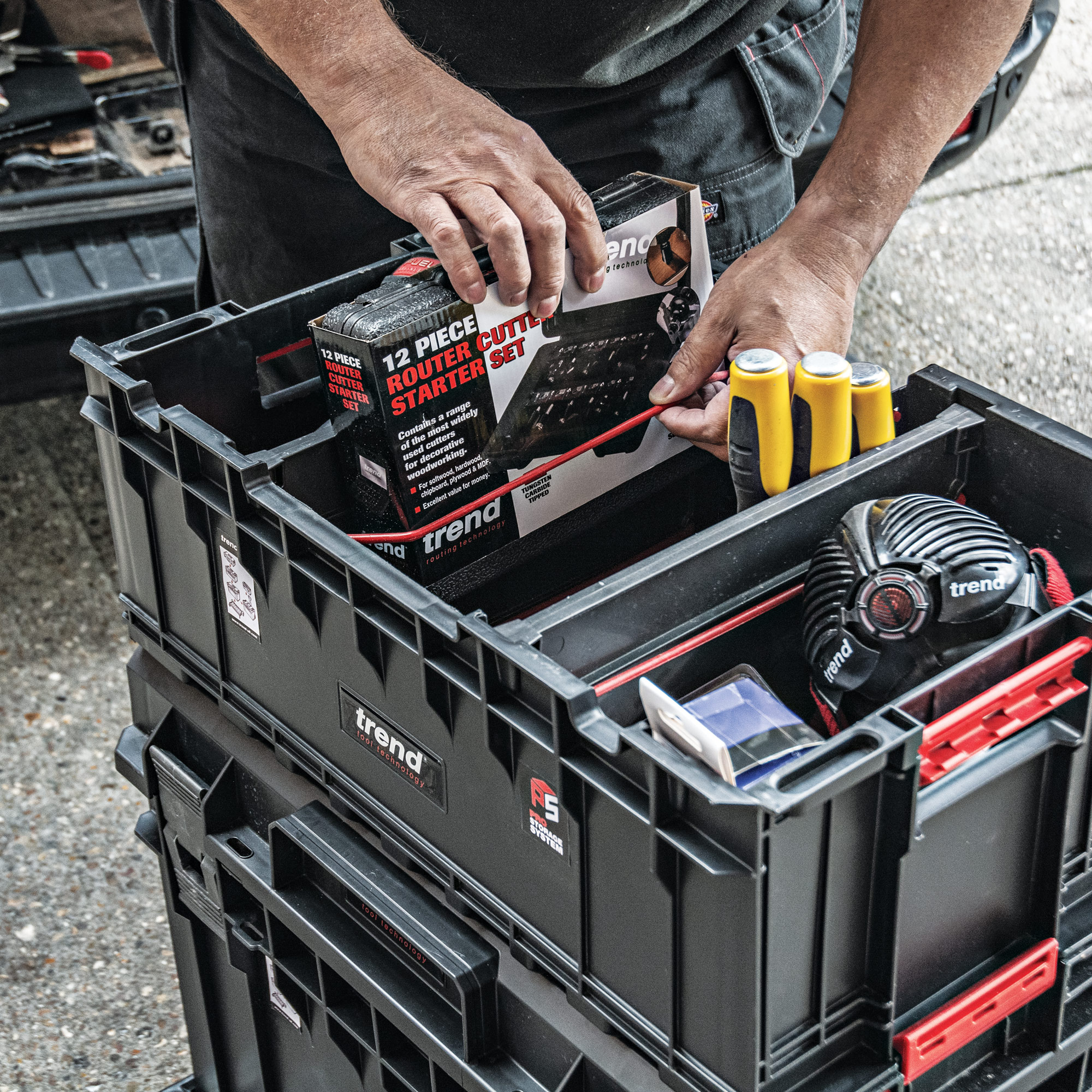 Rubber bungees on each divider allow storage to be maximised with easy access to tools and equipment.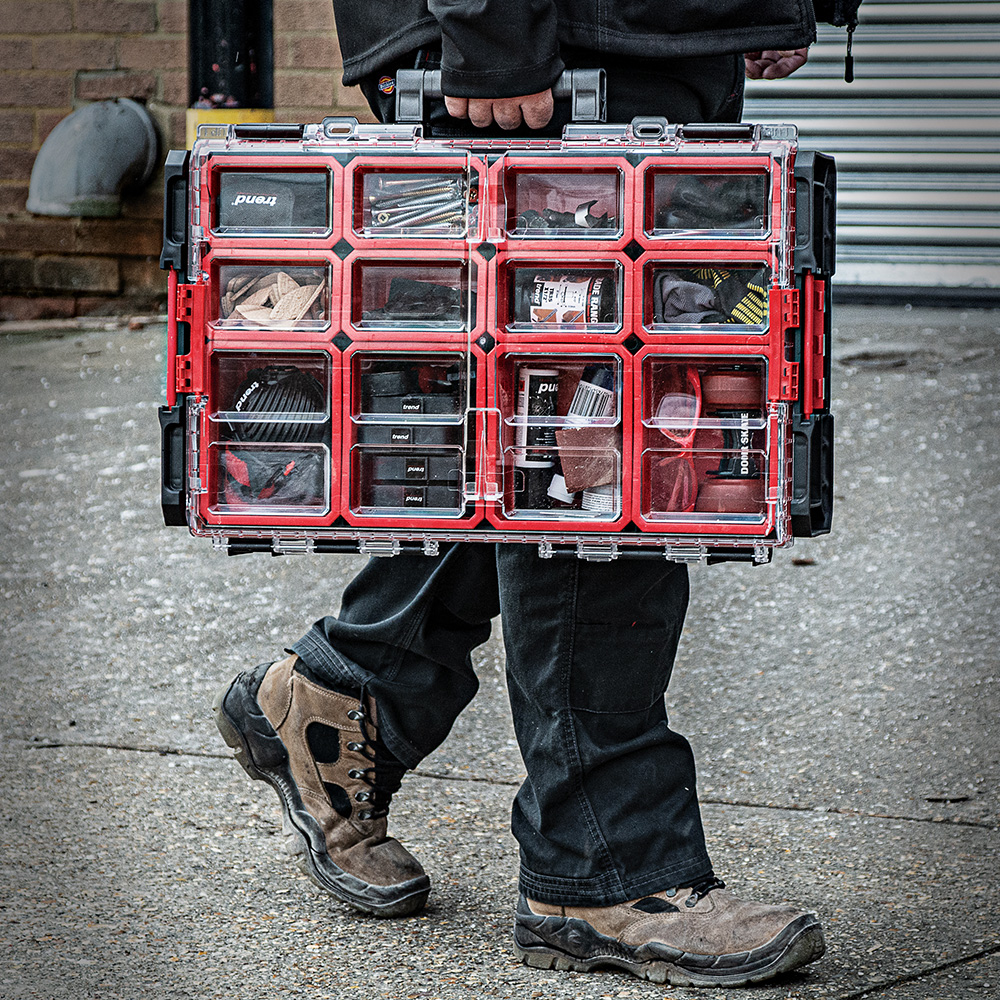 New to the Pro Storage range are 3 sizes of Pro Organisers ideal for keeping smaller items organised.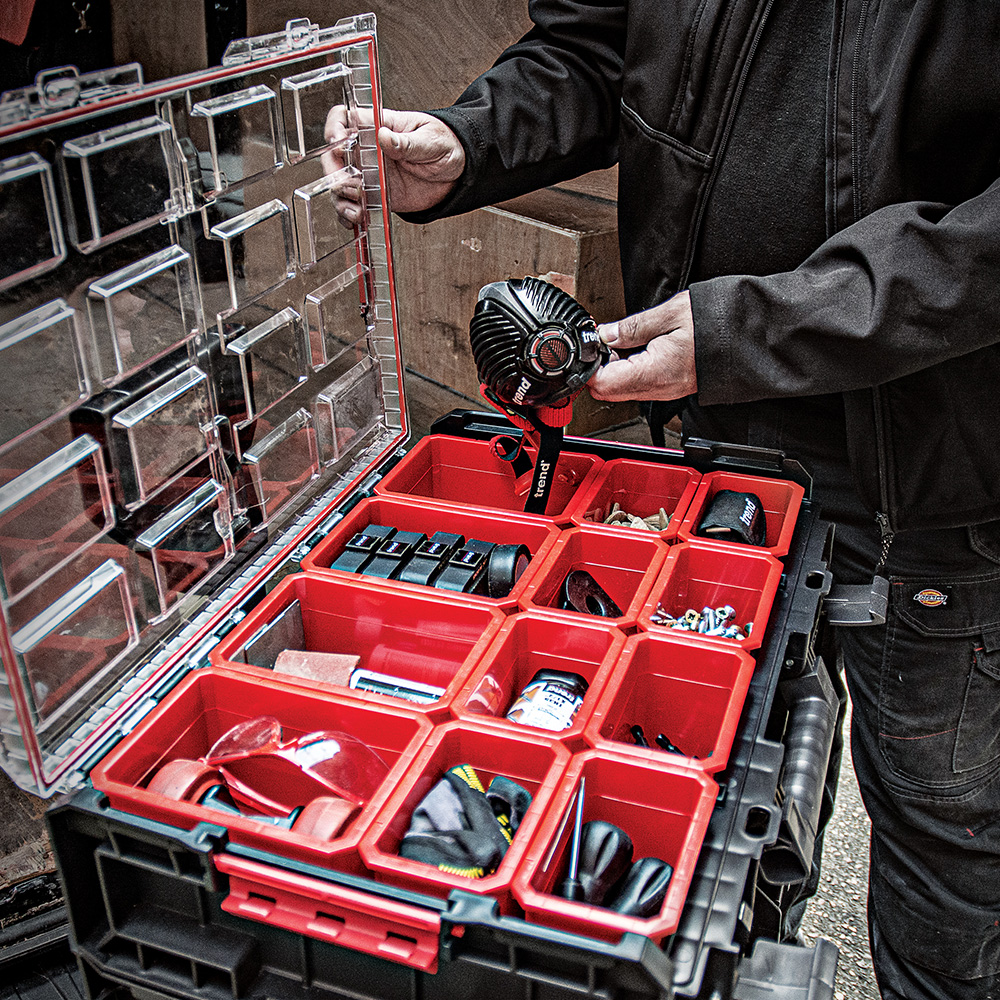 Organisers include 6 medium bins, 12 medium bins or a combination of 8 medium and 4 large storage bins.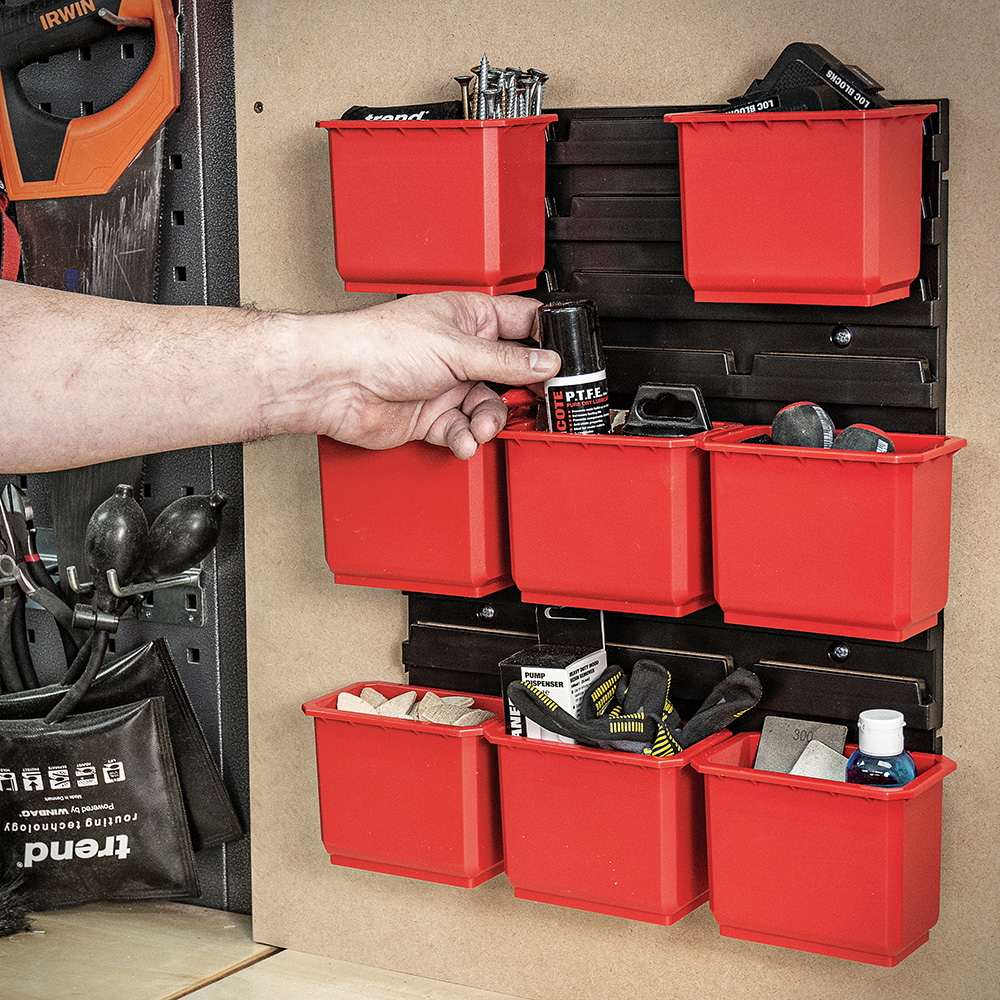 The Pro Storage range now includes a wall rack that can be secured to the workshop or van wall.
---
Click a product below for more information
---
Twelve different units allow a range of configurations for maximum functionality.
Rugged and durable, able to withstand the daily use and abuse of any jobsite, workshop or other heavy duty applications with seals for dust and water resistant protection.
Constructed with high impact materials including Technical Polyamide double action plastic latches and Polycarbonate plastic organiser lids for high performance and durability.
Range includes boxes with organiser/accessory lids, removable bins, removable and moveable dividers and dividers with bungee loop retainers.
Dividers allow the boxes to be easily compartmentalised for extra adaptability and quicker access.
Security holes in each module allow stacked boxes to be locked together or as individuals. Additional options to the standard kits include longer 600mm box with divider storage lid, deep storage tote and a standalone wheeled long toolbox.
4 piece Platform set, 3 piece Cart Set and 2 piece toolbox set options to suit workshop or mobile applications.
Transporting valuable gear with ease to, from and around the workplace.Ideal for power tools, hand tools and other equipment on site or to keep safe in transit.
Perfect for transporting and keeping tools and accessories or specialist equipment and collections safe and secure such as photography, electronics, computer and DJ equipment.
---
Related Products
---