HOW TO SHARPEN DIAMOND WHETSTONES
Introduction
Diamond whetstones allow fast, clean stock removal, with less effort and time required and can be used on a variety of cutting edges. When using diamond whetstones certain guidelines should be followed to ensure lasting performance.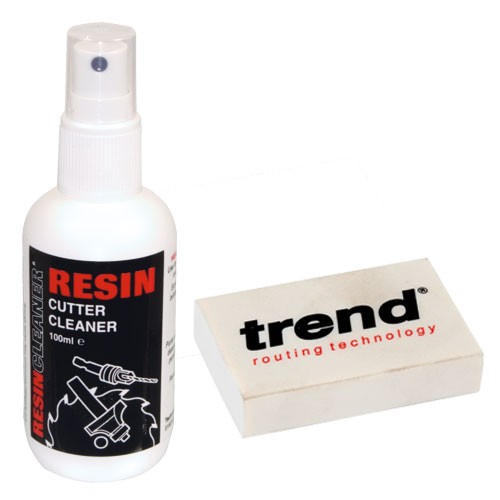 All tooling should be cleaned before sharpening, resin build up should be removed with resin cleaner Ref. RESIN/100.
Diamond whetstones require a 'break in' period. Initially the diamond surface will seem coarse and will become smooth over a short period of time to the desired grit.
Do not apply too much pressure. Diamond is extremely abrasive and what would normally take 5-10 minutes on an oil stone will be achieved in approximately 30 seconds.
Use the recommended Diamond Abrasive Lapping Fluid as a lubricant.
Clean diamond whetstones regularly with a cleaning block Ref. DWS/CB/A and do not store in damp conditions.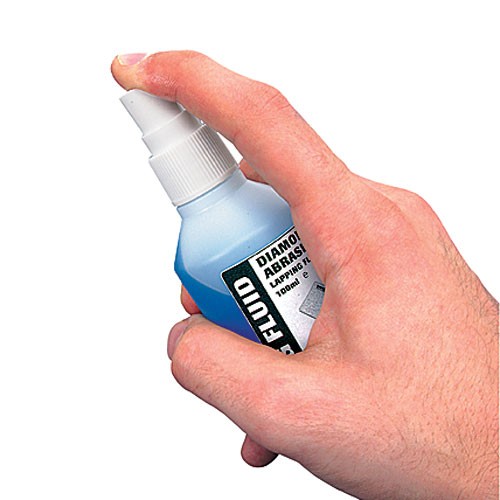 Following extensive trials and development into the continuing aim of improving the efficiency of Diamond abrasives, it is recommended that the Trend lapping fluid should be used to improve maintenance, durability & overall performance.
Reduces the threat of rusting & clogging. Originally designed in the engineering industry purely for use on diamond abrasive products.
Other 'oils' & lubricants are too thick, and will cause 'skating' over the diamond surface.
Trend lapping fluid is petroleum based so, if by mistake the fluid is left on the stone, within fifteen minutes it will evaporate.
Supplied in two sizes of bottles with an atomiser spray top:
Ref. DWS/LF/100 (100ml)
Ref. DWS/LF/500 (500ml)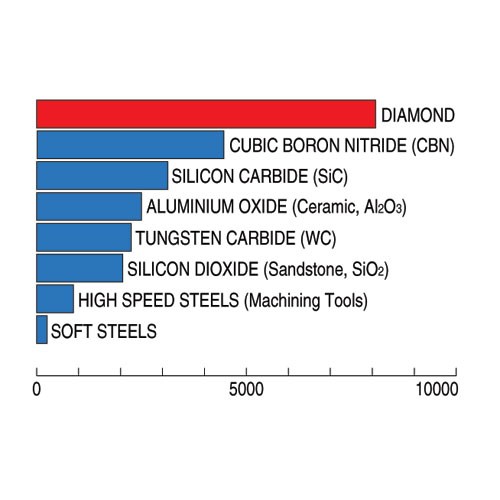 Monocrystalline diamond (Element 6 Diamond) is a single structure, that does not break down with use. It has a strong & exceptional life span. Wheras Polycrystalline diamond, is a fragmented compound that breaks and wears away rapidly.
Monocrystalline diamond has the following properties:
Fast - Hardest material, the most efficient sharpening abrasive.
Easy - Light pressure produces an edge in seconds.
Clean - Use with Trend lapping fluid to prevent rusting or clogging. Oils are too thick.
Versatile - Sharpens all hard materials including tungsten carbide & high speed steel.
Durable - Stays flat & has a long life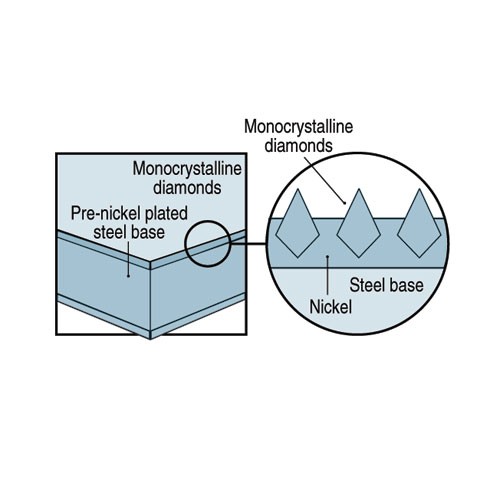 Monocrystalline diamonds bonded through an electroless process to a precision ground pre-plated nickel carbon steel (EN43A) base.
Some stones are double-sided, offering two grit sizes in one stone, allowing coarse sharpening and finer finishing.
Continuous diamond surface prevents diamond and nickel lift giving more effective anti-corrosion and prevents 'snagging' on smaller tooling.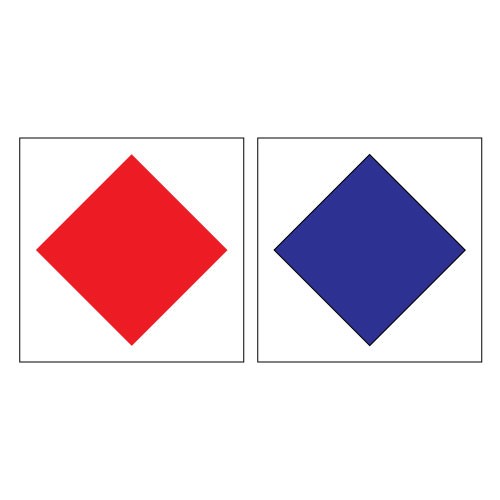 FINE - Leaves a razor edge in a few strokes and is ideal for cabinet making, carving & tungsten carbide tipped tooling. The P3, CC & P5 are 600 grit (nominal 25 microns) and the Bench 7Ó & 8Ó stones W8F are 1000 grit (nominal 12 microns).

COARSE - General joinery, high speed steel tooling, re-shaping & rapid removal are 350 grit (nominal 42 microns).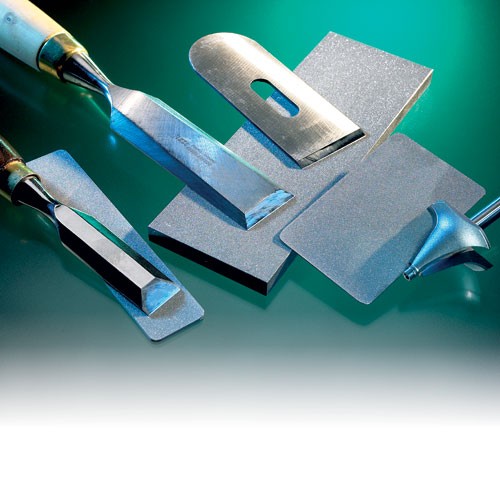 It is impossible to achieve any degree of precision in your work unless your cutting tools are honed to perfection. Double-sided diamond-faced sharpening stones not only help you attain that perfection initially, but ensure that it is restored time after time.
Double-sided diamond whetstones are one of the most efficient methods of honing any cutting edge to a precise keen angle. Using an 'electroless' process, monocrystalline diamonds are bonded onto a nickel plated carbon steel backing plate. This produces a flat stone that can achieve a far greater degree of efficiency compared to conventional honing methods. Available in three sizes, each stone has a coarse surface on one face and fine on the reverse. Coarse grade stones are generally used for initial honing of chisels and plane irons or removing light surface damage from spindle moulding tooling or router cutters.
Fine stones are used to refine the edges of chisels, plane irons and other cutting edge tools, as well as for honing tungsten carbide tipped (TCT), solid carbide (SC) and high speed steel (HSS & HSSE) router cutters.
Diamond sharpening stones will produce lasting performance with normal use and need only to be lubricated with water.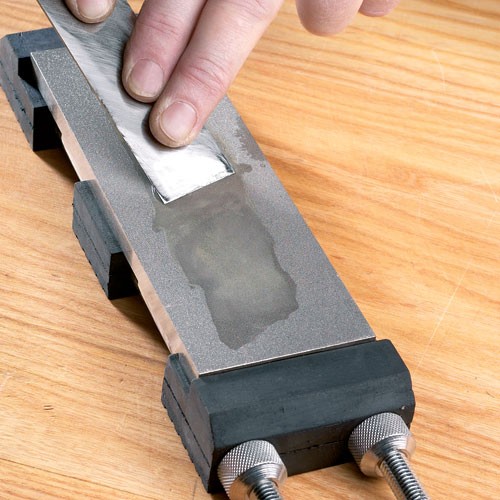 When sharpening router cutters, only hone them on the flat front face of the cutting edge, never on the bevelled face. Remove guide bearings from self-guiding cutters and repeat the same number of strokes on each face (i.e. two flute cutters = two flat faces). When honing chisels and plane irons and other steel cutting tools, always use a honing gauge to ensure that the same bevel angle is repeated and maintained.
Always take care of diamond stones by drying them thoroughly before putting away. Ensure that storage boxes, cases or holders are also dried thoroughly. Regularly clean the surface of the stone with warm soapy water, a plastic scouring pad or the cleaning block provided.
Diamond Whetstone Features:
Cuts up to 95% faster than conventional methods.

Continual diamond surface prevents 'snagging' when honing smaller tooling.

Sharpens both forwards and back.

Use the coarse side for backing off/flattening chisels and plane blades to ensure you achieve a keen edge.

Use of a precision flat Trend diamond stone (+/- 0.0005") therefore is vital.

A razor edge is then possible in three to four strokes.

Use with Trend diamond abrasive lapping fluid to prevent rusting & clogging.

Does not dish or groove, remains flat.

Apply little pressure.

50% more diamond than 'polka- type' stones, therefore longer life, faster cutting.

Fine (1000 grit) for Cabinet making/Fine woodwork.

Coarse (350 grit) for General joinery/rapid stock removal.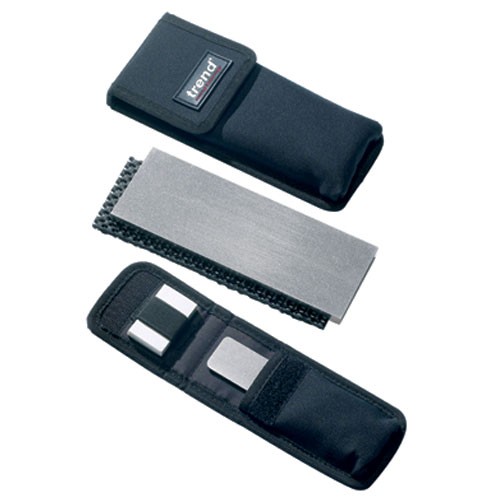 Sizes Available:
A 7 inch (178mm) bench stone is suitable for applications such as honing chisels, plane irons and other hand tools. It is supplied in a fabric wallet with a cleaning block and non-slip mat. An adjustable rubber holder is available for this stone to prevent it from sliding on the bench surface when in use. This holder can be adjusted and used to grip traditional sharpening and oil-stones up to 8 inches in length.
The 5 inch (127mm) pocket size stone is suitable for honing router cutters and for maintaining the cutting edges on sawblades and moulding knives. It is supplied in a fabric wallet complete with a cleaning block.
A credit card size stone, supplied in a plastic wallet, is ideal for general cutting edge maintenance on all tools and in particular for narrow fluted, or intricate cutter shapes. It is also suitable for refining the edges of multi-fluted cutters, carving chisels and modelling tools.
---
Types of Sharpening
Double-Sided Diamond Credit Card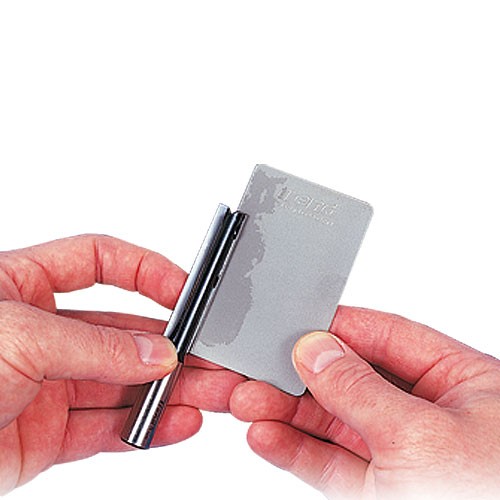 Always sharpen the router on the flat side - ever touch the profile otherwise you will change the shape of the cutter.
Sharpen the cutter from new with three or four light strokes to each face. Count the amount of strokes on one side of the cutter and then repeat to the other to keep it in balance.
Keep the cutter sharp so that it works as it is designed to do. Do not wait until it is blunt before sharpening as this will require excessive honing or professional re-sharpening.
Sending cutters away for professional re-sharpening may result in losing excessive surface material.
Regular maintenance will result in the life of the cutter being prolonged.
Narrow thickness of the Credit Card sharpener (0.8mm) allows easy access to small and anti-kickback round form cutters.
Fine (600 grit) for tungsten carbide (TCT).
Coarse (350 grit) for high speed steel (HSS).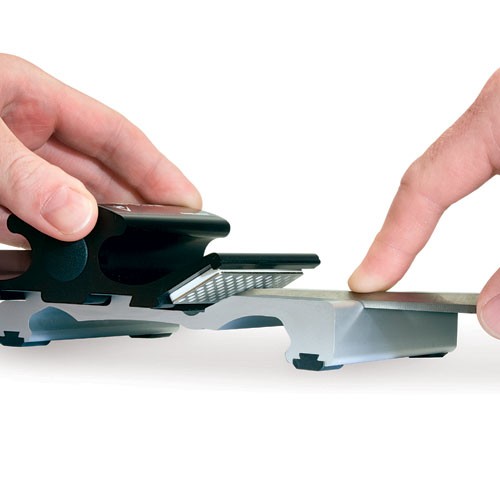 Trend have continuously developed and extended their range of diamond sharpening products for sharpening not only router cutters but other woodworking and household tools.
The popular Fast track system has been updated with the inclusion of improved performance diamond whetstones. The Fasttrack is a simple and easy to use portable hand operated sharpening system. Suitable for chisels and planer knives, it creates guaranteed razor fine edges every time.
Made from solid anodised aluminium, it features a quick change magnetic lock which holds the supplied diamond whetstones at the required sharpening angles. In use, the tool to be sharpened is placed flat on the Fasttrack bed. With a lateral movement, the carriage holding the whetstone, is slid back and forwards across the face of the tool.
The Preparation Stone has been up-rated from 180 to 220 grit and the Finishing Stone up-rated from 400 to 450 grit resulting in fast quality results and improved performance. The Fasttrack is available from all Trend stockists. The new improved stones are now available separately.
Multi-Purpose Diamond Sharpener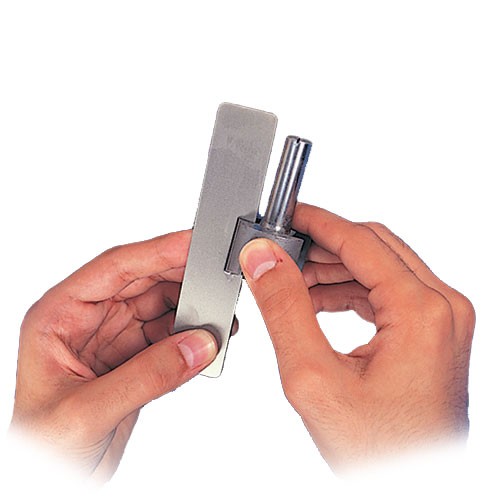 Suitable for all tooling. Supplied complete with a fabric tool holder with belt attachment & cleaning block.
Fine grit refines the cutting edge producing a razor finish. Coarse grit re-sharpens dull edges. Quickly raises a wire edge.
The most versatile of diamond sharpeners. Professional and domestic use. The most versatile sharpener for outdoor or site work.
Ideal for router cutters, saw blades, chisels, turning & carving tools, gardening, secateurs, pruners, shears, mower blades, hunting knives, scissors, kitchen knives etc.
Narrow thickness allows easy access to anti-kickback sawblades.
Exception long life and durability.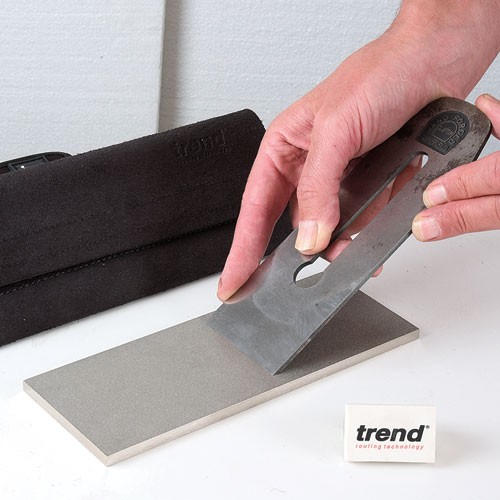 Flatten the back of the chisel or plane blade first on the coarse side then keep the bevel flat on the fine side for a few strokes to hone a razor edge.
Remove the burr with a single stroke to the flat side.
Spindle Knives / Clipper Blades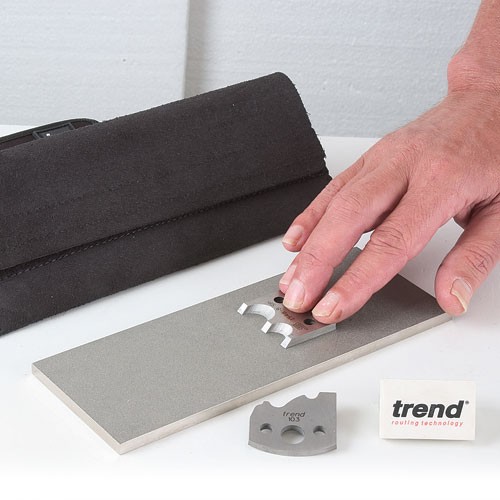 As with router cutters you only sharpen from the back side, never touching the profile.
A few strokes will maintain the designed edge and prolong the life of the knives.
Use the bench stone because precision flatness is vital. In-house maintenance saves having to send knives away to be professionally ground.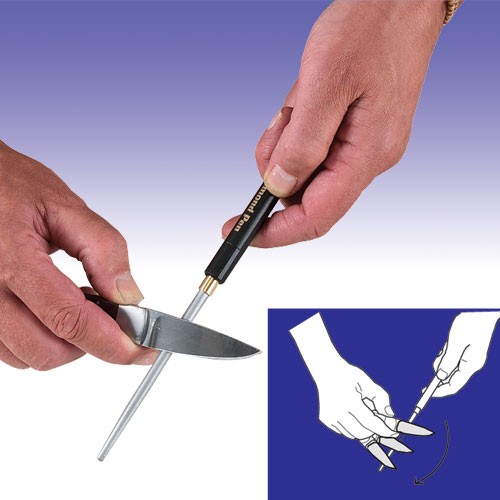 The outer body becomes the handle.
Professional & domestic use.
Self contained - ideal for use in the field.
Suitable for all sharpening especially shaped tools.
Sharpens tungsten carbide and high speed steel tooling.
Garden tools - pruners/shears/budding knives.
Serrated tools.
Hoof knives.
Re-shaping profile edges.
Turning & Carving tools.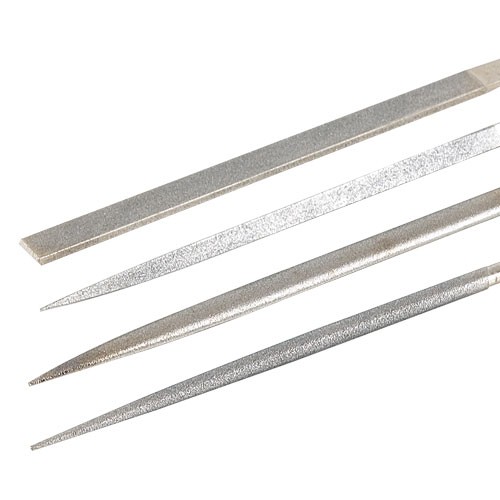 Four precision engineered needle files of the most superior quality:
Three sided tapered/triangular.
Half-round/flat tapered.
Round tapered.
Flat.
Individually available or in a pack of four. Suitable for engineering, model engineering, carving tools, jewellery making, circuit boards. Suitable on tungsten carbide tipped and high speed steel. Ideal for all shaped tooling.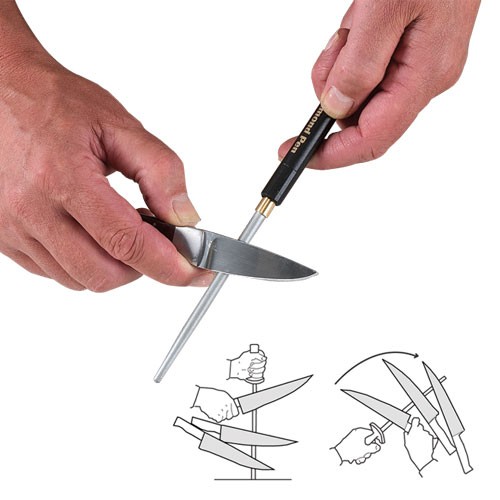 Keep same angle as knife bevel on the whetstone. The angle is 20 degrees for most knives.
Stroke away from the body, alternating on each side of the knife.
Light strokes will produce a finer edge.
---
Related Videos
Related Products